bali womens retreat
Ubud Bali Indonesia
7 - 14 September 2024 :
Enjoy a nurturing, nourishing week of indulgence in the lush island paradise of Bali. Be with your own essential spirit, focus on emotional renewal, discover new ways of bringing richness and splendour to your relationships… your hopes… your aspirations.
Our beautiful retreat offers simple reminders to nourish yourself on a daily basis and how to implement self-care regularly. The retreat is also a place where you can meet yourself with tenderness and grace, deeply feel your own beauty from the inside out and be truly at home in yourself.
Enjoy time out to reflect, refresh and recharge amidst the beauty and wonder of Bali. The ultimate re-treat week just for YOU!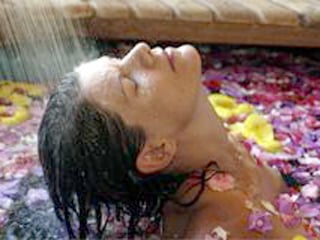 During this magical retreat you will enjoy aromatic facials, gentle yoga, meditation, delicious food, incredible massages, a Balinese cooking class, heart-centred processes, a sumptuous nurture gift pack, time for personal reflection, connecting with other women on a similar journey, implementing self-care and wellness strategies, stress reduction tips, create beautiful flower offerings and explore the nature of nurture in everyday life.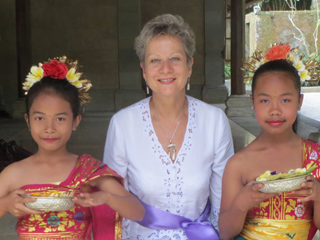 Facilitated by
author
and highly regarded international trainer Robbi Zeck ND who has spent the last 40 years, empowering people to enhance the substance and quality of their lives through her workshops and retreats in France, Ireland, Bali, China, Hong Kong, Taiwan, USA, Canada, Australia and New Zealand. She is passionate about inspiring women to live and learn through the heart and embrace the life they truly desire to be leading.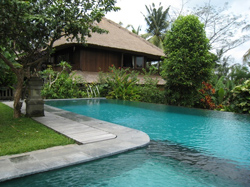 Our serene and beautiful retreat is located far from the busyness of everyday life, in the cool tranquil hills of the vibrant artist's village of Ubud. Our accommodation is at a delightful family-owned hotel set amongst lush rice paddies with beautiful vistas, an exquisite garden setting, wonderful friendly hosts and natural spring-water swimming pools.
"I cannot thank you enough for the amazing Bali retreat and the wonderful passion you have in doing what you love doing. I went to Bali with no expectations and left with an amazing journey of self-discovery, inner peace, tranquility and beauty and with these qualities I will go forward in my life's journey." - Chrissy, Sydney Australia

"I had the most incredible and wonderful time in Bali - something that was a once in a life time experience. My daughters loved the experience also and we each took something different out of the retreat that was special to us. Thank you for creating this experience for us and for being a beautiful woman inside and out." - Mary, Rhode Island USA

"I have never felt so much love, seen so much beauty and grace before...thank you." - Fabiana London UK
In 2018 we celebrated our 30th Bali Women's Retreat. "After living in Bali for a time in 1975 I have always been touched by the gentle spirit of the Balinese people with their beaming smiles and bottomless giving. I simply adore them! There is nowhere on earth more beautiful to surrender to love and life fully." ~ Robbi
There is also a page of Bali Reflections for you to enjoy and to give you a better insight into the wonderful experiences that are enjoyed during the retreat.
Click here for more photos of the Bali Women's Retreat