Greetings from Robbi and Jim
A very warm welcome to all of the members of our Aroma Tours Newsletter in over 30 countries around the world.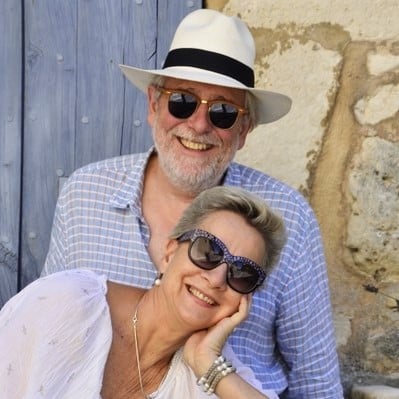 It is so nice to have successfully completed our wonderful adventures in Spain, France and Italy this year as the renaissance of our Aroma Tours gathers pace.
Robbi and I feel very grateful and truly blessed to once again be able to share our passion for the fabulous places and experiences that we love, with delightful people from around the world.
We are also delighted to see that demand for next year's tour season is the strongest we have ever seen - with all of our tours already filling fast, including our fabulous new Flavours of France gourmet tour ( more details below ).
As always, it is our returning guests and their friends who are leading this fabulous response.
Aroma Travellers Our Thanks
Without doubt, the main reason that we have grown and flourished over the years and weathered the recent travel restrictions, is the on-going support that we have received from our past Aroma Travellers.
As we move beyond the difficulties of the last couple of years we are thrilled to see that they continue to make up more than 65% of our guests!
We would also like to give our heart-felt thanks to all of you who have continued to support us with your kind words and referrals over the years.
Robbi and I also greatly appreciate the wonderful words of thanks we have received from our guests - Guest Comments.
Flavours of France
Robbi and I are very excited to be offering a fabulous new gourmet tour, exploring the beauty, culture and rich gastronomic traditions of eastern France.
Experience the fascinating heart of Lyon, the gastronomic capital of France and enjoy journeying through the beautiful vine clad countryside of Burgundy and Alsace with their enchanting hilltop villages, medieval towns, lush vineyards, spectacular chateau and gardens.
Elegant 4 and 5 star small luxury hotels and spectacular gourmet cuisine and wines are a feature of this tour and your taste buds will be tantalized in some of France's finest restaurants, from hidden gastronomic treasures, to spectacular 3 Michelin star fine dining; with a total of 7 Michelin stars during our week together.
Chianti and The Gallo Nero
The Chianti region is located between Florence and Siena, who, in the late middle ages and early renaissance, were in continual conflict with dirty tricks the order of the day and the story of how Chianti was largely "acquired" by the Florentines in the fourteenth century is a great example of this skullduggerous behaviour.
In order to define the borders between the two city states, it was decided that one knight from Siena and one from Florence would depart on a designated morning "at cockcrow" and ride towards each other at the highest possible speed. Where they met would be designated the agreed border between Florence and Siena.
The citizens of Siena chose a white rooster that they had fattened up, thinking that such a robust rooster would ensure an early start time close to dawn. However, the wily Florentines, chose a black rooster - a "Gallo Nero", that they starved to make it skittish and prone to crow, even before dawn.

As planned, the lean black rooster awoke well before the plump white rooster and Chianti came under the control of the Medici dynasty.

As a result of this association between the Gallo Nero and Chianti, the black rooster was adopted as the symbol for the Chianti Classico region.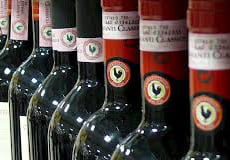 [sic] The wine region designated as "Chianti" was greatly expanded in the 1930's to include its neighbours such as Colli Arentini, Colline Pisane, Montalbano and Rufina.

At the same time, the original region, circa the 14th century was given the name "Chianti Classico" and only wines grown and produced in this specific sub-region of modern Chianti are entitled to use the Gallo Nero symbol on the neck of their bottles.
A nice story but what about the contemporary wines of Chianti you ask!
In the 1970s Chianti producers started a collaboration to improve the quality, character and prestige of their wines by eliminating the use of white grapes, reducing yields ( thereby enhancing flavour intensity ) as well as changing the structure of their wines.
This resulted in two main movements:- the traditionalists who began to produce wines from 100% Sangiovese grapes and those keen to experiment with the introduction of French grape varieties such as Cabernet Sauvignon, Merlot and Syrah to create a more "international" style which over time became spectacularly successful and are known by the inspiring name, "Super Tuscans".
We most certainly enjoy some of these lovely wines from Chianti, including 100% sangiovese Chianti Classicos and lush "Super Tuscans" during our Aromas of Tuscany Tour
Our Current Booking Status
The enthusiasm for our Aroma Tours has been outstanding with a wonderful 2022 season now completed and next year's tours already down to the last few vacancies or sold out.
For detailed information about any of our tours please visit our tour information page and if you would like to join us please visit our make a reservation page.
If you would like us to hold your place(s) for a few days so that you have time to comfortably make your other arrangements please let us know at jim@aroma-tours.com
It is our pleasure to assist you with any questions you may have and we invite you to get in touch with us at jim@aroma-tours.com
Please note
Our up-to-the-minute booking status is available via our calendar page
Aromas of Tuscany
Tuscany in autumn is one of our most popular tour experiences and we are greatly looking forward to sharing the beauty and bounty of this gorgious region with our Aroma Travellers in September next year during our Aromas of Tuscany Tour.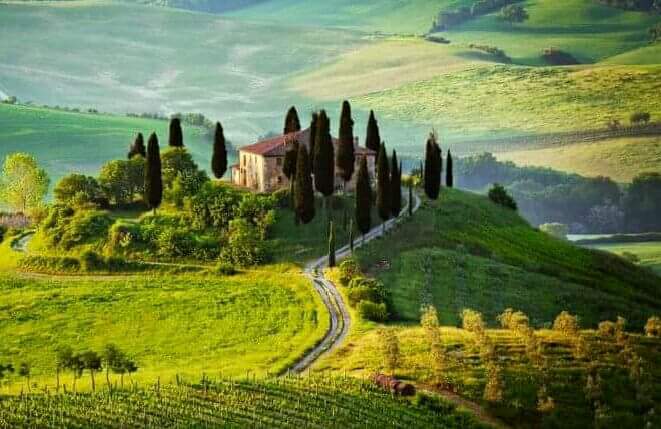 As well as glorious countryside and nourishment for the eyes, life in Tuscany takes on a different pace with long lunches in beautiful hilltop villages, fabulous coffee, delicious wines, truffles, parmegiano cheese, porchini mushrooms, prosciutto, fresh pasta..... ( so many wonderful tastes ), laughter and the fine Italian art of "dolce fa niente" - sweet doing nothing!
Our journey is also about absorbing the richness and passion of Italian life and savouring its cultural heritage evident in the art, architecture, pageantry, festivals, fashion, design, craftsmanship and unique approach to living.
We are all destined to be transformed by the magic of this wonderful place - feeling more Italian moment by moment, speaking more enthusiastically, smiling broadly and even display a bit of emphatic hand waving!
Spanish Gourmet Tours
Each year our Aroma Tours adventures begin with our delightful and delicious Michelin star studded gourmet tours in northern Spain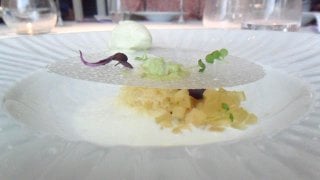 The first impression is always with the eye and here for your visual pleasure are some of the fabulous meals and experiences that we enjoyed during our Flavours of Spain Tour and Spanish Gourmet Pilgrimage
There are still 2 vacancies available for Flavours of Spain Tour and 3 vacancies available for Spanish Gourmet Pilgrimage and we would love to share a fabulous foodie adventure with you next year in amazing northern Spain.
Travelling Solo in a Group
As well as couples and friends travelling together, we are regularly joined by solo travellers - mostly women, who appreciate being able to journey with liked minded people from around the world, without the need to do all the planning and take on the daunting task of touring by themselves.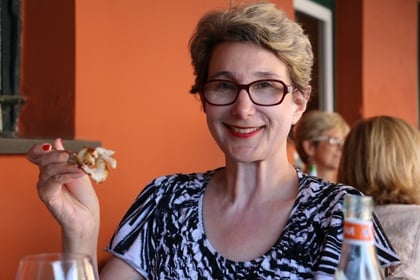 Joining one of our small group tours is easy and we have already made all of the arrangements on your behalf to ensure that you have a delightful, stress-free holiday with the focus on having fun.
Having a ready-made group of friends to travel with, and us to take wonderful care of you is the way to go!
There is no extra charge for solo travellers who are willing to share a room with another same gender guest from our group.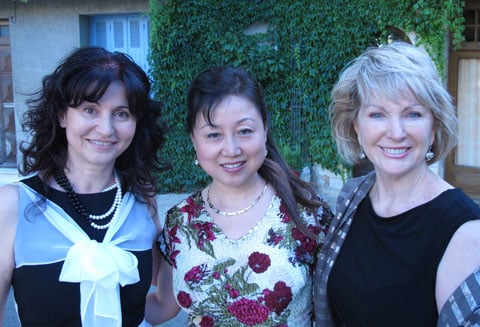 We have carefully crafted off-the-beaten-path itineraries that are the perfect balance of structure, experiences, details and free time to enjoy in your own way.
Our Invitation
Robbi and I look forward to welcoming you to one of our delightful tours or retreats as we recommence our Aroma Tours in the summer of 2022.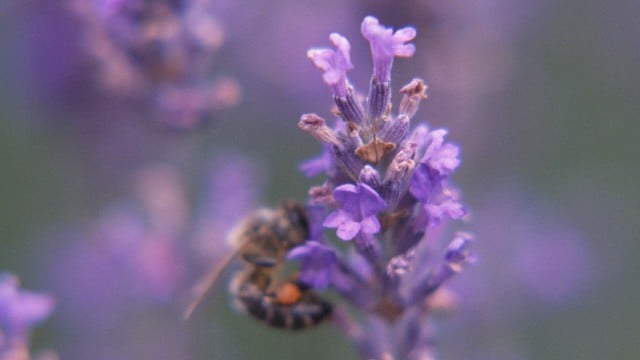 For detailed information about any of our tours please visit our tour information page and if you would like to join us please visit our make a reservation page.
As always if you have any questions or if you would like us to assist you personally with advice about your travel arrangements or with any other details please contact us at info@aroma-tours.com
Warmest regards,
Jim and Robbi