Greetings from Robbi & Jim
A warm welcome to all of the members of our Aroma Tours Newsletter in over 30 countries around the world.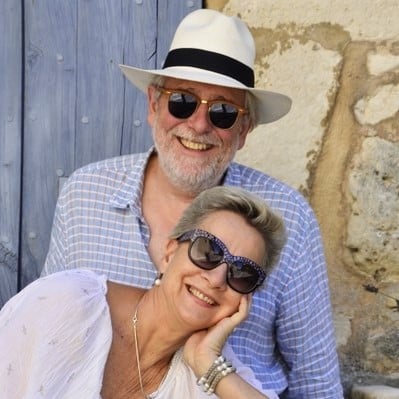 Robbi and I are greatly looking forward to the beginning of another wonderful season of Aroma Tours adventures this May in the beautiful Spanish spring with our Flavours of Spain Tour and Spanish Gourmet Pilgrimage and it always delights us to share in the excitement building up for our guests as we all begin the mental journey that leads up to our actual departure.
After 25 wonderful years, as we contemplate throttling back on the number of tours we will be offering, Robbi and I feel truly blessed to once again be sharing our passion for the fabulous places and experiences that we love, with delightful people from around the world.
This year is all set to be our most successful tour season ever with all of our tours either sold out or down to the last few places! As always, it is our returning guests and their friends who are leading this fabulous response.
There are still a few vacancies available for Provence and Italy and if you would like to "seize the day" and join us for one of our delightful journeys this year, we invite you to visit our tour information page for more details or our make a reservation page to reserve your place.
Aroma Travellers Our Thanks
Without doubt, the main reason that we have grown and flourished over the years, is the on-going support we have received from our past Aroma Travellers and we are thrilled to see that they continue to make up almost 65% of our guests!
We would also like to give our heart-felt thanks to all of you who continue to support us with your kind words and referrals.
Robbi and I also greatly appreciate the wonderful words of thanks we have received over the years and have added a new compilation of Guest Comments to our site.
Aroma Traveller Impressions
One of the great pleasures for Robbi and I after each tour season is receiving messages of thanks from our Aroma Travellers. We have compiled a few below from our past adventures and hope that you enjoy reading about their experiences with us.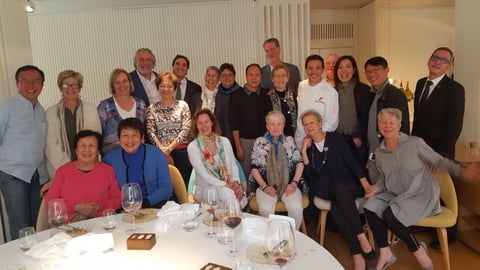 Glorious leisurely gourmet lunch in a beautiful 2 star Michelin restaurant in Spain - joyful and delicious!
"I hope you really enjoy your R&R- You totally earned it for creating such a spectacular trip for us. Every detail you thought of made it special and it had a plethora of touches that will provide great memories for years to come. It should never be called a "tour" since what you deliver is a remarkable and unique experience!"
Jodye Anzalotta New York USA
"Given my dreams of Provence, I must say that you exceeded all my expectations and provided an experience of Provence that I could not possibly have done on my own. So many little touches showed the great thought that was put into planning for our pleasure in seeing the real Provence. You are special and delightful people and I cannot thank you enough."
Judy Cassel Secaucus USA
"Buongiorno amicas e amicos, I have returned from the most perfect trip to Italy that anyone can imagine! I joined a delightful group of Aussies and Americans for a glorious seven days in the hilltop towns of Tuscany. We enjoyed delicious food in beautiful trattorias, tasted and consumed the best wines in Tuscany and placed ourselves in every picture or postcard we have ever seen of enchanting Tuscany. It could not have been more perfect. I highly recommend Aroma Tours. Thank you for helping me realize my dream."
Daria Bellina Rockledge USA
Thank you so very much for a delightful and enchanting week of adventure and discovery. There were so many heart warming moments that have created memories to last a lifetime. Everyday brought us laughter and joy filled moments, with scents of lavender, glorious food, tastes of olive oil, wonderful wines and much more."
Janis & Bill Fox Rensselaer USA
"Harold and I have been meaning to write to thank you for a most wonderful week exploring and experiencing the different facets of Provence. Your knowledge and guidance, showing us some of your favourite places, gave us a really enjoyable and unforgettable holiday. It was such a pleasure for me not to have to worry about booking hotels, or navigating, or finding good restaurants (all of which were excellent, including the expert driving)! The cooking class was great fun and I use the perfume I made daily. Our travelling companions bonded as old friends and overall this was one of our best holidays ever. We look forward to being able to join you on one of your other tours in the future."
Lynne & Harold Seifman Dover Heights Australia
"Thank you for a wonderful experience in a place of great beauty. I have seen and learnt so much in such a short time. You both bought so much to create a week filled with everlasting memories."
Katrina Newton Hong Kong
Tales of the Haute Provence
Robbi and I have a very strong connection with the Haute Provence region of southern France.
It is where our Aroma Tours began in earnest over 2 decades ago and to this day we consider it our second home.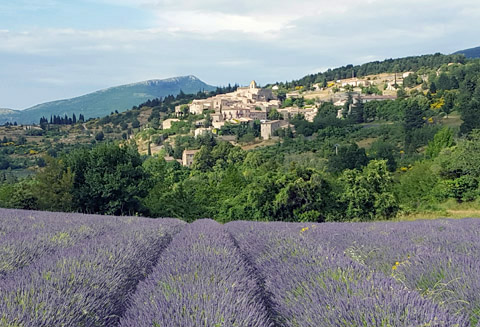 Some of the people who inhabit these hills cloaked in glorious fields of lavender, number amongst our dearest friends and we have many wonderful stories to share of our adventures in this beautiful region with our Aroma Travellers each year.
We have danced late into the night at country weddings were we are the only non-French guests, watched children grow from babies to young adults, witnessed triumph and tragedy and felt our hearts sing at the glory of HUGE fields of vibrant purple lavender, undulating in the wind.
To stand in such a field, inhaling the glorious scent with the sound of thousands of bees busily gathering nectar ringing in your ears, is to be in love with life.
This is our heart-land, blessed with aromatic plants, truffles and beautiful perched villages, all overseen by the majesty of the iconic Mt Ventoux.
We will always have Provence, it is in our blood and we hope to share our love of this glorious region with you.
Our Current Booking Status
Robbi and I are thrilled to see the outstanding response for our 2019 season ( our best ever result ), with most of our tours already sold out and the remainder down to the last few vacancies.
The current booking status for our 2019 season at the time of this newsletter is:-
Our 2020 season is already off to a flying start with all of our tours either half full or almost sold out:-
For detailed information about any of our tours please visit our tour information page and if you would like to join us please visit our make a reservation page.
If you would like us to hold your place(s) for a few days so that you have time to comfortably make your other arrangements please let us know at jim@aroma-tours.com
It is our pleasure to assist you with any questions you may have and we invite you to get in touch with us at jim@aroma-tours.com
Please note
Our up-to-the-minute booking status is available via our calendar page
If the tour you would like to attend becomes fully booked, please let us know if you would like us to add you to the waiting list for that tour in case a place becomes available due to a cancellation.
Travelling Solo in a Group
As well as couples and friends travelling together, we are regularly joined by solo travellers - mostly women, who appreciate being able to journey with liked minded people from around the world, without the need to do all the planning and take on the daunting task of touring by themselves.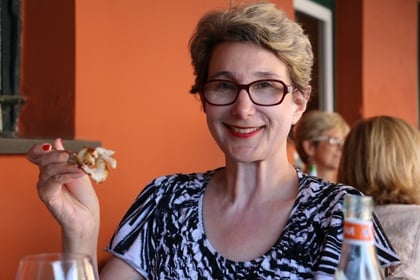 Joining one of our small group tours is easy and we have already made all of the arrangements on your behalf to ensure that you have a delightful, stress-free holiday with the focus on having fun.
Having a ready-made group of friends to travel with, and us to take wonderful care of you is the way to go!
There is no extra charge for solo travellers who are willing to share a room with another same gender guest from our group.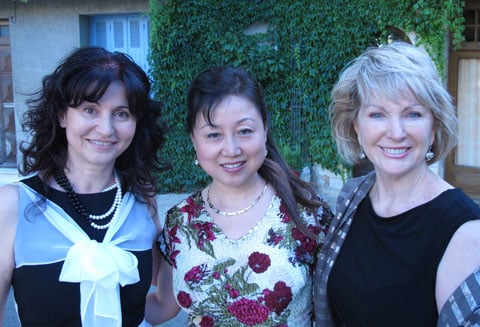 We have carefully crafted off-the-beaten-path itineraries that are the perfect balance of structure, experiences, details and free time to enjoy in your own way.
There have been a significant number of guests over the years who and have joined us multiple times, some of whom have become dear friends.
Mona Smith, pictured at the beginning of this snippet, holds the record for the most tours attended by a solo traveller - she has journeyed with us 10 times and this year will be her 11th!
Susan Troxell from NYC is a close second and has joined us 9 times with a 10th coming next year.
Giacomo Puccini
Giacamo Puccini is renowned as Italy's most famous opera composer.
We visit his birth place of Lucca during our Flavours of Italy Tour and enjoy the wonderful experience of listening to brilliant young singers performing arias from several of his operas including "La Boheme", "Edgar", "Tosca" et al.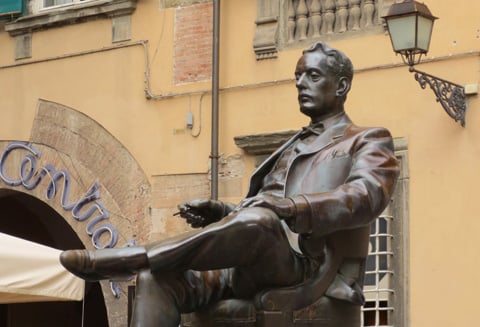 It is always a spine tingling experience which sends our spirits soaring especially when we hear a glorious soprano voice performing his most famous aria - "Mio Bambino Caro".
Each year we follow up this special event with a fine meal in a glorious restaurant which usually includes animated conversation about the earlier performances.
Of the man himself:-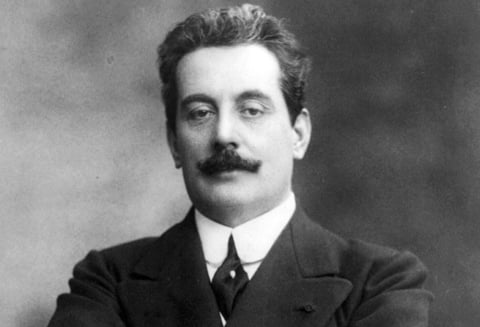 Giacomo Antonio Domenico Michele Secondo Maria Puccini was born in Lucca, Tuscany on 22nd December 1858 into a family with five generations of musical history behind them. It was natural then that as a young man he took the position of church organist and choir master in Lucca. However, it was after witnessing a performance of Verdi's "Aida" in Pisa that he became inspired to become an opera composer.
At the age of 21 he enrolled in the Milan Conservatory and in the same year composed the "Messa" based on elements of the Catholic mass and gave glimpses of his great talent for writing beautiful, poignant melodies and constructing fine orchestrations.
Puccini's first published opera "Edgar" was not a great success, however, with his third opera "Manon Lescault" published in 1893 he achieved international fame and sufficient income to achieve an independent life.
Puccini spent most of his time in Torre del Lago fifteen miles from Lucca and by 1900 he had constructed a villa on the lake where he wrote some of his most memorable works including: "Manon Lescaut", "La Bohème" ( arguably today's most popular opera ), "Tosca" and "Madama Butterfly".
Whilst following his passion for driving fast cars, Puccini was nearly killed in a major accident in 1903 and after 1904, his compositions became less frequent.
Those that followed were:- "La Fanciulla del West" in 1910 and "La Rondine" in 1917 and in 1918 he premiered "Il Trittico" composed of three one-act operas: "Il Tabarro" (a horrific episode), "Suor Angelica" (a sentimental tragedy) and "Gianni Schicchi" (a comedy). Of the three, "Gianni Schicchi" has remained the most popular, containing the popular aria "O Mio Babbino Caro".
An habitual cigar smoker, Puccini eventually contracted throat cancer and died on November 29, 1924 in Brussels. News of his death reached New York during a performance of "La Bohème", where the opera was immediately stopped, and the orchestra played Chopin's Funeral March for the stunned audience.
"Turandot", his final opera, was left unfinished, and the last two scenes were completed with some controversy by Franco Alfano.
Italy in Autumn - Bellissimo!
Italy in autumn is a magnificent kaleidoscope of colourful landscapes, beautiful hilltop villages, ripe grape vines, celebration and joy for life.
During our Aromas of Tuscany and Flavours of Italy tours we absorb the passion of the Italian lifestyle and savour the delightful flavours of the land's bounty, along with the rich cultural heritage evident in the art, architecture, historical sites, festivals, fashion, design, craftsmanship and unique approach to living.
Those of us who journey here are all destined to be transformed by the magic of Italy - feeling more joyful by the moment, speaking more enthusiastically, smiling broadly and even indulging in a bit of emphatic arm waving!
Only 4 vacancies remaining for 2019

Our Invitation
Robbi and I look forward to welcoming you to one of our delightful tours or retreats as we continue moving towards our retirement in the next few years.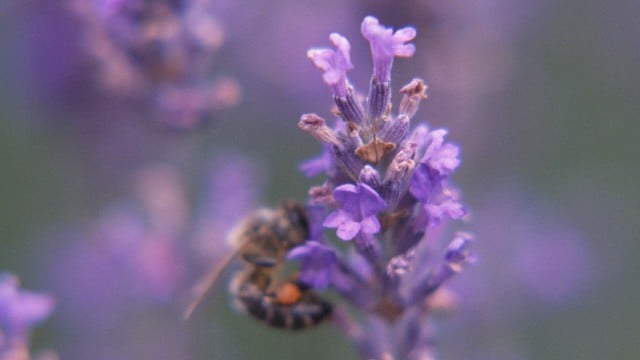 For detailed information about any of our tours please visit our tour information page and if you would like to join us please visit our make a reservation page.
As always if you have any questions or if you would like us to assist you personally with advice about your travel arrangements or with any other details please contact us at info@aroma-tours.com
Warmest regards,
Jim and Robbi