Greetings from Robbi & Jim
A warm welcome to all of the members of our Aroma Tours Newsletter in over 30 countries around the world.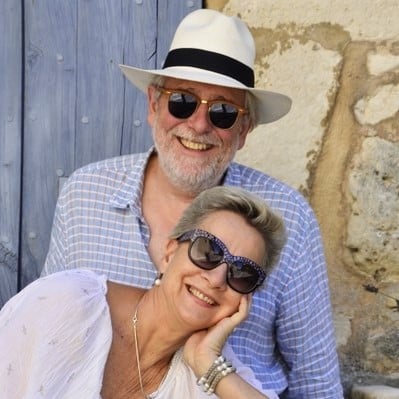 Robbi and I will be embarking shortly for the start of this year's Aroma Tours adventures with our guests from around the world. Beginning in the beautiful Spanish spring with our Flavours of Spain Tour and Spanish Gourmet Pilgrimage
After 25 wonderful years, as we contemplate throttling back on the number of tours that we will be hosting, Robbi and I feel truly blessed to once again be sharing our passion for the fabulous places and experiences that we love, with delightful people from around the world.
This year is our most successful tour season ever, with all of our tours now sold out except for a few places in Italy! As always, it is our returning guests and their friends who are leading this fabulous response.
Aroma Travellers Our Thanks
Without doubt, the main reason that we have grown and flourished over the years, is the on-going support we have received from our past Aroma Travellers and we are thrilled to see that they continue to make up almost 65% of our guests!
We would also like to give our heart-felt thanks to all of you who continue to support us with your kind words and referrals.
Robbi and I also greatly appreciate the wonderful words of thanks we have received over the years and have added a new compilation of Guest Comments to our site.
Tuscany and the Dolce Vita
We are greatly looking forward to sharing the beauty and bounty of autumn in Tuscany with our Aroma Travellers this September during our Aromas of Tuscany Tour.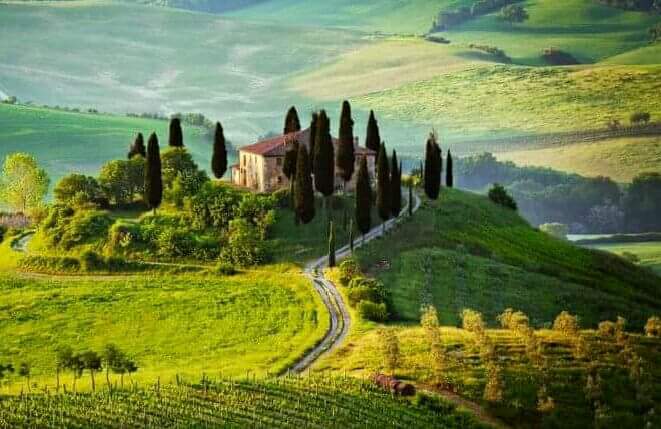 As well as glorious countryside and nourishment for the eyes, life in Tuscany takes on a different pace with long lunches in beautiful hilltop villages, fabulous coffee, delicious wines, truffles, parmegiano cheese, porchini mushrooms, prosciutto, fresh pasta..... ( so many wonderful tastes ), laughter and the fine Italian art of "dolce fa niente" - sweet doing nothing!
Our journey is also about absorbing the richness and passion of Italian life and savouring its cultural heritage evident in the art, architecture, pageantry, festivals, fashion, design, craftsmanship and unique approach to living.
We are all destined to be transformed by the magic of this wonderful place - feeling more Italian moment by moment, speaking more enthusiastically, smiling broadly and even display a bit of emphatic hand waving!
Spanish Gourmet Pilgrimage
Join us in 2020 for a wonderful Spanish Gourmet Pilgrimage along the route of the famous Camino de Santiago in northern Spain, beginning with the foodie heaven of the Basque country which has one of the highest concentrations of Michelin starred restaurants in the world.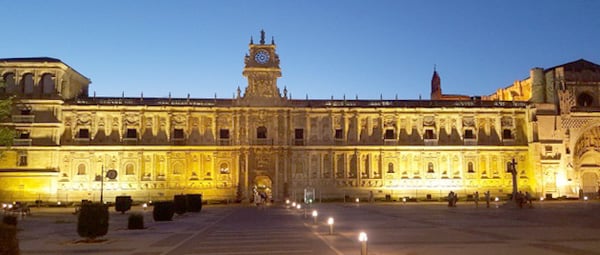 We then weave our way west through a succession of glorious vistas and cuisines until we reach the magnificent world heritage city of Santiago de Compostella in the seafood paradise of Galicia.
We will journey through spectacular countryside, staying in magnificent 5 star hotels, visit Templar castles, stunning cathedrals and venerable wine estates, enjoy guided walks through fascinating old quarters and picturesque seaside villages and experience a little walking on the pilgrims way of the Camino de Santiago de Compostela.
Click here for more photos of our Spanish Gourmet Pilgrimage
We are now down to the last few places for this amazing Michelin star studded experience - time for some delicious Carpe Diem.
Aroma Traveller Impressions
One of the great pleasures for Robbi and I after each tour season is receiving messages of thanks from our Aroma Travellers. We have compiled a few below from our past adventures and hope that you enjoy reading about their experiences with us.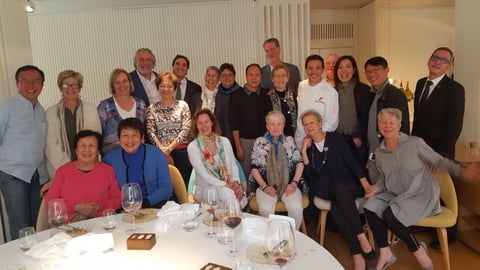 Glorious leisurely gourmet lunch in a beautiful 2 star Michelin restaurant in Spain - joyful and delicious!
"I hope you really enjoy your R&R- You totally earned it for creating such a spectacular trip for us. Every detail you thought of made it special and it had a plethora of touches that will provide great memories for years to come. It should never be called a "tour" since what you deliver is a remarkable and unique experience!"
Jodye Anzalotta New York USA
"Given my dreams of Provence, I must say that you exceeded all my expectations and provided an experience of Provence that I could not possibly have done on my own. So many little touches showed the great thought that was put into planning for our pleasure in seeing the real Provence. You are special and delightful people and I cannot thank you enough."
Judy Cassel Secaucus USA
"Buongiorno amicas e amicos, I have returned from the most perfect trip to Italy that anyone can imagine! I joined a delightful group of Aussies and Americans for a glorious seven days in the hilltop towns of Tuscany. We enjoyed delicious food in beautiful trattorias, tasted and consumed the best wines in Tuscany and placed ourselves in every picture or postcard we have ever seen of enchanting Tuscany. It could not have been more perfect. I highly recommend Aroma Tours. Thank you for helping me realize my dream."
Daria Bellina Rockledge USA
Thank you so very much for a delightful and enchanting week of adventure and discovery. There were so many heart warming moments that have created memories to last a lifetime. Everyday brought us laughter and joy filled moments, with scents of lavender, glorious food, tastes of olive oil, wonderful wines and much more."
Janis & Bill Fox Rensselaer USA
"Harold and I have been meaning to write to thank you for a most wonderful week exploring and experiencing the different facets of Provence. Your knowledge and guidance, showing us some of your favourite places, gave us a really enjoyable and unforgettable holiday. It was such a pleasure for me not to have to worry about booking hotels, or navigating, or finding good restaurants (all of which were excellent, including the expert driving)! The cooking class was great fun and I use the perfume I made daily. Our travelling companions bonded as old friends and overall this was one of our best holidays ever. We look forward to being able to join you on one of your other tours in the future."
Lynne & Harold Seifman Dover Heights Australia
"Thank you for a wonderful experience in a place of great beauty. I have seen and learnt so much in such a short time. You both bought so much to create a week filled with everlasting memories."
Katrina Newton Hong Kong
True Balsamic Vinegar
The tradition of making balsamic vinegar began almost 900 years ago in the winemaking regions around the town of Modena in northern Italy.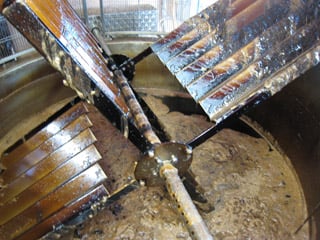 Unlike normal vinegar which is made from fermented grapes, balsamic vinegar is produced by boiling down the juice of freshly pressed white Trebbiano grapes to form a dark syrup. The heating process also kills any yeast present which would tend to produce alcohol rather than vinegar.

The concentrated syrup is then inoculated with a "mother" culture of acid forming bacteria which are responsible for the transformation of the sweet grape syrup into vinegar.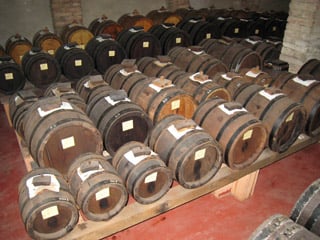 Next comes the very lengthy and carefully controlled process of aging, which involves placing the inoculated syrup into a series of smaller and smaller oak barrels [chestnut, cherry, ash, mulberry, and juniper woods may also be used], that are left open to the air.

The barrels are traditionally kept in the warm attics of barns which facilitate evaporation of moisture and concentration of flavour.

As the aging process continues, the wood of the barrels gradually adds character and complexity to the vinegar which also becomes thicker as it slowly evaporates.
After aging in this way for 12 years, the vinegar acquires a compelling depth of flavour, subtle acidity and loads of character and is allowed to be placed in the distinctive globe shaped bottle of the Modena Balsamico Consorzio and sold as as Aceto Balsamico Tradizionale.

The next quality of balsamic vinegar is achieved after 25 years and yields the astonishingly textured and deeply flavourful, Aceto Balsamico Tradizionale Extravecchio.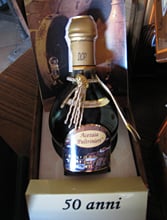 This balsamico is so fine that it can be sipped just like a digestive and has a sweet, velvety richness that fills your mouth with delight. We were also lucky enough to taste 50 year old balsamic vinegar - ambrosia!
During our Flavours of Italy Tour each year we visit a small, magnificent acetia on the outskirts of Modena to meet the man behind the this amazing vinegar and most importantly to experience the true tradition of balsamic vinegar making and of course taste the difference!
There are many products calling themselves balsamic vinegar in our stores that are little more than cheap industrial vinegar to which has been added colouring and caramel flavour and put into an interesting looking bottle.
If you would like to try genuine balsamic vinegar ( aceto balsamico tradizionale ) made in Modena using this traditional method, remember to look for the globe shaped bottle with the designated "DOP" label ( denominazione di origine controllata ).
Our Current Booking Status
Robbi and I are thrilled to see the outstanding response for our 2019 season ( our best ever result ), with most of our tours already sold out and the remainder down to the last few vacancies.
The current booking status for our 2019 season at the time of this newsletter is:-
Our 2020 season is already off to a flying start with all of our tours either half full or almost sold out:-
For detailed information about any of our tours please visit our tour information page and if you would like to join us please visit our make a reservation page.
If you would like us to hold your place(s) for a few days so that you have time to comfortably make your other arrangements please let us know at jim@aroma-tours.com
It is our pleasure to assist you with any questions you may have and we invite you to get in touch with us at jim@aroma-tours.com
Please note
Our up-to-the-minute booking status is available via our calendar page
If the tour you would like to attend becomes fully booked, please let us know if you would like us to add you to the waiting list for that tour in case a place becomes available due to a cancellation.
Travelling Solo in a Group
As well as couples and friends travelling together, we are regularly joined by solo travellers - mostly women, who appreciate being able to journey with liked minded people from around the world, without the need to do all the planning and take on the daunting task of touring by themselves.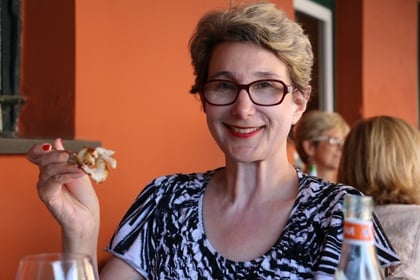 Joining one of our small group tours is easy and we have already made all of the arrangements on your behalf to ensure that you have a delightful, stress-free holiday with the focus on having fun.
Having a ready-made group of friends to travel with, and us to take wonderful care of you is the way to go!
There is no extra charge for solo travellers who are willing to share a room with another same gender guest from our group.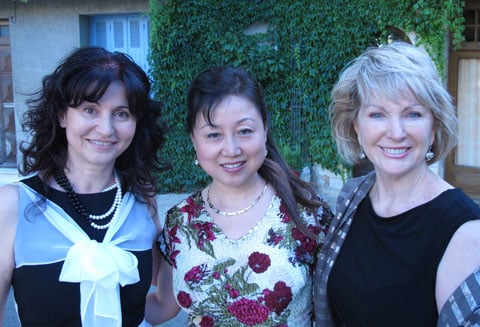 We have carefully crafted off-the-beaten-path itineraries that are the perfect balance of structure, experiences, details and free time to enjoy in your own way.
There have been a significant number of guests over the years who and have joined us multiple times, some of whom have become dear friends.
Mona Smith, pictured at the beginning of this snippet, holds the record for the most tours attended by a solo traveller - she has journeyed with us 10 times and this year will be her 11th!
Susan Troxell from NYC is a close second and has joined us 9 times with a 10th coming next year.
Italy in Autumn - Bellissimo!
Italy in autumn is a magnificent kaleidoscope of colourful landscapes, beautiful hilltop villages, ripe grape vines, celebration and joy for life.
During our Aromas of Tuscany and Flavours of Italy tours we absorb the passion of the Italian lifestyle and savour the delightful flavours of the land's bounty, along with the rich cultural heritage evident in the art, architecture, historical sites, festivals, fashion, design, craftsmanship and unique approach to living.
Those of us who journey here are all destined to be transformed by the magic of Italy - feeling more joyful by the moment, speaking more enthusiastically, smiling broadly and even indulging in a bit of emphatic arm waving!
Only 4 vacancies remaining for 2019

Our Invitation
Robbi and I look forward to welcoming you to one of our delightful tours or retreats as we continue moving towards our retirement in the next few years.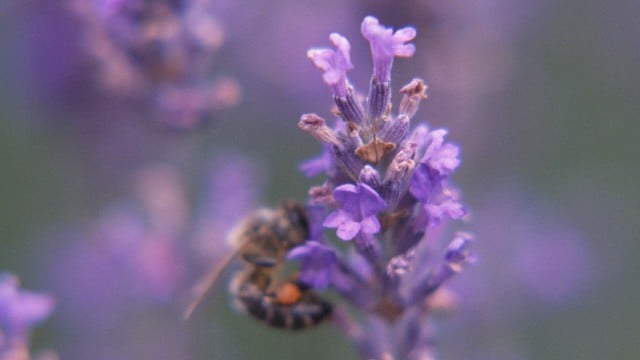 For detailed information about any of our tours please visit our tour information page and if you would like to join us please visit our make a reservation page.
As always if you have any questions or if you would like us to assist you personally with advice about your travel arrangements or with any other details please contact us at info@aroma-tours.com
Warmest regards,
Jim and Robbi