Greetings from Robbi and Jim
A warm welcome to all of the members of our Aroma Tours Newsletter in over 30 countries around the world.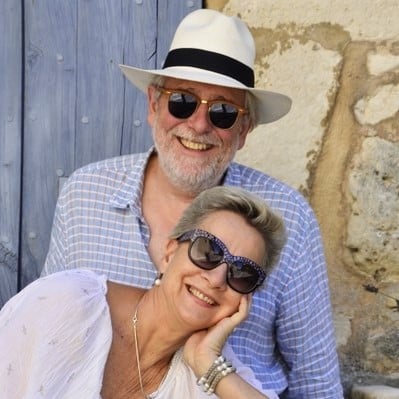 Robbi and I are enjoying some well deserved quiet time after the conclusion of another wonderfully successful year of tours.
Our cottage garden is a riot of colour and we are surrounded by flocks of parrots and other birds busily feeding and nesting as well as regular visits from our local kangaroo mob - which with the new generation of joeys has grown to more than 15.
As we move into summer and those of you in north hunker down for winter, we all begin to look forward to the festive season and catching up with family and friends.
With the coming of the New Year we will be looking forward to the start of another season of Aroma Tours and are thrilled to see that demand for our 2019 tours is the strongest we have ever seen!
After 25 wonderful years, as we continue to throttle back on the number of tours that we are hosting, Robbi and I feel truly blessed to be sharing our passion for the fabulous places and experiences that we love, with delightful people from around the world.
Aroma Travellers Our Thanks
Without doubt, the main reason that we have grown and flourished over the years, is the on-going support we have received from our past Aroma Travellers and we are thrilled to see that they continue to make up almost 65% of our guests!
We would also like to give our heart-felt thanks to all of you who continue to support us with your kind words and referrals.
Robbi and I also greatly appreciate the wonderful words of thanks we have received over the years and have added a new compilation of Guest Comments to our site.
The Story of Pastis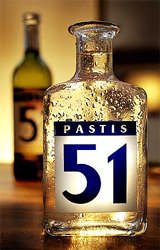 One of the typical scenes to be found throughout Provence is men gathered around the town square playing petanque and drinking the aniseed flavoured liquor, Pastis.

In the 19th and early 20th centuries it was a tradition for wine makers and bartenders to create their own Pastis liqours by combining 45% alcohol distilled from grapes and other fruits with sugar, caramel and combinations of plants, herbs and spices to be sold "under the counter".

Some of the recipes are supposed to contain as many as 72 different ingredients, including Mint, Birch leaves, Maize, Vervain, Sapwood, Licorice, Chamomile, Blackcurrant leaves, Poppy seeds, Thyme, Coriander, Parsley, Cinnamon, Star anise, Fennel, Summer savory, Cumin, Licorice and Aniseed.

The notorious liquor Absinth also called "The Green Fairy" due to it's greenish hue was the favourite tipple of writers and painters like Monet, Oscar Wilde and Vincent Van Gogh. Sadly it was responsible for severe problems as it contained the herb wormwood which is in fact toxic to the nervous system. As a result Absinth and all other liquors containing anise such as Pastis were banned by about 1920.

Fortunately the ban was lifted in 1932 after it was realized that the problem with Absinth was in fact the wormwood and Pastis made a come back through men like Paul Richard, a disgruntled seller of "vin ordinare", who decided that there was a great opportunity to commercialize the production of Pastis and from humble beginnings in his parents back yard he created a huge world wide business; all from the humble Pastis.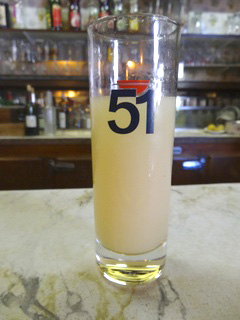 Pastis is the perfect aperitif; every time you sit down for a meal in France there is the inevitable question, "un aperitif?". So next time order a Pastis which will come in a short glass with a jug of chilled water. The Pastis is a slightly viscous, pale straw coloured liquid which as you add water turns a milky white due to the oil of mint crystalizing out.

Pastis for me is "Provence in a bottle" and it is clear that sitting in the shade of a linden tree on a hot summer's day sipping a cool glass of Pastis either watching the world go by or contemplating the heavy responsibility of the menu selections is what "savoir vivre" is all about.

Our Current Booking Status
Robbi and I are thrilled to see the outstanding beginning for our 2019 season ( our best ever result for this time of year ), with 4 tours already sold out and the remainder down to the last few vacancies.
There is still time for you to join us next year but it is fair to say that you will need to get in touch with us soon to secure your place.
The current booking status for our 2019 season at the time of this newsletter is:-
For detailed information about any of our tours please visit our tour information page and if you would like to join us please visit our make a reservation page.
If you would like us to hold your place(s) for a few days so that you have time to comfortably make your other arrangements please let us know at jim@aroma-tours.com
It is our pleasure to assist you with any questions you may have and we invite you to get in touch with us at jim@aroma-tours.com
Please note
Our up-to-the-minute booking status is available via our calendar page
If the tour you would like to attend becomes fully booked, please let us know if you would like us to add you to the waiting list for that tour in case a place becomes available due to a cancellation.
Robbi's Triumph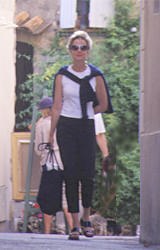 A few years ago after saying farewell to our final group of happy aroma travellers, Robbi and I spent several well earned days relaxing with our friends Jack and Sophie, whose family own the largest lavender farm in Provence. We stayed in their traditional "mas" (stone farmhouse), surrounded by sweeping fields of fragrant purple lavender with the Mistral blowing across the plateau.

On Saturday morning Robbi was up early - 'a woman on a mission' to visit one of Provence's most popular markets in the delightful village of Apt. Being one of the most popular and busiest markets, Robbi found it very difficult to find a park and so in true French tradition, gallantly parked her car on the nearest piece of footpath, just like a local.

She plunged into the market stopping only momentarily for a fortifying cafe au lait and to watch the colourful passing parade of characters. The market stalls wind their way through the town which is alive with boisterous merchants, musicians and people carrying baskets filled to the brim with fresh market produce.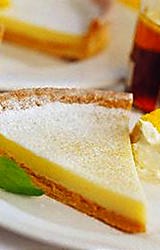 Some hours later, weary but triumphant, Robbi returned to the farm just in time for le dejeuner (lunch) of succulent fresh rascas (red mullet) barbequed Provencale style. As we sat drinking and chatting Robbi leapt out of the car, crispy baguettes and golden loaf of olive bread in hand, carrying her "piece de resistance" - a beautifully packaged white box tied gaily with coloured ribbon, containing a most sumptuous tarte citron (lemon tart). All of our faces lit up in anticipation of the coming lemony delight and Robbi received a rousing round of applause.

As we were eating our lunch looking out across the lavender fields, George, the patriarch of the family said to his son Jack with a hearty laugh, "yesterday it was my 74th birthday, even I forgot". Jack ran over to the house and in the cellar found a fine bottle of champagne so that we could toast the birthday
boy.
Most importantly though, Robbi had inadvertently saved the day by purchasing her tarte citron which turned out to be George's favourite dessert. Not only that, she had bought it from the most prestigious patisserie in Apt. As the love of good eating is central to French culture, this raised Papa's estimation of Robbi's shopping prowess greatly. And oh yes, the tarte citron? It was fantastic!
Travelling Solo in a Group
As well as couples and friends travelling together, we are regularly joined by solo travellers - mostly women, who appreciate being able to journey with liked minded people from around the world, without the need to do all the planning and take on the daunting task of touring by themselves.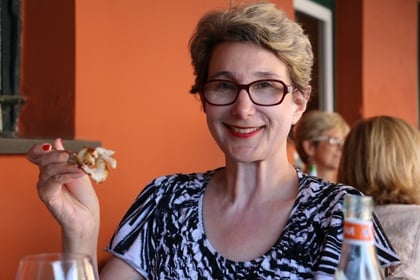 Joining one of our small group tours is easy and we have already made all of the arrangements on your behalf to ensure that you have a delightful, stress-free holiday with the focus on having fun.
Having a ready-made group of friends to travel with, and us to take wonderful care of you is the way to go!
There is no extra charge for solo travellers who are willing to share a room with another same gender guest from our group.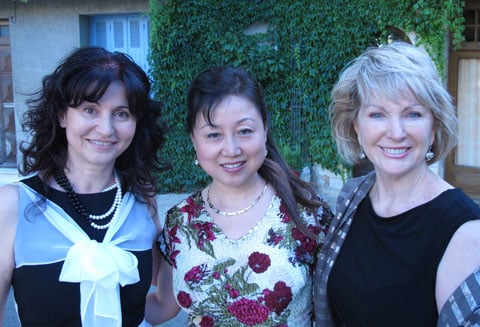 We have carefully crafted off-the-beaten-path itineraries that are the perfect balance of structure, experiences, details and free time to enjoy in your own way.
There have been a significant number of guests over the years who and have joined us multiple times, some of whom have become dear friends.
Mona Smith, pictured at the beginning of this snippet, holds the record for the most tours attended by a solo traveller - she has journeyed with us 10 times and this year will be her 11th!
Susan Troxell from NYC is a close second and has joined us 9 times with a 10th coming next year.
Photos from our Aroma Tours Adventures
Photos are a great way to get a feel for the lovely places and experiences that we will be sharing and enjoying with our guests next year.
Robbi and I hope that you will be able to join us before we hang up our tour leader hats.
We invite you to join us to explore some of these wonderful places, people and experiences with us and take your own "selfie" memories.
Photos of Food Glorious Food
Delicious food and wines are an integral part of each Aroma Tour. From finest gourmet cuisine to delicious home-cooked fare, our meals are always colourful, authentic and flavoursome and are enjoyed in a leisurely fashion.
We love to create menus that tantalize the taste buds of our guests on tour and share the tastes and aromas of fresh seasonal ingredients prepared with practiced skill, care and pride in preparation, combine in a myriad of ways to bring us moments to savour.
For your enjoyment also it our pleasure to share a few images of the lovely gastronomic moments we shared.
We hope that you enjoyed this visual feast and we will share more yummy images with you in our next newsletter.
Treasures of Provence - Ladies Only Special Event ( 2 vacancies remaining )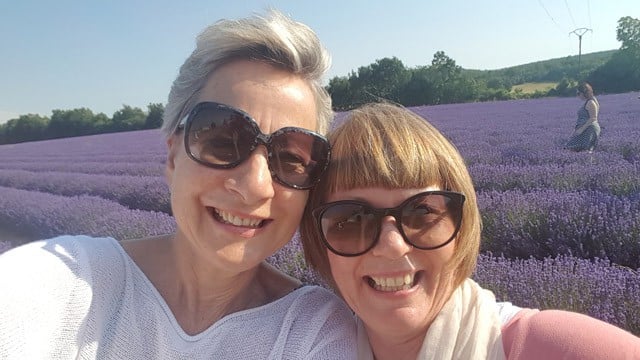 Our "ladies only" special event Treasures of Provence last June was an absolutely divine experience and all of the lovely ladies who attended agreed that it was so wonderful to enjoy a week dedicated to all things feminine.
Following on from this great success, next year's Treasures of Provence now has only 2 vacancies remaining.
Both Robbi and our dear friend Megan Larsen will once again be sharing many of the delightful elements that they love about Provence, especially for women travellers desiring to be cared for and nurtured by the beauty that the French aspire to so well…Simply a beautiful immersion into the essence of French style and charm.
For more details please visit our information request page and if you would like to reserve one of the remaining places please visit our booking request page
Italy in Autumn - Bellissimo! (repeat)
Italy in autumn is a magnificent kaleidoscope of colourful landscapes, beautiful hilltop villages, ripe grape vines, celebration and joy for life.
During our Aromas of Tuscany and Flavours of Italy tours we absorb the passion of the Italian lifestyle and savour the delightful flavours of the land's bounty, along with the rich cultural heritage evident in the art, architecture, historical sites, festivals, fashion, design, craftsmanship and unique approach to living.
Those of us who journey here are all destined to be transformed by the magic of Italy - feeling more joyful by the moment, speaking more enthusiastically, smiling broadly and even indulging in a bit of emphatic arm waving!
Provence Reflections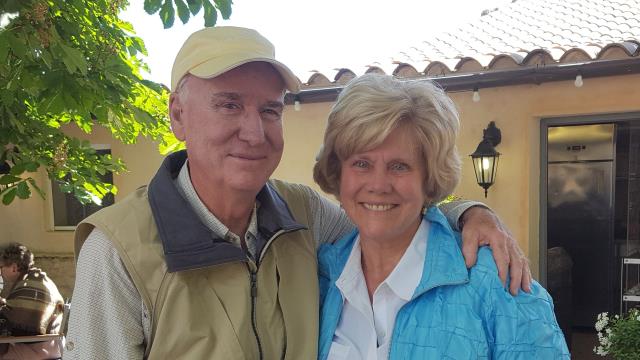 We have collected many lovely comments from our guests over the years but this one from Shannon and Scott Peck from the USA is one of our favourites.
"Our two Aroma Tours of Provence were beyond our wildest imagination in every way!
From the moment the tour began we found ourselves smiling and relaxing under the wonderful care of Robbi and Jim, who were both entertaining as well as super organized down to every detail. We didn't have a single worry the entire time!
Our job was to enjoy ourselves! That was rule #1! Their selection of places to see and things to do were superb! Every day we found ourselves almost overwhelmed by the beauty surrounding us, the exquisite meals, the history and inspiration.
We returned home feeling the most enriched we have every felt. I kept using the phrase, "blissed out!" throughout the tours. We miss Provence and its wonderful people!
We can never thank Robbi and Jim enough for the trip of our life time! And we deeply appreciate their constant care-taking and empathy towards our happiness, every day! It worked! You two are geniuses at this!" You did it all with great heart!
We look forward to another tour in the near future! Please don't retire just yet!" Thanks a billion for all the laughter, fun, and great times learning and experiencing the most wonderful place on earth!"
Our Invitation
Robbi and I look forward to welcoming you to one of our delightful tours or retreats as we continue moving towards our retirement in the next few years.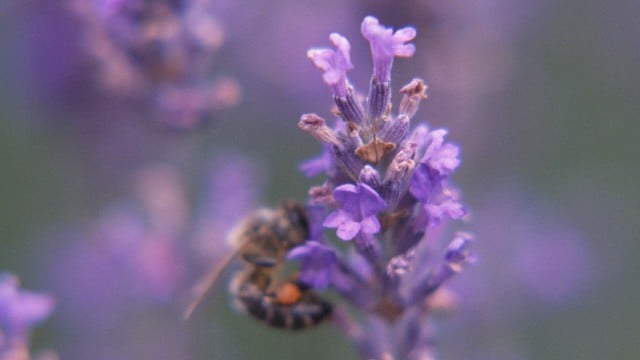 For detailed information about any of our tours please visit our tour information page and if you would like to join us please visit our make a reservation page.
As always if you have any questions or if you would like us to assist you personally with advice about your travel arrangements or with any other details please contact us at info@aroma-tours.com
Warmest regards,
Jim and Robbi