turkish delights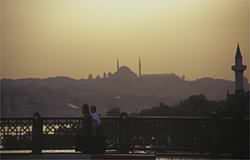 During its 4000 year history, Turkey has been home to some of the world's greatest civilizations including the Persian, Byzantine, Greek, Roman and Ottoman empires. They have left behind them a plethora of glorious works of art and antiquities that can be found even in the most remote corners and bares vivid testament to Turkey's magnificent past.
In Turkey we have the opportunity to experience some of the world's finest ancient sites and for example contemplate life in a Greco-Roman agora ( market place ) or the thunder of chariots racing around a hippodrome.
There are sites from the early days of Christianity with underground churches and stunning icons as well as the Aya Sophia which was for 1000 years or so the building with the largest enclosed space on earth.
In later years the Ottomans came and added their mark with an empire that stretched from Egypt to Austria. Evidence of their presence is everywhere with magnificent carpets, calligraphy, ceramics and stunning architecture.
We can also thank them for tulips, coffee ( a native plant of Ethiopia but first cultivated in Yemen - then part of the Ottoman empire ) and of course the wonderful Damask Rose that they started cultivating in what is now Bulgaria and later in Turkey.
It is interesting to note that the Ottomans were unable to conquer Vienna and the triumphant Austrians decided to celebrate their victory ( or lack of defeat ) by creating a pastry! They thought it a nice idea to be eating the symbol of the Ottomans, their long time suppressor, the crescent moon - aka the croissant.