Greetings from Robbi and Jim
A warm welcome to all of the members of our Aroma Tours Newsletter in over 30 countries around the world.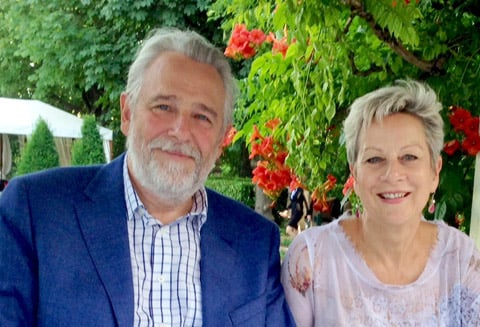 Robbi and I now in Singapore on our way to Spain for the start of our 2017 Aroma Tours adventures with our Flavours of Spain Tour and Spanish Gourmet Pilgrimage and we are greatly looking forward to welcoming our first Aroma Travellers for the season in beautiful Barcelona, many of whom have journeyed with us before.
After 23 wonderful years, as we contemplate throttling back on the number of tours that we will be offering, Robbi and I feel truly blessed to once again be sharing our passion for the fabulous places and experiences that we love, with delightful people from around the world.
This year is now our most successful tour season ever ( how wonderful ) with Spain and Provence sold out and Italy and Bali down to the last few places!
We look forward to welcoming the last few Aroma Travellers to our throng this year and hope that you will be able to join us.
There are a few places still available for Italy and Bali, and if you would like to "seize the day" and journey with us this year, we invite you to visit our tour information page for more details or our make a reservation page to reserve your place.
Aroma Travellers Our Thanks
Without doubt, the main reason that we have grown and flourished over the years, is the on-going support we have received from our past Aroma Travellers and we are once again thrilled to see that they will be making up over 67% of our guests!
We would also like to give our heart-felt thanks to all of you who continue to support us with your kind words and referrals.
Robbi and I also greatly appreciate the wonderful words of thanks we have received over the years and have added a new compilation of Guest Comments to our site.
The Sweet Life is Calling
With our Italian tours now almost full, I though it would be inspiring to revisit some of the beautiful photos we have taken in Tuscany and northern Italy to give you a sense of the lovely places and experiences we share during our Aromas of Tuscany and Flavours of Italy tours.
We look forward to welcoming our last few Aroma Travellers in Italy this year for a delightful adventure, exploring the delights of the "Dolce Vita".
We invite you to join us to explore some of these wonderful places, people and experiences with us and take your own "selfie" memories.
We invite you to join us to explore some of these wonderful places, people and experiences with us and take your own "selfie" memories.
Aromas of Tuscany
We are greatly looking forward to sharing the beauty and bounty of autumn in Tuscany with our Aroma Travellers this September during our Aromas of Tuscany Tour.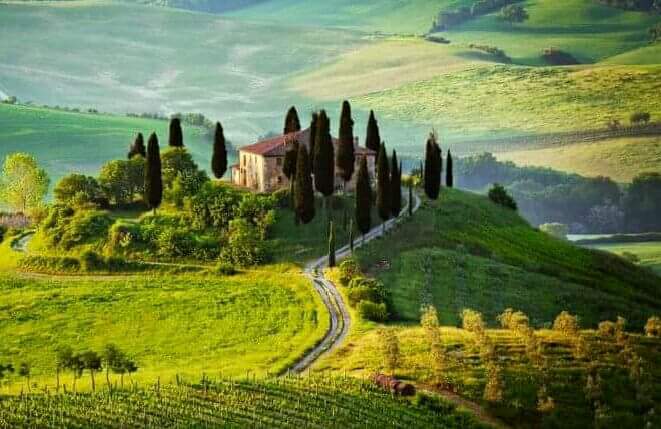 As well as glorious countryside and nourishment for the eyes, life in Tuscany takes on a different pace with long lunches in beautiful hilltop villages, fabulous coffee, delicious wines, truffles, parmegiano cheese, porchini mushrooms, prosciutto, fresh pasta..... ( so many wonderful tastes ), laughter and the fine Italian art of "dolce fa niente" - sweet doing nothing!
Our journey is also about absorbing the richness and passion of Italian life and savouring its cultural heritage evident in the art, architecture, pageantry, festivals, fashion, design, craftsmanship and unique approach to living.
We are all destined to be transformed by the magic of this wonderful place - feeling more Italian moment by moment, speaking more enthusiastically, smiling broadly and even display a bit of emphatic hand waving!
Our Current Booking Status
Bookings for our 2017 tour season are now almost completed, however, there are still a few vacancies available for Italy and Bali and we look forward to welcome our last few Aroma Travellers to join us for a wonderful adventure this year.
We opened reservations for our 2018 season about 1 week ago and already the response has been fabulous with a 300% increase in enquiries and a surge in early bookings from guests who have previously planned to join us next year securing their places - especially in Spain.
The current booking status at the time of this newsletter is:-
Please note
Our up-to-the-minute booking status is available via our calendar page
Flavours of Italy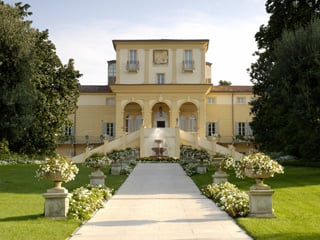 Our highly popular Flavours of Italy Tour explores the flavours, character, culture and beauty of northern Tuscany, the magnificent Ligurian coast and Cinque Terre, the gastronomic delights of the Po valley, the rich cultural heritage, fabulous wines and lush vineyards of the Veneto region and the majestic beauty of Italy's most beautiful lake, lake Como.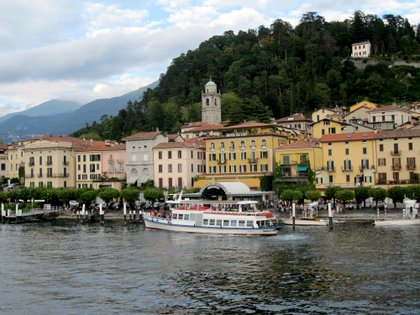 Due to a recent transfer of booking to 2018 this tour which has been fully booked for months currently has 2 vacancies available.
Travelling Solo in a Group
As well as couples and friends travelling together, we are regularly joined by solo travellers - mostly women, who appreciate being able to journey with liked minded people from around the world, without the need to do all the planning and take on the daunting task of touring by themselves.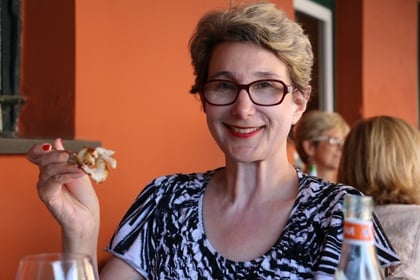 Joining one of our small group tours is easy and we have already made all of the arrangements on your behalf to ensure that you have a delightful, stress-free holiday with the focus on having fun.
Having a ready-made group of friends to travel with, and us to take wonderful care of you is the way to go!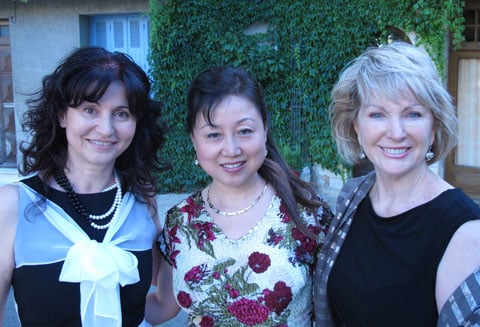 We have carefully crafted off-the-beaten-path itineraries that are the perfect balance of structure, experiences, details and free time to enjoy in your own way.
There have been a significant number of guests over the years who and have joined us multiple times, some of whom have become dear friends.
Susan Troxell from NYC holds the record for the most tours attended by a solo traveller - she has journeyed with us 9 times!
Mona Smith, pictured at the beginning of this snippet, is a close second and has joined us 8 times.
Our Invitation
Robbi and I look forward to welcoming you to one of our delightful tours or retreats as we continue moving towards our retirement in the next few years.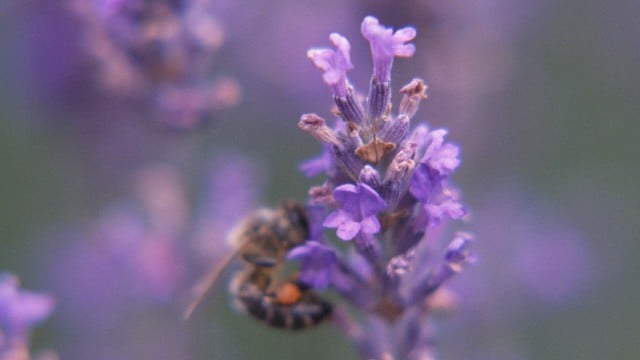 For detailed information about any of our tours please visit our tour information page and if you would like to join us please visit our make a reservation page.
As always if you have any questions or if you would like us to assist you personally with advice about your travel arrangements or with any other details please contact us at info@aroma-tours.com
Warmest regards,
Jim and Robbi