Greetings from Robbi and Jim
A warm welcome to all of the members of our Aroma Tours Newsletter from around the world.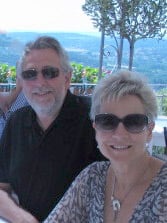 Robbi and I are currently enjoying being home settling back into our country life and reminiscing about all of the delightful moments we have shared with our guests during our Aroma Tours adventures this year.

It is nice to be staying in one place for the moment, but already our thoughts are turning to the upcoming tour season in 2013 which is off to a flying start with 5 tours already almost fully booked!

What a blessing it for us to be living our passion in the company of delightful people from around the world, with new friendships made and old ones rekindled.
Robbi and I are greatly looking forward to sharing many more delightful moments with our Aroma Travellers next year and invite you to visit our information request page for the latest details of our tours and retreats.
Memorable Photos From Our 2012 Adventures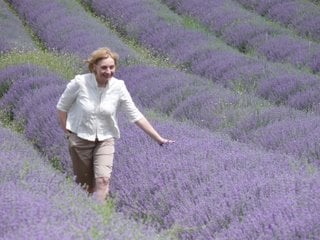 One of the best ways to get a feel for the the spirit and content of our Aroma Tours offerings is by taking a peek at a few of the 1000's of photos we have taken during our adventures.

This time we have included some lovely images of Tuscany, Bali and Provence, as well as some wonderful photos taken by our dear friend Russell Bowey during our Turkish Aromatic Odyssey.
We hope that you enjoy them and we also invite you to visit our Photo Gallery Page where you will be able to access many more of the beautiful images of our past adventures.
Aroma Travellers Our Thanks
Without doubt, the main reason that we continue to grow and flourish, is the on-going support we receive from our past Aroma Travellers.
Currently we are seeing an outstanding number of returning Aroma Travellers and new guests who are joining us because of direct referrals - currently over 57% of our guests!
For Robbi and myself, it is such a great delight to be welcoming back so many good friends and to see our Aroma Tours continuing to flourish.
We would also like to give our heart-felt thanks to all of you who continue to support us with your kind words and referrals as you spread news of our tours and retreats amongst your friends.
Robbi and I also greatly appreciate your wonderful words of thanks, it means so much to us to know that we have shared a special time with you during our journey together.
If you have not already done so, please take a peek at our Guest Comments from 2012
Our Current Booking Status
All is now well under way for next year's tour season and Robbi and I are thrilled to see the fabulous early response to our 2013 offerings, with Flavours of Spain, Flavours of Dordogne, Heart of Provence, Essential Provence and our first Bali Women's Retreat already almost fully booked.
Our booking status at the time of this newsletter is:-
Robbi and I hope to have the pleasure of welcoming you to one of our aromatic adventures next year and to sharing a wonderful and memorable time with you.
For detailed information about any of our tours please visit our information request page and if you would like to join us please visit our booking request page to reserve your place.
It is our pleasure to assist you with any questions you may have and we invite you to get in touch with us either by email at info@aroma-tours.com or by phone on: +613 5331 3254 (afternoon/evening USA time zones, mornings from other countries).
Please note
Our up-to-the-minute booking status is available via our calendar page
If the tour you would like to attend becomes fully booked you may like us to add you to that tour's waiting list as sometimes we receive late cancellations or transfers.
Flavours of Provence Tour - New Itinerary
Next year Robbi and I are pleased to announce that we have moved our delightful and delicious Flavours of Provence Tour from early June to late July and added some fabulous changes to the itinerary, including: lavender fields in full bloom, several glorious gastronomic restaurants and an exploration of the world renowned Chateauneuf du Pape wine region.

Also, one of our favourite hotels is being fully refurbished and redecorated later this year and as a result, it will be the perfect first base for us to launch our gastronomic explorations next July. One happy consequence of this is that the price for Flavours of Provence will now come in to line with our other offerings.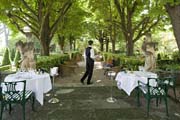 Amongst this constant starburst of fragrance and flavours where the senses can be truly enagaged, you will experience a gastronomic "tour de force" of some of the finest restaurants in Provence, wrapped in a leisurely exploration of picturesque hilltop villages, sweeping fields of purple lavender, colourful markets filled with bountiful terroir, delightful homeware boutiques and characterful wines ready to beguile your attentive tastes.
For the latest details of this exciting new tour please visit our information request page.
If you haven't already done so you may also enjoy taking a peek at photos of this years Flavours of Provence Tour
Bali's Galungan Festival of God's and Ancestors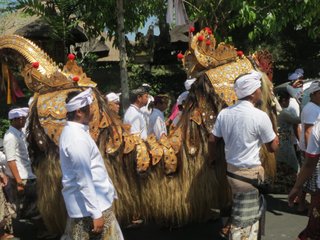 Among the many holidays in the Balinese 210 day calendar, the most prominent is undoubtedly the celebration of Galungan which celebrates the return of the Balinese Gods and ancestors to Bali.

Balinese families entertain and welcome them with prayers and offerings, along with ceremonies to cleanse and balance the inner and outer energy of the island. Galungan celebration lasts for ten days and ends with Kuningan day.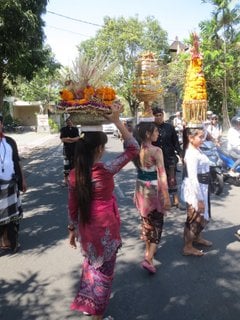 It features, among other things, Barong dancing from temple to temple in the village. The festival symbolizes the victory of good over evil.

The origin of Galungan is steeped in ancient Hindu-Balinese tradition and on the two main festival days everything is closed. People return to their village of origin to present offerings to their ancestors and village temples.

In order to welcome and appease the Gods, ancestral temples are cleaned, special prayers and offerings are made and dances are presented. It is also believed that the ancestors of the family descend to their former homes at this time, congregating in the family temple.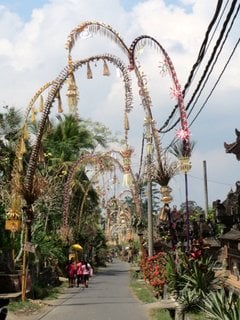 The streets of Bali are highly decorated with giant bamboo poles "panjor" creating a very festive atmosphere. Each panjor is decorated with woven young coconut leaves, fruit, cakes ands flowers and placed on the right side of every house entrance.

The streets near the temples are crowded with people dressed in their finest colourful clothes and jewels, with the women balancing the offerings high upon their heads and the men holding palm offerings in their arms as they make their way to the temple.

Kuningan marks the end of Galungan and gets its name from the special offerings made of yellow rice. This is the day that the earth dwelling ancestors return to heaven.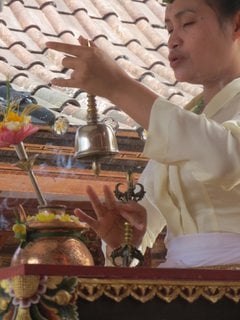 To honour them, families will gather, pray and lay yellow offerings. However, most Kuningan celebrations take place in the privacy of the home in the shrines of the family temple and housing compounds where the smell of incense, good food shared activities and feelings of happiness abound.

The beauty of Bali lies in the Balinese attention to ritual and detail, resulting in a piece of heaven that is aesthetically beautiful with a calming ambience. Every ceremony is a painstakingly orchestrated affair adorned with carefully sculpted leaves, fruits and flowers. Such diligence is attributed to the devotion to serve and to foster an affinity with all things divine.
The Balinese life is a different existence from anywhere else in the world and to imbibe the life values of the Balinese as they busy themselves with unending festivities and ceremonies and celebrate their cultural beliefs is truly a blessing. In Bali, each moment is highlighted by the work of the Balinese Gods, without which nothing would be possible......making everything possible......
This connection to spirituality, artistry and tradition is an important part of the experiences that Robbi shares with the women attending our Bali Women's Retreat.
Comments flow in following the retreat and below is a selection from this year. Wonderfully, we still hear from people years later as to the lasting impact that the retreat had on them. Very gratifying indeed for Robbi as she is passionate about inspiring others to live and learn from the heart. Her life work reflects this.
I am still feeling the Bali peace following the retreat and know that I have had a major shift in my consciousness and heart. Thank you for providing a safe, nurturing, fun and inspiring environment for me to rediscover me! ~ Cynthia, Alexandra Australia
Thank you for the experience of a lifetime. I went expecting some shifts and reconfirmation and I experienced both. I am looking at things a little differently now and take things more lightly than I have in the past. ~ Ida Mae, Toronto Canada
Thank you for creating the wonderful retreat in Bali which provided such an opportunity for growth and where I learnt so much. I felt beautifully supported and loved and that feeling continues on now that I am home. You are a very skilled and special person with an amazing ability to make everyone feel so worthy. ~ Georgie, Adelaide Australia
I truly loved my week in Bali with you all. I didn't know what to expect but whatever it was, it was well exceeded! I left with a brighter lighter heart and insights into life, love and the whole darn thing! ~ Carmel, Sydney Australia
If you haven't already done so you may also enjoy taking a peek at photos of this year's Bali Women's Retreat
Istanbul Musings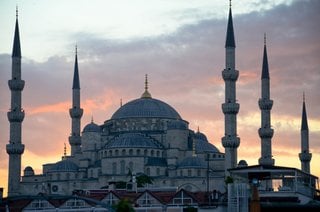 Few cities can match Istanbul as a place of spectacular beauty, profound cultural and historical heritage as well as a sense of the exotic around every corner.

"There God, man, nature and art have created and placed the most magnificent view the human eye can contemplate on earth."
~ Lamartine.
For over 2,500 years the city known today as Istanbul, has been a place of great strategic and trade importance and situated at the crossroads where Europe and Asia meet. Formerly known as Byzantium and Constantinople, some of the world's greatest civilizations including the Persian, Byzantine, Greek, Roman and Ottoman empires have left behind them a rich legacy of culture, architecture, art, antiquities and of great interest to us, their aromatic heritage. Istanbul is a fantastic city to explore and the locals love visitors.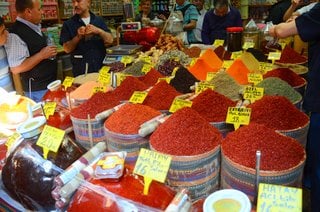 One of my favourite outings in Istanbul is to walk through the old city of Sulanahmet, past the spectacular Topkapi palace to visit the Egyptian spice bazaar or Misir Charsisi, situated near the shores of the Golden Horn.

Trade has been bustling under its high domed roof for 350 years since its construction as part of extensions to a nearby complex of mosques.

Stall after colourful stall entice with the exotic aromas from spices, herbs, gums, perfumes, incense, essential oils, teas, seeds, nuts, Iranian saffron and Russian caviar. The storefronts are extremely photogenic and stacked with aromatic Turkish delight, scented with rose, lemon or pistachio. In the labyrinth of streets located behind the Spice Bazaar, there are even more shops filled to the brim with all manner of household goods that are wonderful to fossick among.
Istanbul has an abundance of exotic flavours and fragrances to be savoured and the story of coffee is a great example of its aromatic influence.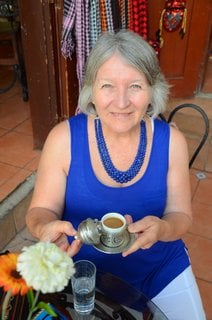 Coffee is a native of Ethiopia and was first cultivated by the Ottomans in Yemen for use in Sufi religious ceremonies and was a special treat for the noblility.

The first public coffee house was opened in Constantinople in 1554 and "kaveh", as it was called, quickly became very popular. Turks love their coffee black, strong and sweet!

Europeans were first introduced to coffee outside of Vienna by the Ottomans, who while retreating after their second and final, unsuccessful attempt to lay siege to the city were forced to leave behind sacks of coffee beans. When asked what the sacks of beans were for, one of the captive soldiers explained how to roast, grind and brew this strange new beverage.
It is interesting to note that the triumphant Austrians decided to celebrate their victory by creating a pastry! They relished the idea of eating a pastry shaped as a crescent moon which was the symbol of the Ottomans who were their long time suppressor. They called this innovative pastry "the croissant".
Blossoming Heart Retreat in Provence with Robbi Zeck ND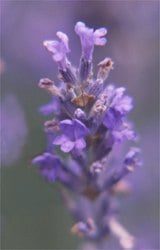 In place of our traditional Provence Aromatherapy Retreat, next year for the first time, Robbi will be offering her Blossoming Heart Retreat. The retreat offers an exceptional opportunity for you to study and gain practical experience of the emotional and wellbeing benefits of using essential oils based on Robbi's beautiful book, The Blossoming Heart.

In an absolutely idyllic setting in Provence this is the perfect environment for learning, sharing and being inspired both personally and professionally.

Set amongst the natural bounty and sweeping lavender fields of Provence, our retreat week will connect you with nature, your creativity and your purpose as we explore The Blossoming Heart Pathways to stress free living.
You will enjoy a unique series of lectures, field trips and experiences that will bring The Blossoming Heart to life, along with the knowledge of local experts in aromatic plant cultivation and essential oil production who will also share a wealth of experience with you.

During the retreat not only will you enjoy a visit to an organic farm and a distillery to see the production of essential oils from field to bottle you will also greatly broaden your knowledge of the psychological properties of essential oils and how to use them to reduce stress.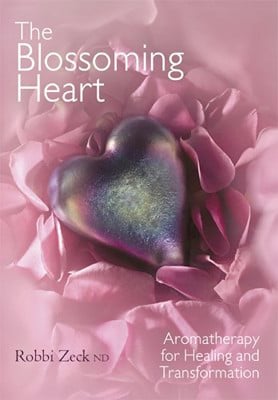 Every element of the retreat has been planned to perfection and we will be visiting visit some of the hidden gems tucked away in the Provencale countryside that were the inspiration for the creation of The Blossoming Heart.

Robbi's pioneering work on the mood enhancing and stress releasing properties of essential oils integrated with her extensive background over more than 35 years in the healing arts, has empowered individuals, practitioners and educators around the world, to enhance their abilities in gently reducing stress and increasing internal balance and wellbeing.

During the retreat Robbi will be sharing her unique knowledge and understanding of aromatherapy - a heartfelt approach that incorporates a philosophy of inner beauty while nurturing, nourishing and revitalizing the body, mind and spirit.
For more details please visit our information request page
To purchase a copy of Robbi's book or for more details about her work please visit https://www.aromatic-kinesiology.com
Storms in North America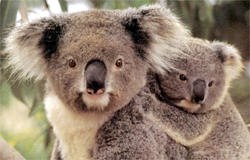 Robbi and I have been deeply touched by the plight of so many people who have been affected by the recent storm in North America.

Our hearts go out to everyone and their families who have been affected by this tragedy and hardship.

Many of our guests come from this part of USA / Canada and we want you to know that Australians are thinking of you and sending prayers to you all at this time.
Arranging Your Travel
Once you have reserved your place via our tour booking page, all your need to do is make your travel arrangements to meet us at the tour rendezvous point. You can either ask your travel agent to assist you, or for the more adventurous you can book your flights and connections yourselves. All of our rendezvous are easily achieved and naturally we provide all of the information and assistance that you will need.
Just a reminder that we have a frequently asked questions page to help answer the most common questions including how to book, travel arrangements, group sizes etc.
Previous Newsletters and Stories of Interest
Our past newsletters contain a lot of interesting stories and are well worth a read. You can find them by visiting our newsletter archives
You may also enjoy reading a few of the stories that we have compiled over the years on our stories of interest page
Our Invitation
Robbi and I look forward to welcoming you to one of our delightful tours or retreats in the near future and invite you to take a peek at the latest photos of our travels in our photo galleries
If you would like detailed information about any of our tours please visit our information request page
As always if you have any questions or if you would like us to assist you personally with advice about your travel arrangements or with any other details please contact us either by email at info@aroma-tours.com or by phone on +61 3 5331 3254 ( afternoon/evening USA time zones, mornings from other countries ).
Please note you need to replace the '+' in our phone number with your country's international dialing prefix: from the USA/Canada it is 011 from most other countries it is 00.
Warmest regards,
Jim and Robbi