Greetings from Robbi and Jim
A warm welcome to all of the members of our Aroma Tours Newsletter from around the world.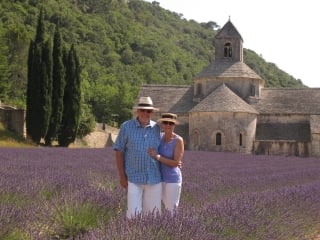 Robbi and I are now almost ready to begin this year's Aroma Tours adventures and we always enjoy watching the excitement and anticipation building for our guests and we feel truly blessed to be able to share our passion for the places and experiences that we love with wonderful people from around the world, almost half of whom are joining us once again.

This year we are welcoming our greatest ever number of Aroma Travellers and most tours are fully booked with just a few places remaining in Provence, Tuscany and Bali.

Over the next few years we will be beginning to wind back our tour commitments to allow us more time for other projects and for sharing with our dear friends and family.
After more than 20 years it feels good to know that we will be throttling back a little.
As the saying goes "Carpe Diem" and if you would like to seize the day and join our Aroma Travellers in Provence, Tuscany or Bali this year, please visit our information request page for more information or our booking request page to reserve your place.
Aroma Travellers Our Thanks
Without doubt, the main reason that we continue to grow and flourish, is the on-going support we receive from our past Aroma Travellers.
Last year we enjoyed an outstanding number of returning Aroma Travellers and new guests who joined us because of direct referrals - over 63% of our guests! A similar result is occurring this year as well.
For Robbi and myself, it is such a great delight to welcome back so many good friends and to see our Aroma Tours continuing to flourish.
We would also like to give our heart-felt thanks to all of you who continue to support us with your kind words and referrals as you spread news of our tours and retreats amongst your friends.
Robbi and I also greatly appreciate your wonderful words of thanks, it means so much to us to know that we have shared a special time with you during our journey together.
If you have not already done so, please take a peek at our Guest Comments from 2014
Rioja - Where Tempranillo Rules
Rioja [pronounced: ree oh ha] in the north of Spain is a land redolent with aromatic plants such as thyme, rosemary and juniper growing alongside sweeping rows of lush vines.

It is also blessed with a diversity of terrain, a rich historic heritage and is the finest place on earth to grow tempranillo grapes.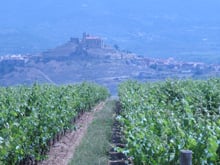 Many people are not familiar with this particular grape variety, however, during the 19th century Phylloxera outbreak in Bordeaux that devastated the vines of that region [ and many others as well ], it was to Rioja that the Bordelaise turned in order to replace their missing stocks.
Tempranillo, with its weight, structure and balance of flavour closely resembling the cabernet-merlot blends typical of Bordeaux was a godsend, and for two decades this previously little known grape, travelled north along a purpose built railway line to bolster the wines of that most prestigious of French wine regions.
This exchange also resulted in Rioja benefiting from the experience and expertize of the Bordelaise who introduced barrel aging and other refined techniques of winemaking to Rioja.
Today Rioja is one of the world's great wine regions with 57,000 hectares under cultivation, yielding more than 250 million litres of wine per year. In size it rivals nearby Bordeaux and is significantly larger than the Cote du Rhone.
Rioja is quite diverse with three principal regions:-
Rioja Alta: a cold climate environment, up to 800m above sea-level with a relatively short growing season that produces a lovely light, elegant, unripe style of wine.
Rioja Alavesa: occupies the region between Alta and Baja and produces wines with a full body, ideal acidity and rich aromatic complexity.
Rioja Baja: a warmer and drier climate at about 500m above sea-level produces fully ripe, deeply coloured, highly alcoholic wines. Unlike the higher regions, however, they lack acidity and aromatic complexity which are essential characteristics of a fine wine worthy of aging. As a result they are mostly used for blending to add colour and body to the wines from other parts of Rioja.
Tempranillo is the main grape variety and is complimented by Garnacha Tinta [Grenache], Graciano, and Mazuelo. A typical blend consists of approximately 60% Tempranillo and up to 20% Garnacha along with the remaining balance made up of Mazuelo and Graciano mainly for colour and aromatic interest.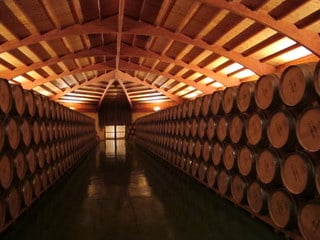 Traditionally it was not uncommon for the red wines of Rioja to be aged for 15 years or more before their release. This dedication to quality is still clearly apparent in the contemporary wines of Rioja, although most bodegas [wineries] have shifted their winemaking focus to shorter maturation times with top wines typically aging for 4-8 years prior to release. There has also been a slow evolution in the use of oak barrels from French to American and then back to French or a blend of the two.
Rioja red wines are classified into four categories:-
Rioja [with no other designation]: the youngest, spending less than a year in oak
Crianza: aged for at least two years with at least 50% of that time in oak
Rioja Reserva: aged for at least three years with at least one year in oak.
Rioja Gran Reserva: aged for at least two years in oak and three years in bottle.
This may well be way too much information, and suffice it to say the most important thing is the wine in the glass you are holding, but knowing a little about the traditions and environment of a wine is a lovely way to add to the enjoyment.
There is also a great deal of cultural history in this region for us to explore, juxtaposed with amazing modern architectural wonders, all of which we will be part of our experiences during our Flavours of Spain Tour.
Le Feu de St Jean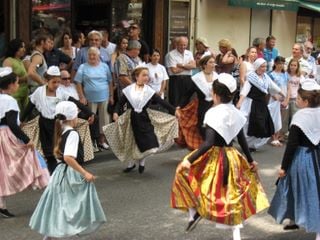 Several years ago during our Essential Provence Tour we had the pleasure of witnessing the ancient ritual of Le Feu de St. Jean - The Fire of St. John.
This colourful celebration dates back to pagan times and is always held on the eve of the summer solstice; representing the victory of light over darkness on the shortest night of the year. All manner of healing and benefits are associated with the fire, such as curing of disease, enhancing fertility and protection from adversity.
On a perfect balmy summer's eve as we strolled through a lovely small village, we were treated to the spectacle of a colourful procession of villagers dressed in traditional Provencale costume parading through the narrow streets to the sounds of flutes and drums.
At the center of the procession was a horse-drawn wagon laiden with fruits of the harvest and as it passed we were offered garlands of rosemary, lavender, corn, fruit, wheat, brush-wood and other offerings for "Le Feu".
The parade's destination was the village's central square where a large bon-fire awaited us. The main festivities began shortly afterwards, with the mayor, resplendent in his tri-coloured sash, addressing us at some length on the ripening of the season and the bountiful harvest soon to come.
He was flanked by dancers and musicians who enthusiastically performed for us and one of the most memorable songs we heard that night, told the story of two young lovers whose eyes met for the first time gazing across the Fire of St John. [ to this day it is one of my favourite songs ]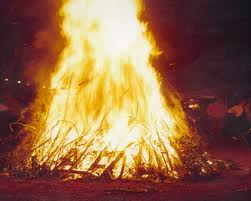 Once it was fully dark, the festivities began in earnest as the bonfire was carefully lit and we all began to circle slowly three times around "Le Feu", whilst throwing flowers, herbs, and garlands into the flames with the words - "May all my ill-luck depart and be burnt up with these."

We were all enchanted by these heart-felt traditions and took a moment to gave thanks, reflect on the year gone by and then bless the year to come, as we joined the whole village in celebration.
Our Current Booking Status
Robbi and I will be heading off to Spain in just a few weeks for the beginning of our 2015 adventures and we are thrilled to have once again achieved our best ever tour season.
Robbi and I are looking forward to welcoming the last few Aroma Travellers for this year's adventures during the next short while.
The current booking status of our 2015 tours at the time of this newsletter is:-
Bookings for our 2016 season are now officially open and going wonderfully well thanks to more and more of our guests ( mainly return travellers and their friends ) making there plans well ahead of time.
The current booking status of our 2016 tours at the time of this newsletter is:-
For detailed information about any of our tours please visit our information request page and if you would like to join us please visit our booking request page to reserve your place.
It is our pleasure to assist you with any questions you may have and we invite you to get in touch with us either by email at info@aroma-tours.com or by phone on: +613 5331 3254 (afternoon/evening USA time zones, mornings from other countries).
Please note
Our up-to-the-minute booking status is available via our calendar page
If the tour you would like to attend becomes fully booked, please let us know if you would like us to add you to that tour's waiting list in case a place becomes available due to a cancellation or transfer.
We will be gradually changing our schedule of tours over the coming years to allow us more time for other projects and activities.
The Story of Champagne - Part 3
The Story of Champagne continues: Part 2 can be found in our previous newsletter.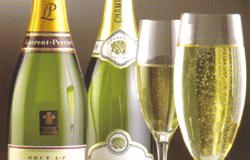 Champagne was enjoying an era of unprecedented growth and skyrocketing popularity in the late 1860's as demand for their sparkling wines continued to spread throughout the world. However, with the end of the American Civil War ( circa 1867 ) there was a great deal of political friction in Europe, which when coupled with Napoleon III's desire for power and the corruption and nepotism of his government, led to growing animosity between France and neighbouring Prussia.
The Champenois were rightly concerned about what this would mean for them; both their business fortunes and the fact that due to its' location, Champagne would inevitably become the primary battle ground for any hostilities. This concern was well founded, and in July 1870 Napoleon III declared war on Prussia.
Within two weeks, three hundred and fifty thousand Prussia troops and reservists poured into Alsace-Lorraine, sweeping all before them. That is until they arrived in Champagne, where instead of the normal hot summer, they were greeted with plunging temperatures and torrential rain that turned the countryside into a morass of sticky mud. The weather had changed almost the moment that the invasion began and once again made true the ancient legend: "God sends a bad harvest to mark the beginning of war".
Hostilities were both short lived and savage with dreadful losses on both sides. This was largely due to the advent of the machine gun and long range artillery, which were now being used for the first time with devastating effect.
By September 1st, Napoleon III had led France to a humiliating defeat and was deposed in favour of a new Government of National Defence who, despite their weak position, steadfastly refused to acquiesce to Prussia's demand for the territory of Alsace-Lorraine. Now Paris itself was to be held to account, however, unhappily for the Champenois, Reims lay directly on the line of march and Champagne quickly found itself under military occupation by thirty thousand thirsty Prussian troops.
Knowing that "The German hates the Frenchman but loves his wines", the Champenois set to walling up their champagne stores. Over the ensuing months curfews, arbitrary taxes ( usually in bottles of champagne ) led ultimately to a guerrilla war and subsequent bloody reprisals.
By January 1871 in the midst of a particularly severe winter, the situation for Champagne was bleak. It had borne the brunt of the Prussian occupation, crops had been left to rot, champagne sales were in a slump and more than two and a half million bottles had been pillaged by the Prussian soldiers.
It was at this most inopportune moment, that Louise Pommery divined that tastes for champagne were changing and decided to "risk it all" by making the first significant attempt at producing a dry white 'Brut style' champagne. This new drier style was more difficult and expensive to make, needed better quality, more fully ripened grapes and required three years, instead of one for ageing.
Champagne makers such as Louis Roederer had made a name for themselves by selling sweet champagne ( mainly to Russia ) and were very resistant to the idea of Brut style champagnes, which they feared would damage the reputation of their own product. However, it was true to say that at the time, many makers relied on added syrup and sugar to mask faults in their wine ( especially excess acidity caused by picking unripe grapes). Louise Pommery persisted against this tide of opinion by contracting growers and agreeing to buy all of their grapes as long as she could say when they would be picked.
Because of poor growing conditions in Champagne, it took three years for her to achieve the quality she was hoping for, however, in 1874 the Pommery and Greno Brut champagne produced was so good and fetched such a high price, that it swept all before it and was heralded as the best vintage of the century! Pommery and Greno as a result was transformed from a small company into one of the largest and most important champagne houses. Louise had single-handedly changed the character of champagne forever.
Following the devastation of the Franko-Prussian war, it was expected that France would take thirty to fifty years to recover, but thanks to the industrial revolution of Napoleon III's reign, the French came roaring back.
Three World's Fairs between 1878 and 1900 drew people to Paris from all over the world. Champagne flowed like Niagara Falls and helped fuel a soaring optimism that led to the construction of the Eiffel Tower in 1889. Every day seemed to bring something new: horseless carriages on the Champs-Elysees, the first telephone booth, the first Metro line, Marie Curie and Louis Pasteur making great discoveries, the opening of the Moulin Rouge, Hedonism and Toulouse-Lautrec's posters of beautiful women holding glasses of champagne were all the fashion.
It was the time of the Belle Epoque and the Gay 90's. Everything sparkled, the people, the conversation, the decor and especially the wine! Champagne prices were at an all-time high and as one wine grower in Champagne put it, "it's like a rain of gold".
By the end of the nineteenth century, champagne was firmly fixed as part of the French national character: "It bubbles like our spirit, it is piquant like our language, it sparkles and chatters and is constantly in motion". It became the symbol of the importance of a moment: the birth of a child, a marriage, the launching of a ship, friends getting together.
With the advent of modern advertizing, the great champagne houses battled to promote their brands, often utilizing "stunts" to gain notoriety and put their name in the headlines. Eugene Mercier arrived at the 1889 World's Fair with a team of twenty four white oxen pulling the world's largest wine barrel ( it took 16 years to build and contained the equivalent of two hundred thousand bottles of champagne ).
Moet and Chandon's agent in New York substituted a bottle of their French champagne for the German "sekt" ( also a sparkling white wine ) that was meant to be used for the christening of Kaiser Wilhelm II's new imperial yacht. Unlike his father Wilhelm I, he was adamant that only German wines would ever pass his lips and when the deception was discovered it provoked an international incident, which of course guaranteed that the name of Moet and Chandon was emblazoned in newspapers across America.
Mass advertizing was new and there was an "anything goes" attitude, which inevitably led to the phenomenon of name rustling. Unscrupulous individuals used famous names like Moet and Chandon to their advantage: Leon Chandon realized that if his name was printed just right, people would confuse the champagne he made with Moet and Chandon.
Other "faux champagnes" were made by paying people for the use of their family names in order to legally high-jack their more famous name-sakes such as Clicquot ( Victor Clicquot, brick layer ) and Roederer ( Theophile Roederer, a waiter from Strasbourg ). There was even a Pommery "champagne" ( Madame Pommery, a French cook ) made in Rheims, New York USA!
The Belle Epoque was the Golden Age of champagne but as the twentieth century dawned, the glamour and excitement that characterized the era was being replaced by a growing anxiety. As one historian remarked: "The Belle Epoque had become a dance on top of a volcano".
In Champagne, cheaper grapes had begun pouring in from the south ( especially the Loire valley ), undercutting the local growers and threatening their way of life. According to them, using wine and grapes that did not come from Champagne was wrong and the result was not "real" champagne.
The situation for the Champenois continued to deteriorate and it didn't help that champagne producers only had to source 51 percent of their grapes from Champagne for the wine to use that name: the other 49 percent was up to the maker. Some unscrupulous producers even resorted to using pear, apple and even rhubarb juice! No law existed at the time that said that wine had to be made entirely from grapes and the potential for fraud and a quick profit, was enormous.
For the growers it just kept getting worse, as the vine-eating louse phylloxera began to devastate their crops. It was however, not lost on them that sales of champagne worldwide had doubled despite the fact that nearly every harvest in Champagne between 1889 and 1907 had been deplorable. The extremely low prices that they were being paid for their grapes ( if indeed they could even sell them ) led to the saying that "phylloxera isn't the only parasite in our vineyards".
Over the years until 1913, the distrust in governments that allowed Champagne's growers to be so unfairly exploited, as well as the struggle between the regions of Marne and Aube to settle the legitimate boundaries of Champagne, led the region into insurrection that at times hovered on the verge of civil war.
In the summer of 1914 the French government was finally bowing to pressure and starting to introduce measures to combat wine fraud and ensure that growers would receive a fair price for their grapes, when news arrived that a young Serbian nationalist in Sarajevo had just assassinated Archduke Ferdinand of Austria and his wife.
World War One had begun.....
Arranging Your Travel
Once you have reserved your place via our tour booking page, all your need to do is make your travel arrangements to meet us at the tour rendezvous point. You can either ask your travel agent to assist you, or for the more adventurous you can book your flights and connections yourselves. All of our rendezvous are easily achieved and naturally we provide all of the information and assistance that you will need.
Just a reminder that we have a frequently asked questions page to help answer the most common questions including how to book, travel arrangements, group sizes etc.
Previous Newsletters and Stories of Interest
Our past newsletters contain a lot of interesting stories and are well worth a read. You can find them by visiting our newsletter archives
You may also enjoy reading a few of the stories that we have compiled over the years on our stories of interest page
Our Invitation
Robbi and I look forward to welcoming you to one of our delightful tours or retreats in the near future and invite you to take a peek at the latest photos of our travels in our photo galleries
For detailed information about any of our tours please visit our information request page and if you would like to join us please visit our booking request page to reserve your place.
As always if you have any questions or if you would like us to assist you personally with advice about your travel arrangemeAs always if you have any questions or if you would like us to assist you personally with advice about your travel arrangements or with any other details please contact us either by email at info@aroma-tours.com or by phone on +61 3 5331 3254 ( afternoon/evening USA time zones, mornings from other countries ).
Please note you need to replace the '+' in our phone number with your country's international dialing prefix: from the USA/Canada it is 011 from most other countries it is 00.
Warmest regards,
Jim and Robbi