Greetings from Robbi and Jim
A warm welcome to all of the members of our Aroma Tours Newsletter in over 30 countries around the world.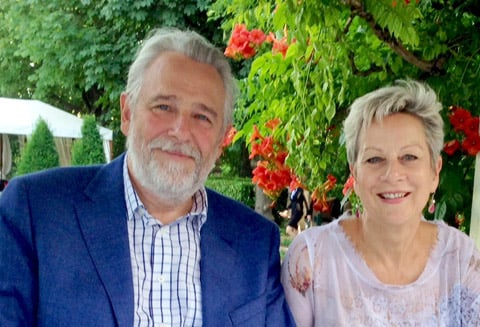 Robbi and I are now almost ready to head off for the beginning of this year's Aroma Tours adventures; we always enjoy watching the excitement and anticipation building for our guests and we feel truly blessed to be able to share our passion for the places and experiences that we love with wonderful people from around the world.

As always at this time of year we are also looking forward to welcoming the last few Aroma Travellers to our throng and hope that you will be able to join us.
We invite you to visit our information request page for more information or our booking request page to reserve your place.
Aroma Travellers Our Thanks
Without a doubt, the main reason that we have continued to grow and flourish over our more than 20 years, is the on-going support we receive from our past Aroma Travellers.
We are once again enjoyed an outstanding number of returning Aroma Travellers and new guests who joined us because of direct referrals - over 65% of our guests!
For Robbi and myself, it is such a great delight to welcome back so many good friends and to see our Aroma Tours continuing to flourish.
We would also like to give our heart-felt thanks to all of you who continue to support us with your kind words and referrals as you spread news of our tours and retreats amongst your friends.
Robbi and I also greatly appreciate your wonderful words of thanks, it means so much to us to know that we have shared a special time with you during our journey together.
If you have not already done so, please take a peek at our Guest Comments from 2015.
We have compiled a gallery of guest photos just for fun; it is quite incomplete but it is so nice to see some of the faces of those who shared wonderful times with us over the last few years and remember the wonderful times we shared together.
Memorable Photos from 2014 and 2015
It has been a very busy time for both Robbi and I over the last 2 years and just as we are preparing to head off to Spain I have finally had time to collate 10 new pages of photos from our 2014 and 2015 travels.
We also invite you to enjoy some of our other lovely photos via our Photo Gallery Page
Chianti and The Gallo Nero
Chianti is one of the largest wine regions in Italy, which up until fairly recently was mostly known for its cheap, easy drinking red wines, with an emphasis on quantity over quality.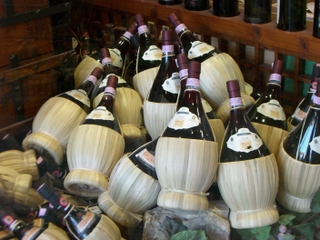 Typically these lesser Chiantis would contain up to 30% Trebbiano (white neutral flavoured grapes; read as cheap and generally used in balsamic vinegar and spirit production) to "stretch" their volume.

These lower quality wines certainly lowered the reputation of Chianti as a wine producing region and were easy to recognize by their distinctive squat bottles enclosed in a straw basket, referred to as a "fiasco!"
The Chianti region is located between Florence and Siena, who, in the late middle ages and early renaissance, were in continual conflict with dirty tricks the order of the day and the story of how Chianti was largely "acquired" by the Florentines in the fourteenth century is a great example of this skullduggerous behaviour.
In order to define the borders between the two city states, it was decided that one knight from Siena and one from Florence would depart on a designated morning "at cockcrow" and ride towards each other at the highest possible speed. Where they met would be designated the agreed border between Florence and Siena.
The citizens of Siena chose a white rooster that they had fattened up, thinking that such a robust rooster would ensure an early start time close to dawn. However, the wily Florentines, chose a black rooster - a "Gallo Nero", that they starved to make it skittish and prone to crow, even before dawn.

As planned, the lean black rooster awoke well before the plump white rooster and Chianti came under the control of the Medici dynasty.

As a result of this association between the Gallo Nero and Chianti, the black rooster was adopted as the symbol for the Chianti Classico region.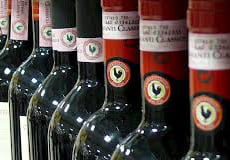 [sic] The wine region designated as "Chianti" was greatly expanded in the 1930's to include its neighbours such as Colli Arentini, Colline Pisane, Montalbano and Rufina.

At the same time, the original region, circa the 14th century was given the name "Chianti Classico" and only wines grown and produced in this specific sub-region of modern Chianti are entitled to use the Gallo Nero symbol on the neck of their bottles.
A nice story but what about the contemporary wines of Chianti you ask!
In the 1970s Chianti producers started a collaboration to improve the quality, character and prestige of their wines by eliminating the use of white grapes, reducing yields ( thereby enhancing flavour intensity ) as well as changing the structure of their wines.
This resulted in two main movements:- the traditionalists who began to produce wines from 100% Sangiovese grapes and those keen to experiment with the introduction of French grape varieties such as Cabernet Sauvignon, Merlot and Syrah to create a more "international" style which over time became spectacularly successful and are known by the inspiring name, "Super Tuscans".
We most certainly enjoy some of these lovely wines from Chianti, including 100% sangiovese Chianti Classicos and lush "Super Tuscans" during our Aromas of Tuscany Tour
Our Current Booking Status
We are expecting bookings for our 2016 season to be mostly finalized within the next few weeks and we are now beginning to look forward to the start of this year's Aroma Tours adventures.
There are still places available in Provence, Italy and Bali, however, we highly recommend that you get in touch with us soon.
The current booking status at the time of this newsletter is:-
For detailed information about any of our tours please visit our information request page and if you would like to join us please visit our booking request page to reserve your place.
It is our pleasure to assist you with any questions you may have and we invite you to get in touch with us at info@aroma-tours.com.
Please note
Our up-to-the-minute booking status is available via our calendar page
If the tour you would like to attend becomes fully booked, please let us know if you would like us to add you to the waiting list for that tour in case a place becomes available due to a cancellation.
Three Lands of Italy - Our wonderful new tour
Italy is a land of contrasts, history and joy for life, blessed with rich cultural and gastronomic treasures and the indomitable character and friendliness of the Italian people.
To celebrate the wonderful diversity of northern Italy we have created a wonderful exploration of three delightful and diverse regions renowned for their beauty, culture, fabulous food and wines; hence the name Three Lands of Italy Tour.
Guest Comments from 2015
"Our journey through the three lands exceeded all expectations! Thank you for showing us this glorious part of Italy in such a special way. The tour was absolutely magical from start to finish - a perfect itinerary - beautiful hotels and visits and a great choice of restaurants for us to enjoy. The memories make my heart sing! Tour number eight coming up for me next year - why stop now!! Grazie Mille!" ~ Susan Troxell, New York City USA
"I would like to reiterate what a truly wonderful time we had with you and our fellow Aroma travellers. Susan and I knew that the tour would be great fun, but it exceeded our wildest expectations. Every aspect was wonderful - the food, the wine, the accommodation, the company and all the extremely interesting places we visited and the wide range of activities you laid on for us all. Carol was delightful - very knowledgeable and such a great sense of humour. It will be a holiday which we treasure and remember forever." ~ Ian Stedman Sydney Australia
We hope that you will be able to join us for this delightful exploration of northern Italy and for more details please visit our information request page
If you would like to reserve one of the last 4 remaining places please visit our booking request page
Balinese Grounding Ceremony - Robbi Reports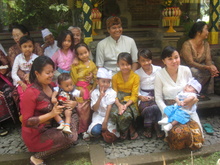 It is said that in Bali, there is hardly ever a day without a ceremony of some kind and if you include all of the life cycle celebrations such as baby ceremonies, puberty rites, weddings, cremations, temple festivals, the full moon festivals in April and October, as well as the high holy days of Galungan then this certainly seems to be the case.

The ceremonies can be either private or public and to attend it is appropriate and respectful to wear Balinese dress, although it is unnecessary for tourists to be formally dressed and a sarong, sash and covered arms are sufficient.
All Balinese ceremonies are preceded by a purification ritual to banish any evil spirits before the divine powers are addressed. This is done with offerings, holy water and hand gestures.
The Manusa Yadnya are the rites of passage ceremonies which are integral to Balinese life from conception to just before death and include pre-natal rites, birth ceremonies, the 12 day, 42 day and 3 months' old baby ceremonies, tooth-filing, and marriage.
This year in between our Bali Women's Retreats, Sally and I were fortunate enough to be invited to attend our hosts' adored first grandson's 3 month "Tigang Odalan" ceremony. It is quite a grand event and is attended by all of the relatives and neighbors to mark the time when baby' is allowed to touch the ground for the very first time.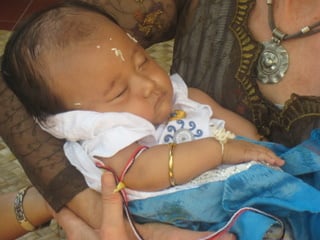 Prior to Tigang Odalan, a newborn's feet are not permitted to touch the earth -- even for a moment -- as the Balinese believe that a newborn child is very susceptible to the influence of black magic which they associate with the lower earthly elements. As a result, Balinese babies are carried everywhere up until the grounding ceremony and do not leave the family compound.

Tigang Odalan is the first big ceremony in the life of a Balinese and takes place in the family compound where a baby ceases to be considered as a divine creature and attains a normal state and may now be taken into temples. Babies are not considered to be "human" until this time. It is on this day that baby first touches the ground and it is described as a return to the earth.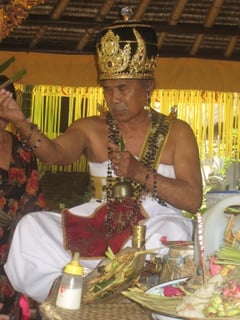 The ceremony we attended took place in the morning with a Brahman priest intoning chants for several hours and dedicating offerings to the Sun God and the Five Great Elements of Demons. The priest came from a village several hours away and is highly regarded.

Once the baby had been blessed with holy water by the priest and both parents also purified with holy water and prayers, they picked up their son and walked him with his feet on the ground, clockwise around a bamboo chicken cage three times which represented the passage of birth, life and death. The priest at this time also gave the baby his true name, as when a Balinese child is born, he is believed to be the reincarnation of an ancestor.
There was much excitement throughout the whole ceremony which continued on for many hours, accompanied by the hypnotic sounds of the gamelan orchestra with many elderly family members chanting the Ramayana story from little booklets written in Sanskrit. One gorgeous old auntie kindly let me look on so that I could happily chant away too. I did give it my best shot! The family compound was highly decorated and laden with offerings brought by family, friends and neighbours. Everyone was colourfully dressed in all their finery and they were so proud to be a part of this auspicious occasion.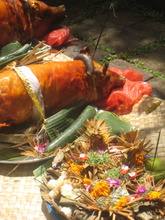 Lunch of suckling pig, chicken sate, gado gado, tofu chilli vegetables, long green bean salad, fresh mango, jackfruit and papaya slices and coconut pancakes filled with banana was provided for hundreds of guests.

In the evening there was a Wayang Kulit ( shadow puppet) performance to which the whole village was invited it seemed. The Puppeteer we were told was the most famous in all of Bali.

It was fantastic to see the Balinese roaring with laughter as the puppet show made fun of their culture in a very humourous way.
Sally and I were blessed to have been part of this incredible celebration, truly a feast for all our senses.
Flavours of Provence ( Lavender ) Tour
Our Flavours of Provence Tour is designed to showcase Provence at its most magnificent best; with its sweeping lavender fields in perfect full bloom, coupled with some of our favourite places of beauty, cultural experiences and wonderful gastronomic delights that we have collected over our more than 20 years of exploring and sharing Provence.
During our week together, we will stay in lovely small hotels, visit perched villages, experience one of the region's best markets and savour fabulous food and wines.
For more details please visit our information request page and if you would like to reserve one or more of the last 3 remaining places please visit our booking request page
Our Invitation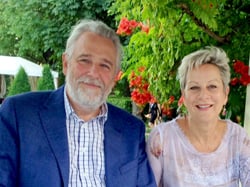 Robbi and I look forward to welcoming you to one of our delightful tours or retreats in the near future.
As always if you have any questions or if you would like us to assist you personally with advice about your travel arrangements or with any other details please contact us at info@aroma-tours.com
Warmest regards,
Jim and Robbi