Greetings from Robbi and Jim
A warm welcome to all of the members of our Aroma Tours Newsletter in over 30 countries around the world.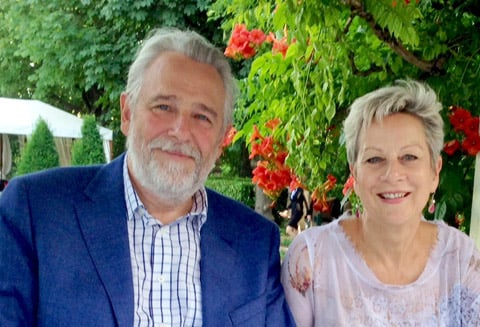 Robbi and I are excited to be at the beginning of another wonderful year of Aroma Tours adventures and we feel truly blessed to once again be able to share our passion for the places and experiences that we love with delightful people from around the world.

After 22 wonderful years and as we begin to contemplate throttling back on the number of tours we will be offering, the start of each year's tour season is becoming even more poignant for us.
This year is all set to be our most successful tour season ever with all of our tours either fully booked or down to the last few places!
If you would like to "seize the day" and join one of our Aroma Tours this year, there are still places available and we invite you to visit our information request page for more information or our booking request page to reserve your place.
Aroma Travellers Our Thanks
Without a doubt, the main reason that we continue to grow and flourish, is the on-going support we receive from our past Aroma Travellers.
We are once again enjoyed an outstanding number of returning Aroma Travellers and new guests who joined us because of direct referrals - over 65% of our guests!
For Robbi and myself, it is such a great delight to welcome back so many good friends and to see our Aroma Tours continuing to flourish.
We would also like to give our heart-felt thanks to all of you who continue to support us with your kind words and referrals as you spread news of our tours and retreats amongst your friends.
Robbi and I also greatly appreciate your wonderful words of thanks, it means so much to us to know that we have shared a special time with you during our journey together.
If you have not already done so, please take a peek at our Guest Comments from 2015.
We have compiled a gallery of guest photos just for fun; it is quite incomplete but it is so nice to see some of the faces of those who shared wonderful times with us over the last few years and remember the wonderful times we shared together.
Photos of Fine Food and Frivolity in Provence
Last year in Provence was a joyful time for us all with many delightful and delicious experiences and lots of fun and frivolity - in an appropriate 'correct' French manner course!
We hope you enjoy feasting your eyes on some of the delicious meals we shared.
We look forward to sharing more lovely images of our travels in our next newsletter.
Flavours of Provence ( Lavender ) Tour
Late last year Robbi and I decided to change the name of our Provence Lavender Tour to better reflect the fact that it is a small group, week long, cultural / gastronomic, off-the-beaten-path tour.
This became necessary because a significant number of our site visitors ( especially those coming from cruises ) presumed that our lavender tour was a quick 1 day flick around some lavender fields - not so at all!
As a result we have chosen to re-name this tour Flavours of Provence in line with our other offerings in Spain and Italy.
We will most certainly enjoy visiting glorious fields of lavender in full bloom and over our week together we will also stay in a lovely small hotels, visit perched villages, explore the culture and beautiful countryside of Provence, experience one of the region's best markets and savour fabulous food and wines.
We have combined some of our favourite Provencale experiences in creating this lovely tour and we hope to have the pleasure of sharing the people, places and experiences that we love with you next July.
For more details please visit our information request page and if you would like to reserve one of the last 5 remaining places please visit our booking request page
Eau de Vie
One of the most colourful and appreciated traditions of French rural life is now sadly almost at an end. That of the "Brouilleur de Cru"; the mobile distiller travelling from village to village.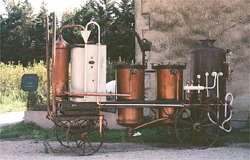 The arrival of the still at the end of harvest season was always a big event in village life and a holiday atmosphere would ensue, with people coming from all around the district with their fruit and "must" to be distilled. The resulting spirit was referred to as Eau de Vie, "Water of Life".

Since 1953 the "privilege" of being able to distil the fruits of one's labours, be they apple, pear, plum, grapes etc. has been increasingly restricted under pressure from the tax authorities - c'est tres triste!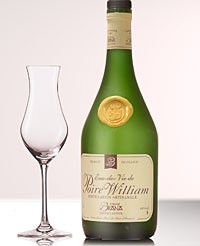 My favourite is Eau de Vie de Poire William which is not for the faint hearted at 55% alcohol. It takes approximately 10 kilos of Williams pears to make each litre of pear brandy and about 15 days of fermentation to produce a stable "must" with 4% alcohol ready to be distilled when the Bouilleur de Cru and his mobile alembic arrives.

Eau de Vie is a wonderful digestive for the end of a meal, and a little goes a long way. The best way to drink it is to pour a small nip directly into a brandy balloon from the bottle which has been kept in the freezer ( alcohol has a lower boiling point that water ) and sip it slowly with much swirling and inhaling of the delightful aroma.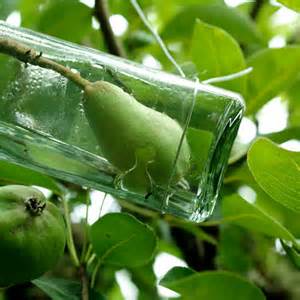 One of the unusual things you will see with some bottles of Eau de Vie de Poire William is a pear right inside the bottle, along the lines of a ship in a bottle. However, there is apparently no way that the pear could have been introduced into the bottle.

The solution is both simple and elegant. The clear glass bottle is placed over a budding pear on the tree itself forming a cheery personal hot house for its resident fruit.

Once mature, a snip of the secateurs, et voila, pear in a bottle, ready to bathe in the distilled essence of its fellows.
Spanish Gourmet Pilgrimage 2017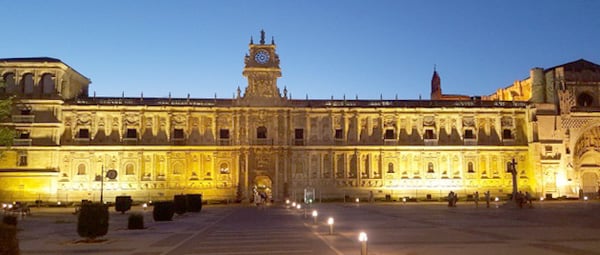 We are thrilled to announce that our wonderful new Spanish Gourmet Pilgrimage was recently opened and is already enjoying a fabulous response.
Our Current Booking Status
Bookings for our 2016 season are continuing to be outstanding with all of our tours now either full or down to the last few places, thanks to our guests ( mainly return travellers and their friends ) making their plans well ahead of time.
The current booking status at the time of this newsletter is:-
For detailed information about any of our tours please visit our information request page and if you would like to join us please visit our booking request page to reserve your place.
It is our pleasure to assist you with any questions you may have and we invite you to get in touch with us at info@aroma-tours.com.
Please note
Our up-to-the-minute booking status is available via our calendar page
If the tour you would like to attend becomes fully booked, please let us know if you would like us to add you to the waiting list for that tour in case a place becomes available due to a cancellation.
Francesco's Journey
One of the places we visit during our Aromas of Tuscany Tour is the hilltop town of Assisi in Umbria on the slopes of Mt Subasio perched above the sweeping Spoletine valley.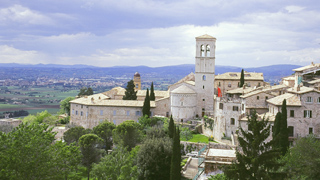 From the time of the early Umbri tribes to the Etruscans who arrived in circa 600 BC and later the Romans who established the Municipum of Asisium in 89 BC, the site that is now known as Assisi has been a place of significance.
However, it was the young son of an Umbrian textile merchant named Giovanni di Pietro di Bernardone who in the 13th century was to make Assisi one of the most important places in the Christian world.
To begin with Giovanni enjoyed a very privileged life and planned to follow in his father's footsteps, he also had dreams of becoming a troubadour or knight.
In 1201 he took part in an attack on the rival town of Perugia and in the process was taken hostage and imprisoned for one year. During this time he suffered from severe illness and as a result of this suffering the seeds of his later spiritual life were sown.
It was another 5 years later, during another military expedition, that Giovanni experienced a vision in which God called him to his service. He answered the call and returned to Assisi to began caring for the poor and sick.
In 1206, while praying in a small chapel outside of Assisi, he had another vision in which Christ called for him to repair His Church. The ruin of the church of San Damiano was nearby and so Giovanni resolved to become a hermit, and devoted himself to repairing the church. He abandoned all of his rights and possessions, even his clothes, and took to wearing a simple peasant's shift tied at the waist with rope.
Around this time he became known by his other name of Francesco ( Francis ) and through the generosity of the local Benedictine monks and their gift of the small chapel of St. Maria degli Angeli ( also known as The Porziuncola ), he was able to found the order of the Friars minor or Grey Friars.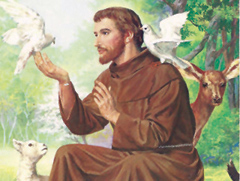 Francis called for simplicity of life, poverty, humility before God and working to care for the poor and diseased.

Soon thousands were drawn to his message of sincerity, piety, purity and joy. The Grey Friars travelled throughout central Italy and beyond, preaching and doing their good work while Francis turned his skills as a troubadour to the writing of prayers and hymns.
In 1212 the noble woman Clara Sciffi, left her family to join Francis at the Porziuncola where with his encouragement she founded the second Franciscan order of the Poor Ladies, later called the Clarisse's or Poor Claires.
Due to the large number of people, attracted to his preaching and example, in 1221 Francis decided to create a third, "lay" order with a set of rules of behaviour to follow.
Not long after, he gave up leadership of the Order and went to the mountains to live in secluded prayer and there he received the Stigmata ( the wounds of Christ ). A few followers remained with him in the mountains and from time to time he returned to visit the Franciscans, and Clara and her sisters.
He died at the Porziuncula on October 3, 1226 and two years later he was proclaimed a saint.
Francis' life inspired a generation of artists such as Giotto di Bondone who painted a series of incredible works in the basilica dedicated to St Francis, and his inspiration and opening of attitudes is partly credited with brining on the birth of the Renaissance.
It is truly stirring and inspiring to stand in the Porziuncula, his little church, walk in his footsteps and reflect on the story of this amazing man.
Three Lands of Italy - Our wonderful new tour
Italy is a place of contrasts, contradictions and delights, blessed with rich cultural and gastronomic treasures and the indomitable character and friendliness of the Italian people.
To celebrate the wonderful diversity of northern Italy we have created a delightful exploration of three very different regions renowned for their beauty, culture and fabulous food and wines; hence the name Three Lands of Italy Tour.
Details of this fabulous new tour have only been available on our site for a short while and already it is almost full; largely due to enthusiastic referrals from our VIP guests ( those who have been on 2 or more tours with us ) who joined us for this tour last year as our special "invite only" guests. What a great time we shared!
Guest Comments
"Our journey through the three lands exceeded all expectations! Thank you for showing us this glorious part of Italy in such a special way. The tour was absolutely magical from start to finish - a perfect itinerary - beautiful hotels and visits and a great choice of restaurants for us to enjoy. The memories make my heart sing! Tour number eight coming up for me next year - why stop now!! Grazie Mille!" ~ Susan Troxell, New York City USA
"I would like to reiterate what a truly wonderful time we had with you and our fellow Aroma travellers. Susan and I knew that the tour would be great fun, but it exceeded our wildest expectations. Every aspect was wonderful - the food, the wine, the accommodation, the company and all the extremely interesting places we visited and the wide range of activities you laid on for us all. Carol was delightful - very knowledgeable and such a great sense of humour. It will be a holiday which we treasure and remember forever." ~ Ian Stedman Sydney Australia
We hope that you will be able to join us for this delightful gastronomic exploration of northern Italy and for more details please visit our information request page
If you would like to reserve one of the last 4 remaining places please visit our booking request page
Our Invitation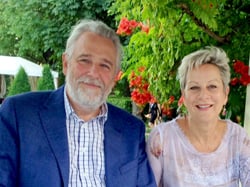 Robbi and I look forward to welcoming you to one of our delightful tours or retreats in the near future.
As always if you have any questions or if you would like us to assist you personally with advice about your travel arrangements or with any other details please contact us at info@aroma-tours.com
Warmest regards,
Jim and Robbi