Greetings from Robbi and Jim
A warm welcome to all of the members of our Aroma Tours Newsletter in 35 countries around the world.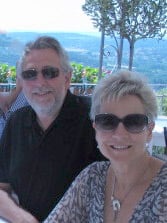 Robbi and I hope that you have had a wonderful festive season and we wish you peace and prosperity in the year ahead.

After a much needed break, enjoying the fellowship of our friends and family, we are now back working hard preparing for this year's adventures.

Our plans are all well on-track and 2013 is shaping up to be our most successful year ever.

What a blessing it for us to be sharing our passion for Aroma Tours with past friends and delightful people from around the world.
Robbi and I are greatly looking forward to sharing many more delightful moments with our Aroma Travellers this year and invite you to visit our information request page for the latest details of our tours and retreats.
Memorable Photos From Our 2012 Adventures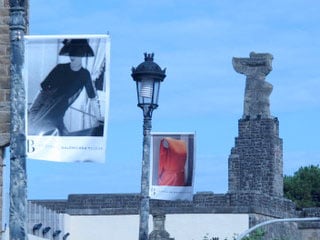 One of the best ways to enjoy the spirit of our adventures is by taking a peek at a few of the 1000's of photos we have taken during our Aroma Tours' adventures.

We are also looking forward in the year ahead to sharing the lovely images that will be taken by our guests during our journeys together. Starting with Flavours of Spain this May.

We have added two new pages of memorable photos from 2012 for you to enjoy, as well as a page of images taken by our dear friends Jo and Angelo during their Turkish Aromatic Odyssey adventures with us.
We have also added two new photo compilations for you to enjoy from our adventures in Spain and amongst the lavender fields of Provence.
We hope that you enjoy browsing through some of the places and moments that we have shared with our Aroma Travellers and we also invite you to visit our Photo Gallery Page where you will be able to access many more of the beautiful images of our past adventures.
Aromas of Provence
As a result of the outstanding response we are enjoying this season, Robbi and I have decided to add an extra off-the-beaten-path tour, based around some of our favourite regions of Provence, to our offerings this year.

We have dubbed this new tour Aromas of Provence. and as you would expect it is full of enchanting hilltop villages, vibrant lavender fields, lush vineyards, delicious wines, colourful markets, beautiful countryside, fascinating historical visits....
For more details of this delightful new tour please visit our information request page
Aroma Travellers Our Thanks
Without doubt, the main reason that we continue to grow and flourish, is the on-going support we receive from our past Aroma Travellers.
We are continuing to see an outstanding number of returning Aroma Travellers and new guests who are joining us because of direct referrals - currently over 55% of our guests!
For Robbi and myself, it is such a great delight to be welcoming back so many good friends and to see our Aroma Tours continuing to flourish.
We would also like to give our heart-felt thanks to all of you who continue to support us with your kind words and referrals as you spread news of our tours and retreats amongst your friends.
Robbi and I also greatly appreciate your wonderful words of thanks, it means so much to us to know that we have shared a special time with you during our journey together.
If you have not already done so, please take a peek at our Guest Comments from 2012
Our Current Booking Status
All is now well under way for our 2013 tour season and Robbi and I are thrilled to see the fabulous early response to our offerings with two tours already fully booked and most of those remaining now down to the last few places.
Our booking status at the time of this newsletter is:-
Robbi and I hope to have the pleasure of welcoming you to one of our delightful aromatic adventures and to sharing a wonderful and memorable time with you.
For detailed information about any of our tours please visit our information request page and if you would like to join us please visit our booking request page to reserve your place.
It is our pleasure to assist you with any questions you may have and we invite you to get in touch with us either by email at info@aroma-tours.com or by phone on: +613 5331 3254 (afternoon/evening USA time zones, mornings from other countries).
Please note
Our up-to-the-minute booking status is available via our calendar page
If the tour you would like to attend becomes fully booked you may like us to add you to that tour's waiting list as sometimes we receive late cancellations or transfers.
Flavours of Provence - New Itinerary
In our last newsletter we announced that we have moved our delightful and delicious Flavours of Provence Tour from early June to late July and added some fabulous changes to the itinerary, including: lavender fields in full bloom, several glorious gastronomic restaurants and an exploration of the world renowned Chateauneuf du Pape wine region.

We were also pleased to see that one of our favourite hotels has now been fully refurbished and redecorated and as a result, it has now become the perfect first base for us to launch our gastronomic explorations next July. One happy consequence of this change is that the price for Flavours of Provence has now come into line with our other tour offerings in Provence.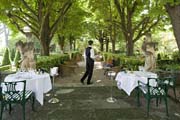 Amongst this constant starburst of fragrance and flavours, you will experience a gastronomic "tour de force" of some of the finest restaurants in Provence, wrapped in a leisurely exploration of picturesque hilltop villages, sweeping fields of purple lavender, colourful markets and delightful boutiques, mixed artfully with moments of culture and character and time to savour the delicious wines of the region.
For the latest details of this exciting new tour please visit our information request page.
If you haven't already done so you may also enjoy taking a peek at photos of this years Flavours of Provence Tour
Arranging Your Travel
Once you have reserved your place via our tour booking page, all your need to do is make your travel arrangements to meet us at the tour rendezvous point. You can either ask your travel agent to assist you, or for the more adventurous you can book your flights and connections yourselves. All of our rendezvous are easily achieved and naturally we provide all of the information and assistance that you will need.
Just a reminder that we have a frequently asked questions page to help answer the most common questions including how to book, travel arrangements, group sizes etc.
Previous Newsletters and Stories of Interest
Our past newsletters contain a lot of interesting stories and are well worth a read. You can find them by visiting our newsletter archives
You may also enjoy reading a few of the stories that we have compiled over the years on our stories of interest page
Our Invitation
Robbi and I look forward to welcoming you to one of our delightful tours or retreats in the near future and invite you to take a peek at the latest photos of our travels in our photo galleries
If you would like detailed information about any of our tours please visit our information request page
As always if you have any questions or if you would like us to assist you personally with advice about your travel arrangements or with any other details please contact us either by email at info@aroma-tours.com or by phone on +61 3 5331 3254 ( afternoon/evening USA time zones, mornings from other countries ).
Please note you need to replace the '+' in our phone number with your country's international dialing prefix: from the USA/Canada it is 011 from most other countries it is 00.
Warmest regards,
Jim and Robbi