Greetings from Robbi and Jim
A warm welcome to all of the members of our Aroma Tours Newsletter in over 30 countries around the world.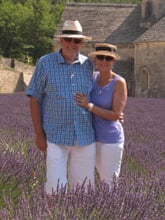 Robbi and I are now in Provence enjoying the glorious countryside, wonderful food and wines and fscinating perched villages and history of this beautiful region.

Our 2016 season is already well underway with 3 tours now fully booked and the rest of our tours at least two thirds full - we are so thrilled to see this enthusiasm for our Aroma Tours growing.

As always it is our returning guests and their friends who are leading this wonderful response and we feel truly blessed to be able to share our passion for the places and experiences that we love with wonderful people from around the world and as we start to throttle back on the number of tours we are offering it becomes even more poignant for us.
There are still a 2 places left for Aromas of Tuscany and 1 last place for our Bali Women's Retreat this year and we now invite anyone wishing to join us to contact us right away as bookings for 2015 will definitely be closing next week and it would be lovely to fill these last 3 places to achieve another fully booked season.
As the saying goes "Carpe Diem" and if you would like to seize the day and join our Aroma Travellers this year or next we invite you to visit our information request page for more information or our booking request page to reserve your place.
Aroma Travellers Our Thanks
Without doubt, the main reason that we continue to grow and flourish, is the on-going support we receive from our past Aroma Travellers.
Last year we enjoyed an outstanding number of returning Aroma Travellers and new guests who joined us because of direct referrals - over 63% of our guests! A similar result is occurring this year as well.
For Robbi and myself, it is such a great delight to welcome back so many good friends and to see our Aroma Tours continuing to flourish.
We would also like to give our heart-felt thanks to all of you who continue to support us with your kind words and referrals as you spread news of our tours and retreats amongst your friends.
Robbi and I also greatly appreciate your wonderful words of thanks, it means so much to us to know that we have shared a special time with you during our journey together.
If you have not already done so, please take a peek at our Guest Comments from 2014
Creme de Cassis - Kir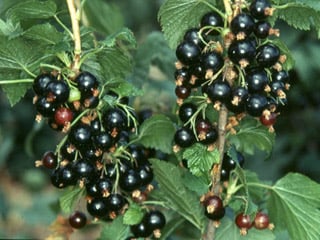 Creme de Cassis is a liquor made from blackcurrants which are generally grown in the regions of Burgundy and the Loire and Rhone valleys.
It is interesting to note that the blackcurrant plant needs to be subjected to below freezing temperatures for 10 weeks or more during winter in order to produce abundant fruit and the berries only maintain optimal flavour for one day! Also, because they are very quickly oxidized once picked ( due to their high vitamin C content ), they must be flash frozen to -30C as soon as possible in order to preserve their colour and flavour.
To create the liquor the frozen berries are warmed to -5C and macerated for up to 3 months in a mixture of water and alcohol which extracts the flavour and colour from the berries without the possibility of fermentation. The resulting juice is then decanted, pressed and filtered and sugar added.
This style of macerated liquor is given the name "creme" to differentiate it from fermented liquors such as Calvados and Eau de Vie. The French name for blackcurrant is cassis, hence the liquor is called Creme de Cassis.
It was the mayor of Dijon, Canon Felix Kir who became famous for his involvement in the resistance and for preserving the tradition and knowledge of making aperitifs during the difficult years of the 2nd world war. Mayor Kir would often be seen offering guests to the capital of Burgundy the traditional blanc cassis. This drink, a combination of dry white wine and creme de cassis became know as a "Kir".
Other drinks incorporating creme de cassis are:- Communard, a dash of creme de cassis plus a cool dry fruity red wine such as passe-due-grain or cabernet trois and ( a personal favourite of ours ) Kir Royale, a blush of creme de cassis in champagne.
Memorable Photos from Flavours of Spain 2015 ( repeat )
Time is currently extremely short while we are "on the road" with only a few quiet hours each week to write and catch up so there is no time to add any more photos for the moment but why not once more unto Spain dear friends.
Please note there are now only 2 places left for Flavours of Spain Tour next year.
What a delightfully delicious time we shared in Spain and Robbi and I loved the generosity of sprit, curiosity and sense of fun of our guests.
The perfect start to our 2015 season.
We look forward to sharing more lovely images of our travels in our next newsletter.
Our Current Booking Status
Robbi and I look forward to welcoming the last few Aroma Travellers for this year and invite you to join us this September for one of our Aromas of Tuscany Tour or our delightful Bali Women's Retreat
Meanwhile our 2016 continuing to fill and is clearly destined to be our best season on record by far.
The current booking status of our 2015 tours at the time of this newsletter is:-
Bookings for our 2016 season are continuing to be outstanding with most of our tours now two thirds full or more, thanks to our guests ( mainly return travellers and their friends ) making there plans well ahead of time.
The current booking status of our 2016 tours at the time of this newsletter is:-
For detailed information about any of our tours please visit our information request page and if you would like to join us please visit our booking request page to reserve your place.
It is our pleasure to assist you with any questions you may have and we invite you to get in touch with us either by email at info@aroma-tours.com or by phone on: +613 5331 3254 (afternoon/evening USA time zones, mornings from other countries).
Please note
Our up-to-the-minute booking status is available via our calendar page
If the tour you would like to attend becomes fully booked, please let us know if you would like us to add you to that tour's waiting list in case a place becomes available due to a cancellation or transfer.
We will be gradually changing our schedule of tours over the coming years to allow us more time for other projects and activities.
Arranging Your Travel
Once you have reserved your place via our tour booking page, all your need to do is make your travel arrangements to meet us at the tour rendezvous point. You can either ask your travel agent to assist you, or for the more adventurous you can book your flights and connections yourselves. All of our rendezvous are easily achieved and naturally we provide all of the information and assistance that you will need.
Just a reminder that we have a frequently asked questions page to help answer the most common questions including how to book, travel arrangements, group sizes etc.
Previous Newsletters and Stories of Interest
Our past newsletters contain a lot of interesting stories and are well worth a read. You can find them by visiting our newsletter archives
You may also enjoy reading a few of the stories that we have compiled over the years on our stories of interest page
Our Invitation
Robbi and I look forward to welcoming you to one of our delightful tours or retreats in the near future and invite you to take a peek at the latest photos of our travels in our photo galleries
For detailed information about any of our tours please visit our information request page and if you would like to join us please visit our booking request page to reserve your place.
As always if you have any questions or if you would like us to assist you personally with advice about your travel arrangemeAs always if you have any questions or if you would like us to assist you personally with advice about your travel arrangements or with any other details please contact us by email at info@aroma-tours.com as we are now on tour.
Warmest regards,
Jim and Robbi