Greetings from Robbi and Jim
A warm welcome to all of the members of our Aroma Tours Newsletter in over 30 countries around the world.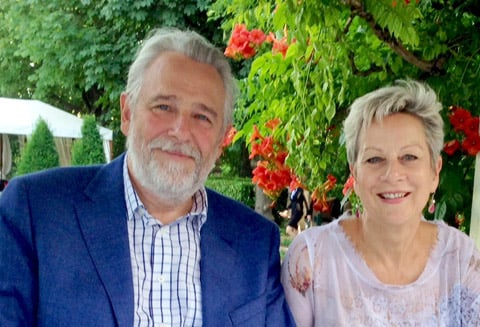 Robbi and I are excited to be finalizing the details for the beginning of another wonderful season of Aroma Tours adventures and it always delights us to begin the mental journey that leads up to our actual departure.

Sharing our passion for the places, people and experiences that we love with delightful people from around the world once more is indeed a blessing for us and after 22 wonderful years as we begin to contemplate throttling back on the number of tours we will be offering, each year's season becomes even more poignant for us.
This year is all set to be our most successful tour season ever with all of our tours either fully booked or down to the last few places!
However, there are still a few places available in Provence, Italy and Bali, so if you would like to "seize the day" and join us this year, we invite you to visit our information request page for more information or our booking request page to reserve your place.
Aroma Travellers Our Thanks
Without a doubt, the main reason that we continue to grow and flourish, is the on-going support we receive from our past Aroma Travellers.
We are once again enjoyed an outstanding number of returning Aroma Travellers and new guests who joined us because of direct referrals - over 65% of our guests!
For Robbi and myself, it is such a great delight to welcome back so many good friends and to see our Aroma Tours continuing to flourish.
We would also like to give our heart-felt thanks to all of you who continue to support us with your kind words and referrals as you spread news of our tours and retreats amongst your friends.
Robbi and I also greatly appreciate your wonderful words of thanks, it means so much to us to know that we have shared a special time with you during our journey together.
If you have not already done so, please take a peek at our Guest Comments from 2015.
We have compiled a gallery of guest photos just for fun; it is quite incomplete but it is so nice to see some of the faces of those who shared wonderful times with us over the last few years and remember the wonderful times we shared together.
Parmigiano Reggiano - The King of Cheeses
The generic name "Parmesan" is most commonly used to describe industrial, mass produced, hard textured cheeses, manufactured in vast mechanized plants.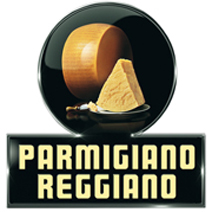 However, the "true" Parmesan cheese, more correctly known as "Parmigiano Reggiano" (The King of Cheeses) is only made in a clearly defined "zona typica" of the Po river valley in the Emilia Romagna region of northern Italy which includes the provinces of Parma, Reggio Emilia, Modena and Mantua on the right bank of the Po river and Bologna on the left bank of the Reno river.

Within this defined zone there are 650 small factories called "casellos", where "true" parmesan cheese is created thanks to the traditions and skills of master cheese makers, using a labour intensive method that hasn't changed significantly since the 13th century.
On average, each castello produces between 4 to 10 cheeses per day - it is very much a matter of quality rather than quantity!
To make each 35kg "wheel" of Parmigiano Reggiano requires approximately 560 litres of highest quality whole milk delivered fresh, each morning and evening from nearby dairies; un-homogenized and with its natural flora intact. The evening milk is allowed to rest overnight in large flat stainless steel trays and the fresh morning milk is used after it has rested for about one hour.

The process begins by skimming off a portion of the naturally accumulated cream from the evening milk and then combining it with the morning milk in a large copper kettle shaped like an inverted church bell.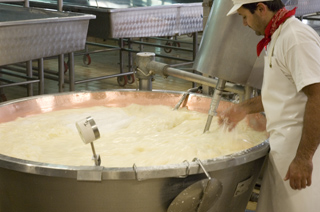 Next an aliquot of natural whey (containing friendly Lactobacilus bacteria) is added, and the milk is slowly heated to 33°C with constant stirring to create a partial fermentation and raise the acid content of the milk mixture.

The heat is then turned off and natural rennet is added to begin the main cheese making process, after which the mixture is allowed to coagulate for 12-15 minutes to form curds. The curds are then broken up by hand using a sharp-edged tool known as a "spino" (thorn-bush) to create fragments the size of wheat grains which are then "cooked" by slowly heating them to 45°C, followed by rapid heating to 55°C.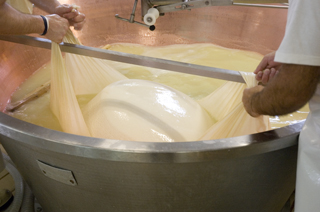 The batch is then cooled to allow the cooked granules to precipitate in the bottom of the kettle and after about half an hour the resulting cheese is labouriously scooped out by hand, using a wooden paddle into a sieve-cloth.

The juvenile cheese, still in its sieve cloth, is then placed inside a circular mould called a "fascera" which gives the cheese its characteristic "wheel" shape.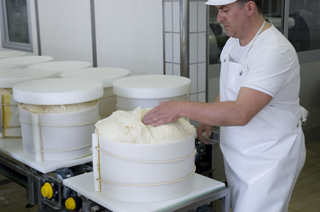 After draining for a few hours the sieve cloth is removed and the freshly made cheeses are branded with the words Parmigiano Reggiano to designate there pedigree.

They will remain in their fascera for several days, resting on there' flat ends with frequent turning, until they are appropriately set; after which they are immersed in a large brine bath for 20-25 days.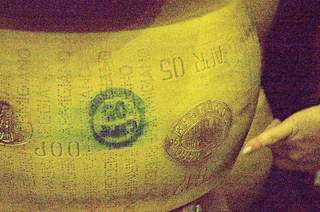 The final stage is maturation, which takes place in a temperature and humidity controlled storehouse called a "cascina" where the cheeses are stored for approximately 1 year on massive wooden shelves with regular brushing, turning and checking.

After maturation is complete, each cheese is checked and graded and only those that have achieved the proper consistency and flavour will be banded and designated as Parmigiano Reggiano and ready for market.
One peculiarity of the testing process involves striking each candidate cheese with a small metal hammer to confirm that it makes the proper characteristic vibration indicating the its inner texture has a formed properly. Another is that a fine horse bone probe is used to take a sample for tasting from each wheel.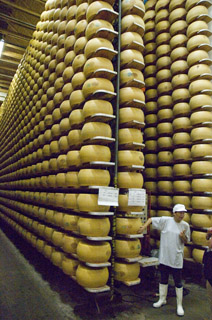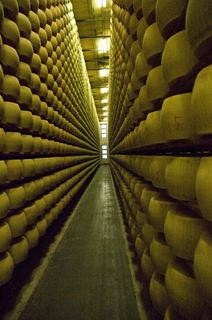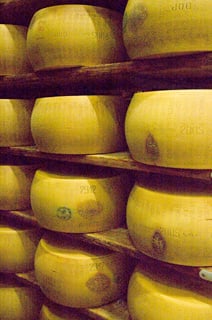 To see the veritable treasure of thousands of maturing parmesan wheels aligned on massive rows of floor to ceiling wooden racks is an awesome sight, and with a bit of quick math; $50 a kilo ( retail ) by 35kg per wheel by approximately 3000 wheels ( 10 or so a day for a year ) one can feel a bit like one is in a cathedral of cheese!
Flavours of Provence ( Lavender ) Tour
Our Flavours of Provence Tour is designed to showcase Provence at its most magnificent best; with its sweeping lavender fields in perfect full bloom, coupled with some of our favourite places of beauty, cultural experiences and wonderful gastronomic delights that we have collected over our more than 20 years of exploring and sharing Provence.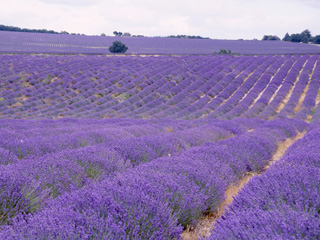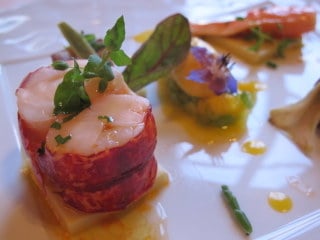 During our week together, we will stay in lovely small hotels, visit perched villages, experience one of the region's best markets and savour fabulous food and wines.
For more details please visit our information request page and if you would like to reserve one or more of the last 4 remaining places please visit our booking request page
A Feast of Photos and Memories
We have well over one hundred thousand photos in our archives and it is always a delight for us to spend a little time reminiscing about the wonderful times we have shared with our Aroma Tours guests.
With that in mind we have gathered up a few photos of our recent adventures so that you can share pictorially in some of the lovely moments that we enjoyed with our Aroma Travellers during our journeys together.
We look forward to sharing more lovely images of our travels in our next newsletter.
Our Current Booking Status
We are expecting bookings for our 2016 season to be mostly finalized within the next few weeks and we are now beginning to look forward to the start of this year's Aroma Tours adventures.
There are still places available in Provence, Italy and Bali, however, we highly recommend that you get in touch with us soon.
The current booking status at the time of this newsletter is:-
For detailed information about any of our tours please visit our information request page and if you would like to join us please visit our booking request page to reserve your place.
It is our pleasure to assist you with any questions you may have and we invite you to get in touch with us at info@aroma-tours.com.
Please note
Our up-to-the-minute booking status is available via our calendar page
If the tour you would like to attend becomes fully booked, please let us know if you would like us to add you to the waiting list for that tour in case a place becomes available due to a cancellation.
Three Lands of Italy - Our wonderful new tour
Italy is a place of contrasts, contradictions and delights, blessed with rich cultural and gastronomic treasures and the indomitable character and friendliness of the Italian people.
To celebrate the wonderful diversity of northern Italy we have created a delightful exploration of three very different regions renowned for their beauty, culture and fabulous food and wines; hence the name Three Lands of Italy Tour.
Details of this fabulous new tour have only been available on our site for a short while and already it is almost full; largely due to enthusiastic referrals from our VIP guests ( those who have been on 2 or more tours with us ) who joined us for this tour last year as our special "invite only" guests. What a great time we shared!
Guest Comments
"Our journey through the three lands exceeded all expectations! Thank you for showing us this glorious part of Italy in such a special way. The tour was absolutely magical from start to finish - a perfect itinerary - beautiful hotels and visits and a great choice of restaurants for us to enjoy. The memories make my heart sing! Tour number eight coming up for me next year - why stop now!! Grazie Mille!" ~ Susan Troxell, New York City USA
"I would like to reiterate what a truly wonderful time we had with you and our fellow Aroma travellers. Susan and I knew that the tour would be great fun, but it exceeded our wildest expectations. Every aspect was wonderful - the food, the wine, the accommodation, the company and all the extremely interesting places we visited and the wide range of activities you laid on for us all. Carol was delightful - very knowledgeable and such a great sense of humour. It will be a holiday which we treasure and remember forever." ~ Ian Stedman Sydney Australia
We hope that you will be able to join us for this delightful gastronomic exploration of northern Italy and for more details please visit our information request page
If you would like to reserve one of the last 4 remaining places please visit our booking request page
Our Invitation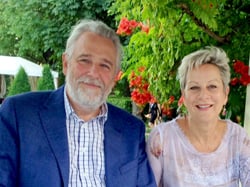 Robbi and I look forward to welcoming you to one of our delightful tours or retreats in the near future.
As always if you have any questions or if you would like us to assist you personally with advice about your travel arrangements or with any other details please contact us at info@aroma-tours.com
Warmest regards,
Jim and Robbi