Greetings from Robbi and Jim
A warm welcome to all of the members of our Aroma Tours Newsletter in more than 35 countries from around the world.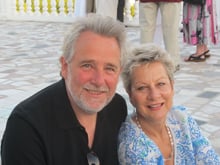 Our Aroma Tours adventures are now complete for 2013 and Robbi and I are very grateful to have shared so many wonderful moments in the company of delightful people from around the world, with new friendships made and old ones rekindled.

We are enjoying our home time and catching up with friends but already our thoughts are turning to the upcoming tour season in 2014 which is off to a flying start with Tuscany already fully booked and 5 other tours down to the last few vacancies.
What a blessing it for us to be living our passion and to see our dream of sharing the places, people and experiences that we love unfolding each year.
We hope to have the pleasure of your company in 2014 and if you would like the latest details of our tours and retreats, please visit our information request page
Memorable Photos from our 2013 Adventures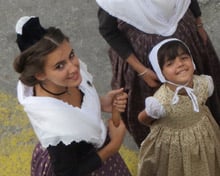 One of the best ways to enjoy the spirit of our Aroma Tours adventures is by taking a peek at a few of the 1000's of photos we have taken during our travels.

Robbi and I also enjoy sharing with you some of beautiful images taken by our guests during their journeys with us.

We have added three new pages of photos from this year's adventures for your viewing pleasure including images from our new Flavours of Italy Tour
We also invite you to take a peek at our Photo Galleries Pages where you will be able to enjoy many more beautiful images of our past adventures.
Aroma Travellers Our Thanks
Without doubt, the main reason that we continue to grow and flourish, is the on-going support we receive from our past Aroma Travellers.
This year we are enjoying an outstanding number of returning Aroma Travellers and new guests who are joining us because of direct referrals - currently over 55% of our guests!
For Robbi and myself, it is such a great delight to welcome back so many good friends and to see our Aroma Tours continuing to flourish.
We would also like to give our heart-felt thanks to all of you who continue to support us with your kind words and referrals as you spread news of our tours and retreats amongst your friends.
Robbi and I also greatly appreciate your wonderful words of thanks, it means so much to us to know that we have shared a special time with you during our journey together.
If you have not already done so, please take a peek at our Guest Comments from 2013
Flavours of Italy - Our Wonderful New Tour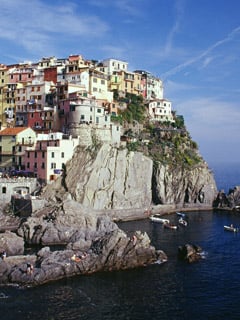 Robbi and I are very excited about our new Flavours of Italy Tour which explores the flavours, character, culture and beauty of northern Tuscany, the magnificent Ligurian coast and Cinque Terre, the gastronomic delights of the Po valley, the rich cultural heritage, fabulous wines and lush vineyards of the Veneto region and the majestic beauty of Italy's most beautiful lake, lake Como.

We will visit stunning villas, gorgeous seaside towns and medieval walled cities, witness the birthplace of Ferrari and the creation of gastronomic treasures such as Parmigiano Reggiano and balsamic vinegar, explore fascinating ancient sites and iconic villages perched on majestic mountain lakes.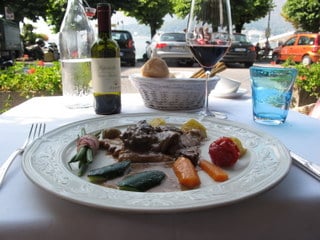 Your will savour wonderful food and wines that celebrate the rich gastronomic traditions of the "Slow Food" movement, all created with skill and passion for you to enjoy in beautiful settings with plenty of time to appreciate the tantalizing contrast of flavours and aromatic delights, from finest gourmet cuisine to delicious traditional fare.

Enjoy ripe vineyards, glorious music and fabulous shopping all while soaking up the local character and charm.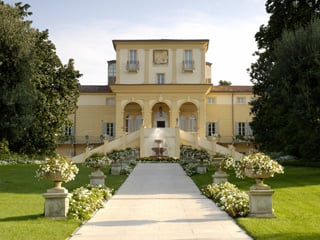 We begin our journey in a lovely boutique hotel right in the centre of a beautiful walled medieval city full of history, culture, colour, antiques, cafes, gracious piazzas and local charm.

Next we enjoy the delights of a magnificent luxury spa hotel full of world class contemporary art set amongst the lush vines of the Valpolicella followed by a delightful small hotel right on the shores of lake Como with spectacular lake views.
Robbi and I look forward to sharing many delightful experiences with you as we explore the flavours, culture and beauty of northern Italy.
To get a better idea of the wonderful experiences we have in store for you please be sure to take a peek at some of the Photos of our Flavours of Italy Tour
For more details please visit our information request page and if you would like to share this wonderful new adventure with us you can reserve your place via our booking request page
Celebration of Flavour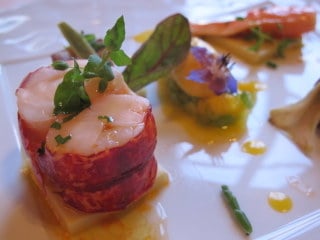 In all of our journeys we love to share the joy of experiencing the cuisine and gastronomic traditions of the regions we visit.

The tastes and aromas of fresh seasonal ingredients prepared with practiced skill, care and pride in preparation, combine in a myriad of ways to bring us moments to savour.

It is a challenge to express the delectable moments we share but hopefully your eyes will enjoy dining along with us.
To that end, we have compiled a series of photo pages of the lovely meals we enjoy during our adventures to tantalize your taste buds.
Robbi and I hope to share some of these delicious moments with you in the near future.
Flavours of Spain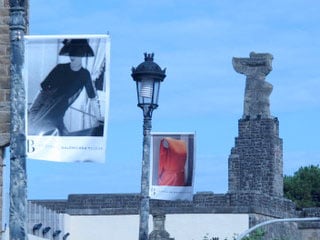 Next year's adventures begin with our wonderful Flavours of Spain Tour, a delightful gastronomic pilgrimage that explores the exceptional cuisine, incredible wines, rich culture and sweeping beauty of North Eastern Spain.

We will journey from Rioja Alavesa, one of the world's premier wine regions, along the legendary pilgrim's path of the Camino de Santiago, to the magnificent coastline of the Bay of Biscay renowned for its beauty and culture and for being home to the highest concentration of Michelin starred fine restaurants in the world.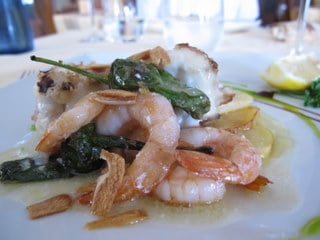 You will experience enchanting villages, glorious seaside vistas, stunning architecture, lush vineyards, delicious food and wines, colourful markets, ancient abbeys, amazing art, beautiful countryside and fascinating historical visits.

We have compiled a page of photos of our Flavours of Spain tour for your viewing pleasure and we are greatly looking forward to sharing this delightful new tour with our guests next year.
Flavours of Spain is fast becoming one of our most popular tours and Robbi and I hope that you will be able to join us next May.
For more details please visit our information request page and if you would like to share this wonderful adventure with us you can reserve your place via our booking request page
Our Current Booking Status
We have enjoyed a wonderful season in 2013 with all of our tours once again fully booked and already our 2014 tour season is off to a flying start with an unprecedented number of early bookings, mostly from our returning Aroma Travellers and their friends.
Our booking status at the time of this newsletter is:-
Robbi and I hope to have the pleasure of welcoming you to one of our delightful aromatic adventures and to sharing a wonderful and memorable time with you.
For detailed information about any of our tours please visit our information request page and if you would like to join us please visit our booking request page to reserve your place.
It is our pleasure to assist you with any questions you may have and we invite you to get in touch with us either by email at info@aroma-tours.com or by phone on: +613 5331 3254 (afternoon/evening USA time zones, mornings from other countries).
Please note
Our up-to-the-minute booking status is available via our calendar page
IIf the tour you would like to attend becomes fully booked you may like us to add you to that tour's waiting list as sometimes we receive late cancellations or transfers.
Mistral - The Man and the Wind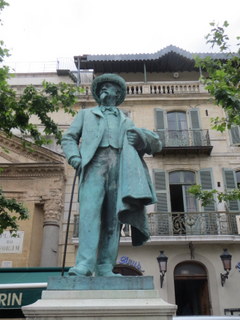 Frederick Mistral ( 1830 - 1914 ) was born in the tiny village of Maillane in the Bouches du Rhone region of southern France and after a lacklustre early education, he took it upon himself as a young man to champion the independence of Provence, and in particular to restore the first literary language of civilized Europe: the "Langue d'Oc" also known as Occitan or Provencal.

Mistral resolved: "to raise, revive in Provence the feeling of race ...; to move this rebirth by the restoration of the natural and historical language of the country ...; to restore the fashion to Provence by the breath and flame of divine poetry".

As a consequence of this great work over a lifetime, Mistral was awarded the Nobel Prize for literature in 1904.
During his career he redefined the language in its purest form by creating a comprehensive Occitan-French dictionary and transcribing the songs of the medieval troubadours, who spoke the language in its original form.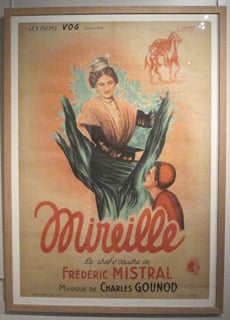 Mistral's most important work is an epic twelve part poem Mireille ( Mireio in Provencal ), published in 1859, which tells the story of the thwarted love of Vincent and Mireille, two young Provencal people of different social means.

Mireille's parents wish her to marry a rich landowner, but her heart already belongs to Vincent who is but a lowly basket maker.

Sad and desperate, Mireille runs off to Saintes Maries de la Mer at the mouth of the Rhone river and a place of pilgrimage, to pray to the patrons of Provence to change her parents' minds but tragically, she falls victim to the heat, dying in Vincent's arms under the gaze of her parents.
Mireio was a literary triumph and as a result it was translated into fifteen European languages and in 1863, French composer Charles Gounod made it into the opera, Mireille.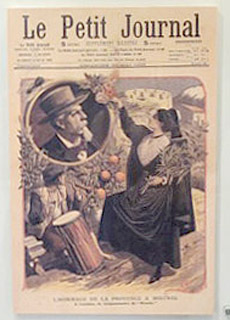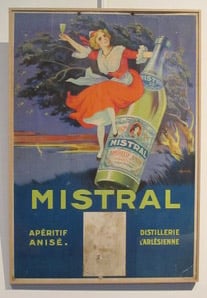 Mistral wrote short stories and also had an aperitif named after him
Frederick Mistral became much beloved in Provence for giving literary credibility to the Provencale language and perhaps this resulted in his name being associated with the fierce, cold northerly winds that are typical of Provence or maybe it was just a coincidence, given that Mistral ( Mistrau in Provencale ) means masterly and when Le Mistral blows it certainly masters all before it.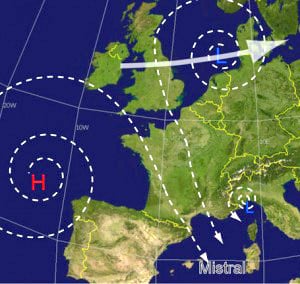 Le Mistral is a cold, mostly dry, regional wind that can reach speeds of more than one hundred kilometres an hour which occurs each time there is an area of high pressure in the Bay of Biscay accompanied by an area of low pressure around the Gulf of Genoa.

It occurs mainly during winter and early spring, streaming in from the north or north west, accelerating as it passes through the southern Rhone valley between the Ardeche and the low Alps, before heading out into the Mediterranean to influence the weather in North Africa, Sicily, and across the region.
Le Mistral helps explain the unusually sunny climate ( more than 200 days of sunshine a year ) and clarity of the air in Provence. Other parts of France can have cloud and storms, but Provence is rarely affected for long. Le Mistral quickly clears the sky; in less than two hours, the weather can go from overcast to completely clear!
Le Mistral also blows away dust and haziness making the air crystal clear, so that it is possible to see distant mountains over 100 kilometres away. It was this clarity of air and light that attracted many French impressionist and post-impressionist artists to the South of France and that gives us that glorious azure that we enjoy during our time in Provence.
"Behind the Mistral is the beauty of Provence. Its fierceness blows away clouds and grime and doubt, leaving colours the depth of dreams and a freshness that can come only after the Mistral's scouring. Provence needs the Mistral or it ceases to be the Provence of my dreams. I need the Mistral to cut through those dreams to truth - beauty comes after the wind." ~ Kamiah A. Walker

Istanbul and Beyond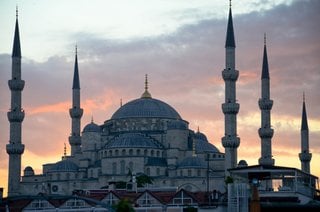 Few places we have ever visited can match Istanbul as a place of both the exotic and the spectacular.

"There God, man, nature and art have created and placed the most magnificent view the human eye can contemplate on earth."
~ Lamartine.

For over 2,500 years the city known today as Istanbul, situated at the meeting place of Europe and Asia, has been a place of great strategic and trade importance.
Some of the world's greatest civilizations including the Persian, Byzantine, Greek, Roman and Ottoman empires have left behind them a rich legacy of culture, architecture, art, antiquities and of most interest to us, their aromatic heritage.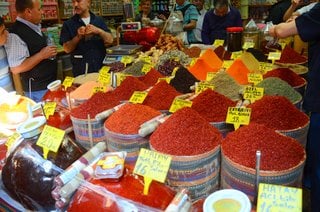 One of our favourite outings in Istanbul is to visit the Spice Bazaar or Misir Charsisi situated near the shores of the Golden Horn. Spices from all parts of Turkey and beyond have been traded in this amazing "L" shaped building since its' construction in 1660 as part of extensions to a nearby complex of mosques.

Stall after colourful stall containing all manner of exotic aromas from spices, herbs, gums, perfumes, incense, teas, seeds, nuts, Turkish delight [ scented with rose, lemon or pistachio ], saffron and caviar greet us. In the areas outside of the main building there are even more stalls filled to the brim with all manner of goods that are also wonderful to experience and explore.
Istanbul has an abundance of exotic flavours and fragrances to be savoured, and the story of coffee is a great example of its' aromatic influence.
Coffee is a native of Ethiopia and was first cultivated by the Ottomans in Yemen for use in Sufi religious ceremonies. The first public coffee house was opened in Constantinople in 1554 and "kaveh", as it was called, quickly became very popular.

Europeans were first introduced to coffee outside of Vienna by the Ottomans, who while retreating after their second and final, unsuccessful attempt to lay siege to the city were forced to leave behind sacks of coffee beans. When asked what the sacks of beans were for, one of the captive Ottoman soldiers explained how to roast, grind and brew this strange new beverage.
It is interesting to note that the triumphant Austrians decided to celebrate their victory by creating a pastry! They thought it a nice idea to be eating the symbol of the Ottomans, their long time oppressor - the crescent moon. Or as they called it "the croissant". I suppose they had to have something to eat with their cup of coffee!
Turkey is a land of contrasts and wonder and it is very appropriate to call our journey there an Odyssey with the diversity of experiences from ancient cities to the spectacular beauty of Cappadocia, magnificent countryside, the glorious turquoise waters of the Mediterranean, sleepy seaside villages and spectacular ancient sites. And always we have the beautiful spirit and friendliness of the Turkish people to welcome us along the way.
For more details please visit our information request page and if you would like to share the wonders of Turkey with us you can reserve your place via our booking request page
Arranging Your Travel
Once you have reserved your place via our tour booking page, all your need to do is make your travel arrangements to meet us at the tour rendezvous point. You can either ask your travel agent to assist you, or for the more adventurous you can book your flights and connections yourselves. All of our rendezvous are easily achieved and naturally we provide all of the information and assistance that you will need.
Just a reminder that we have a frequently asked questions page to help answer the most common questions including how to book, travel arrangements, group sizes etc.
Previous Newsletters and Stories of Interest
Our past newsletters contain a lot of interesting stories and are well worth a read. You can find them by visiting our newsletter archives
You may also enjoy reading a few of the stories that we have compiled over the years on our stories of interest page
Our Invitation
Robbi and I look forward to welcoming you to one of our delightful tours or retreats in the near future and invite you to take a peek at the latest photos of our travels in our photo galleries
For detailed information about any of our tours please visit our information request page and if you would like to join us please visit our booking request page to reserve your place.
As always if you have any questions or if you would like us to assist you personally with advice about your travel arrangements or with any other details please contact us either by email at info@aroma-tours.com or by phone on +61 3 5331 3254 ( afternoon/evening USA time zones, mornings from other countries ).
Please note you need to replace the '+' in our phone number with your country's international dialing prefix: from the USA/Canada it is 011 from most other countries it is 00.
Warmest regards,
Jim and Robbi