Greetings from Robbi and Jim
A warm welcome to all of the members of our Aroma Tours Newsletter from around the world.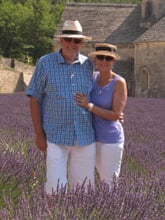 Robbi and I are now back home in our little country cottage in south eastern Australia watching spring unfold and reflecting on the many delightful moments that we have shared with our dear guests this year during our most successful tour season ever ( so far ).

It is so nice to be staying in one place after a very full year of Aromatic Adventures in Spain, Dordogne, Turkey, Provence, Italy and Bali.

Our thoughts are already well fixed on next year's adventures with some lovely new experiences to be added to our existing tours as well as the first of our "invitation only" events to be offered to our past Aroma Travellers. Very exciting!
Robbi and I are thrilled to see that our 2015 tour season is off to a flying start with all of our tours already more than half full due to an unprecedented number of early bookings, from our returning Aroma Travellers and those who missed out on joining us this year.
We hope to have the pleasure of your company in 2015 and we invite you to visit our information request page for the latest details of our tours and retreats.
Aroma Travellers Our Thanks
Without doubt, the main reason that we continue to grow and flourish, is the on-going support we receive from our past Aroma Travellers.
This year we enjoyed an outstanding number of returning Aroma Travellers and new guests who joined us because of direct referrals - over 63% of our guests!
For Robbi and myself, it is such a great delight to welcome back so many good friends and to see our Aroma Tours continuing to flourish.
We would also like to give our heart-felt thanks to all of you who continue to support us with your kind words and referrals as you spread news of our tours and retreats amongst your friends.
Robbi and I also greatly appreciate your wonderful words of thanks, it means so much to us to know that we have shared a special time with you during our journey together.
Guest Comments from 2014
My fifth and sixth tours with Aroma Tours - this time in Tuscany and northern Italy - were the icing on the cake! Thank you Jim and Carol for guiding us through this glorious part of the world in such a fun and exciting way. The choice of hotels and restaurants were superb - we were utterly spoiled. - Life has never been more "dolce" and the beautiful memories will linger on and on. Grazie Mille!
~ Susan Troxell, New York City USA
Walt and I so treasure how special you made one of our mutual Bucket List Dreams. So seldom in life does ones reality completely outshine ones fantasy!!! And this indeed was the case. So many of our dear friends have commented on the way we talk of you and our trip and how really special it was. Everyone is so surprised at how many photos we have of you both along with photos of all the places we ate and visited.
~ Chanel Bouvier and Walt Olsen Greenville USA
This week has been a feast for the eyes, nose and palate. Thank you for the memories that will last a lifetime and for creating an environment that fostered laughter and friendship. ~ Barbara Brown Trumbull USA
What a wonderful way to experience Provence, through the eyes of those who love it. Its been amazing! Thank you Robbi and Jim.
~ Kerry and Paul Hogan Warrawee Australia
Thank you both for an enjoyable tour. It was a nice mix of things to do, sightseeing, cooking lesson and perfume making. And we were fortunate with the company. We were rather fearful of being stuck with strangers for a week but they all turned out to make good travelling companions. The food was excellent and you obviously have had the experience to make the right choices. ~ Allein Moore Singapore
What a trip! Thank you both for sharing your passion for Provence with us. You made us feel like we were being entertained by good friends. Jim, when we looked at Van Gogh paintings in Paris all we thought about was how it felt to stand in his room and look out the window. Those are the special moments and there were a lot of them! Hoping to join you again in Northern Italy 2015.
~ Brenda and Marty Libman Asheville USA
What a blessed gift to have you lead us in Bali Robbi - back to ourselves, healed, pampered, radiant, happy and centered. ~ Pritinder Kaur Australia
I want to thank you and Robbi for a truly memorable and really fun vacation. I have regaled friends with stories. I loved the long leisurely luncheons outdoors under the trees. (Just like in all the French films). The guided tour of Arles was wonderful. Helene was knowledgeable and passionate about her subject. Carriere et Lumiere was an astounding experience. I could have stayed there all day. These are all experiences I couldn't have had traveling on my own. And to have viewed the olive trees in Van Gogh's paintings!! ~ Nancy Turaj Reston USA
Bill and I want to thank you for putting together such a delightful tour of Provence. Not only were we in an incredibly beautiful part of the world with lovely people, you helped us to experience it intimately with activities (cooking, petanque, shopping, wine tasting, perfume making, Gregorian chants, market day) in addition to tours and information.
We're looking back at our vacation with many smiles.
~ Barbara and Bill Haddon Kelseyville USA
We were given so many memories. I'm still talking about the food and hotels. I bought many bags of the fine lavender from the distillery and made little pillow squares of organza filled with the fine lavender to give to friends. The scent is such a memory in itself. I put one under my pillow, such sweet dreams. It would be such a blessing to do another tour with you two. ~ Kitty Courcier Chico USA
Forgive the delay in following up after our fantastic trip to Provence with you. It was a great experience and I just want to say how much we enjoyed ourselves, loved the restaurants and delicious food, and most of all the fascinating places we went to and experienced. I hope some time in the not so distant future we be able to go on another tour with you. Thank you so much for creating such a fantastic experience for us. We had a wonderful time. ~ Jane Bay San Rafael USA
What an amazing time we had in Bali. I sincerely want to thank you for this amazing retreat, in which I felt loved, safe and beautiful. Each day was a new experience full of wisdom, wonder and surprise. I have returned home feeling rejuvenated, relaxed and ready to move on with my life. ~ Sharryn White Sydney Australia

More guest comments and reviews of their Aroma Tours adventures can be found using the pull-down list below:-
You may also like to visit our picture gallery page where you can enjoy viewing the many beautiful photos of our journeys.
Let The Photo Fest Continue!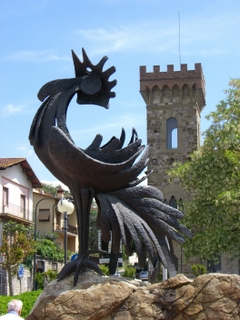 In each of our newsletters from April 2014 onwards we will be sharing some of the wonderful photos that have been kindly contributed by our past Aroma Travellers chronicling some of the delightful moments that we have experienced together over the last 20 years.

It is such a pleasure to share these beautiful images of Spain, Dordogne, Turkey, Provence, Italy and Bali that capture our adventures together from a more personal perspective.

In addition to these new photos in our newsletters, we invite you to return from time to time to our Picture Gallery Page for the latest photos of our adventures.
Photos of Italy 2014 by Susan Troxell - Part 1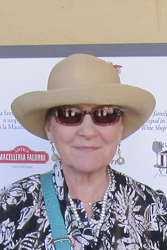 This time our Aroma Tours Photo Fest continues with a beautiful collection of photos taken by our dear friend and 6th time repeat Aroma Traveller Susan Troxell from New York City USA.

Susan joined us for both of our Italian tours this year and was a prolific shutterbug throughout. As a result of the more than 700 photos that she has kindly shared with us, I thought it fitting that we should chronicle our Aroma Tours Italy adventures through Susan's lens.

Susan's endless enthusiasm, sense of fun and kind heartedness are always very welcome on tour and this first installment of her photos will give you a peek at some of the lovely experiences we shared during this year's Aromas of Tuscany Tour
Our Current Booking Status
Robbi and I are thrilled to be enjoying the best ever start to an upcoming tour season in 2015, with the largest number of bookings we have ever achieved for this time of year.
Our booking status at the time of this newsletter is:-
Robbi and I hope to have the pleasure of welcoming you to one of our delightful aromatic adventures and to sharing a wonderful and memorable time with you.
For detailed information about any of our tours please visit our information request page and if you would like to join us please visit our booking request page to reserve your place.
It is our pleasure to assist you with any questions you may have and we invite you to get in touch with us either by email at info@aroma-tours.com or by phone on: +613 5331 3254 (afternoon/evening USA time zones, mornings from other countries).
Please note
Our up-to-the-minute booking status is available via our calendar page
If the tour you would like to attend becomes fully booked you may like us to add you to that tour's waiting list as sometimes we receive late cancellations or transfers.
Photos of Italy 2014 by Susan Troxell - Part 2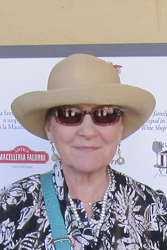 With happy memories of our adventures in Tuscany still fresh in her mind, Susan continued her journey with us for our Flavours of Italy Tour as we explored the regions of northern Tuscany, Liguria, Veneto and the beautiful Lake Como.

As we moved through these diverse and beautiful regions it was a constant delight to experience the different vistas, local specialties, colourful characters, culture and art along the way - all the while with Susan enthusiastically chronicling the moments we shared.

Over the coming months it will be our great pleasure to continue introducing you to more of our Aroma Travellers who have generously shared their beautiful photos with us.


Arranging Your Travel
Once you have reserved your place via our tour booking page, all your need to do is make your travel arrangements to meet us at the tour rendezvous point. You can either ask your travel agent to assist you, or for the more adventurous you can book your flights and connections yourselves. All of our rendezvous are easily achieved and naturally we provide all of the information and assistance that you will need.
Just a reminder that we have a frequently asked questions page to help answer the most common questions including how to book, travel arrangements, group sizes etc.
Previous Newsletters and Stories of Interest
Our past newsletters contain a lot of interesting stories and are well worth a read. You can find them by visiting our newsletter archives
You may also enjoy reading a few of the stories that we have compiled over the years on our stories of interest page
Our Invitation
Robbi and I look forward to welcoming you to one of our delightful tours or retreats in the near future and invite you to take a peek at the latest photos of our travels in our photo galleries
For detailed information about any of our tours please visit our information request page and if you would like to join us please visit our booking request page to reserve your place.
As always if you have any questions or if you would like us to assist you personally with advice about your travel arrangements or with any other details please contact us either by email at info@aroma-tours.com or by phone on +61 3 5331 3254 ( afternoon/evening USA time zones, mornings from other countries ).
Please note you need to replace the '+' in our phone number with your country's international dialing prefix: from the USA/Canada it is 011 from most other countries it is 00.
Warmest regards,
Jim and Robbi