Greetings from Robbi and Jim
A warm welcome to all of the members of our Aroma Tours Newsletter from around the world.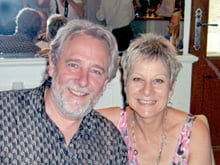 Robbi and I are now starting to get excited about our upcoming Aroma Tours adventures which will begin in a little less than a month with our wonderful new Flavours of Spain Tour.

We are greatly looking forward to sharing the places and experiences that we love with our Aroma Travellers this year and we are thrilled to see that after 18 years, 2012 is now confirmed as our most successful year ever.
We look forward to sharing many lovely new photos of our 2012 adventures for you to enjoy in the coming months and in the meantime we invite you to visit our Photo Gallery Pages where you can browse through some of the thousands of photos we have taken during our past aromatic adventures.
For the latest details of our tours and retreats, please visit our information request page and if you would like to join us this year for one of our delightful aromatic journeys, please visit our booking request page to reserve your place.
Aroma Travellers Our Thanks
Without doubt, one of the main reasons that we continue to grow and flourish, is the on-going support we receive from our past Aroma Travellers.
This year we are thrilled to see that we will be enjoying our greatest ever number of returning Aroma Travellers - currently over 31% of our guests!
For Robbi and myself, it is such a great delight to be welcoming back so many good friends and to see our Aroma Tours continuing to flourish.
We would also like to give our heart-felt thanks to all of you who continue to support us with your kind words and referrals as you spread news of our tours and retreats amongst your friends.
Robbi and I also greatly appreciate your wonderful words of thanks, it means so much to us to know that we have shared a special time with you during our journey together.
If you have not already done so, please take a peek at our Guest Comments from 2011
Our French Connection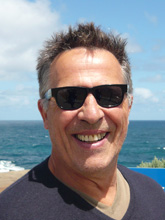 Our driver in Provence this year is our friend Patrick Sales who was born in the Cote d'Azur in the beautiful perched village of Tourettes sur Loup and attended secondary school in nearby Grasse, renowned as "The World Capital of Perfume".

Patrick first came to Australia in 1970 and returned to live in northern France during the 90's, mainly in Brittany. He returned to Australia in 2000 and currently resides in Melbourne.

He is passionate about literature, art, classic cars and adores French history. Patrick is charming and full of life and will bring a wonderful flavour to our time in Provence this year.
Our Current Booking Status
Bookings for several of our tours are now closed and it also time for us to be gathering our last remaining Aroma Travellers for this year's adventures.
Our booking status at the time of this newsletter is:-
Robbi and I are greatly looking forward to the start of our journeys this year and hope that we will have the pleasure of your company.
For detailed information about any of our tours please visit our information request page and if you would like to join us please visit our booking request page to reserve your place.
It is our pleasure to assist you with any questions you may have and we invite you to get in touch with us either by email at info@aroma-tours.com or by phone on: +613 5331 3254 (afternoon/evening USA time zones, mornings from other countries).
Please note
Our up-to-the-minute booking status is available via our calendar page
If the tour you would like to attend becomes fully booked you may like us to add you to that tour's waiting list as sometimes we receive late cancellations or transfers.
Our Last Ever Provence Aromatherapy Retreat?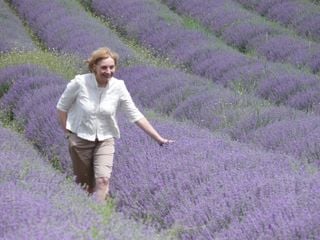 After 18 years of offering our Provence Aromatherapy Retreat to attendees from over 30 different countries, Robbi and I have decided that 2012 will be our last Provence aromatherapy retreat for the foreseeable future.

This final retreat will be another fabulous week focusing on skin care and wellbeing with our renowned international trainers, Mindy Green formerly of Aveda ( USA ), Megan Larsen of Sodashi Skin Care ( Australia ) and of course Robbi with her wonderful Blossoming Heart work.
As always, our attendees will gain a great deal of knowledge from our wonderful trainers and local experts and will be empowered to make their own wonderful natural skin care and well being products for personal or professional use. We will also enjoy the beauty and culture of Provence, experience essential oil production from field to bottle, as well as sharing with other aromatherapists from around the world
With just 4 places left we invite you to join us for a wonderful informative week and the end of an era in our tiny village amongst the lavender fields of the Haute Provence.
For more details please visit our information request page and if you would like to reserve one of the last 4 places please visit our booking request page
Truffles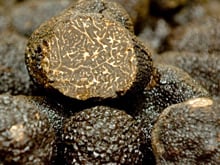 Most people have heard of the mysterious culinary delicacy known as the truffle; how it is rare, hard to find, very expensive, grows on the roots of oak, hazel and holm trees, is hunted with a pig or specially trained dog and is the cause of much skullduggery in certain winter market places in the Perigord and Provence.

But what is a truffle?

Simply put it is the fruiting body of a fungus similar to the mushroom or toad stool except that in the case of the truffle it does its fruiting underground.
Truffles require a moist, warm environment to allow the symbiotic relationship between the fungus ( which synthetizes minerals for the tree ) and the tree root ( which releases sugar to feed the truffle ) to occur. As a result, the success of each year's truffle harvest is subject to the vagaries of annual weather variations.
There are in fact more than a hundred different varieties of truffles growing in the wild but the vast majority only offer appeal to the creatures of the forest who enjoy eating them with gusto. For us sapien types however, there are only a few specific truffle varieties that appeal to our sense of taste ( and not all of us at that ).
The main ones are:-
Black Truffle - Tuber melanosporum
The Black truffle is renowned as the most flavoursome of all truffles and is the preferred variety used by most chefs. As a result of its strong flavour it can tolerate being heated briefly, usually in butter, before being added to enhance a dish's flavour. It has an earthy, minty, nutty flavor and is found in the Perigord, Provence, north eastern Spain and Italy from early December until early March and Australia from June to early September! It has a rough black exterior with intricate white internal veins.
White Truffle - Tuber magnatum pico
The Italian White Alba truffle is the most expensive variety of truffle with a smooth "felt-like" surface. Its rarity and delicate, perishable flavour are the reason it fetches the high prices it does. It has a strong cheesy-garlic aroma and is available after mid- September. It is very important not to heat this delicate treasure, rather it should be shaved directly into the finished dish - pasta is perfect as an example - just prior to serving.
Summer Truffle - Tuber aestivum
The Summer Truffle is found in abundance throughout Europe, most commonly in Italy and Provence. It has a rough black exterior but an interior quite pale compared to the black truffle. It has a mild taste, reminiscent of hazelnuts. The Summer Truffle is found between May and August, and has an immense amount of flavor for its price.
We enjoy them very much I can tell you during our Provence tours.
One of the best ways to enjoy truffles is to make an omelet with lovely fresh farm eggs and add slivers of fresh truffle - absolutely delicious!
A Pilgrims Journey Through Spain - Robbi Reports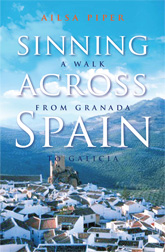 On the eve of our first Spanish Tour it seems so perfect that our dear friend Ailsa Piper, writer, director, teacher and actor, has turned her considerable talents to documenting her solo 1200 kilometer walk from Granada to Galicia, one of the lesser walked pilgrim trails across Spain.

Having walked the 780 kilometer Camino Francés the year before, finishing at the cathedral in the medieval city of Santiago de Compostela and having researched much historical material about pilgrim traditions through the ages, one bizarre notion struck Ailsa in particular: the belief, in medieval times, that a person could be paid to carry the sins of another to Santiago, and by doing so could absolve the 'sinner ' from punishment. As she walked a fascinating idea was born springing from this research into medieval pilgrimage.
Sinning Across Spain is the result of a collaboration with The Australia Business Arts Foundation and individual supporters of the project that Ailsa embarked upon. The book is beautifully written and raises some interesting questions. What sin would you have someone walk off for you? Ailsa travels through glorious villages and inspiring landscapes with her unusual cargo - a load of sins - all the while immersing the reader in the wonder and beauty that is Spain.
I love the following anecdote from the book. As Ailsa walked along a road, a shepherd with his flock raised his staff to beckon her over and asked how her walk had been. Duro she replied. Pero hermoso. Hard. But beautiful. Ah the old man replied, just like life. Hard but beautiful.
Sinning Across Spain is available in book shops throughout Australia and for our friends around the globe the publisher is Melbourne University Publishing.
Arranging Your Travel
Once you have reserved your place via our tour booking page, all your need to do is make your travel arrangements to meet us at the tour rendezvous point. You can either ask your travel agent to assist you, or for the more adventurous you can book your flights and connections yourselves. All of our rendezvous are easily achieved and naturally we provide all of the information and assistance that you will need.
Just a reminder that we have a frequently asked questions page to help answer the most common questions including how to book, travel arrangements, group sizes etc.
Previous Newsletters and Stories of Interest
Our past newsletters contain a lot of interesting stories and are well worth a read. You can find them by visiting our newsletter archives
You may also enjoy reading a few of the stories that we have compiled over the years on our stories of interest page
Thought for the Day
"Go confidently in the direction of your dreams. Live the life you have imagined."
~ Henry David Thoreau.

Our Invitation
Robbi and I look forward to welcoming you to one of our delightful tours or retreats in the near future and invite you to take a peek at the latest photos of our travels in our photo galleries
If you would like detailed information about any of our tours please visit our information request page
As always if you have any questions or if you would like us to assist you personally with advice about your travel arrangements or with any other details please contact us either by email at info@aroma-tours.com or by phone on +61 3 5331 3254 ( afternoon/evening USA time zones, mornings from other countries ).
Please note you need to replace the '+' in our phone number with your country's international dialling prefix: from the USA/Canada it is 011 from most other countries it is 00.
Warmest regards,
Jim and Robbi