Greetings from Robbi and Jim
Happy New Year to all of the members of our Aroma Tours Newsletter in more than 35 countries around the world.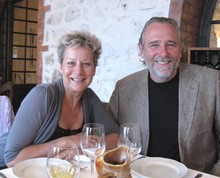 After a much needed break over the festive season, enjoying the fellowship of our friends and family, Robbi and I are now back working hard preparing for this year's adventures.
We are very excited about the year ahead and feel truly blessed to be able to share our passion for the places and experiences that we love with so many wonderful people, many of whom are joining us once again.
The response has been so amazing that we expect to be opening bookings for 2011 in the next month or so. In the meanwhile we look forward to welcoming more Aroma Travellers to this year's adventures.
For more information about any of our tours please visit our information request page
More Memorable Photos from 2009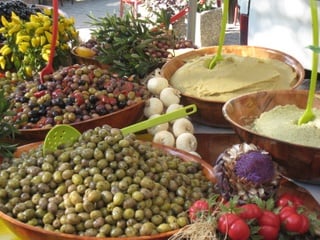 Robbi and I love looking back through the photos of our adventures and remembering the wonderful moments that we have shared with our Aroma Travellers.
We have added a new page of memorable photos for your viewing pleasure at Memorable Photos 2009-5 and we hope that you enjoy them as much as we do. All 5 photo pages from 2009 are full of beautiful images and if you haven't seen them all already they are well worth a peek.
We also invite you visit our other Photo Galleries Pages to enjoy more of the 100's of other lovely photos of our aromatic adventures we have taken over the years.
Delight Amongst the Lavender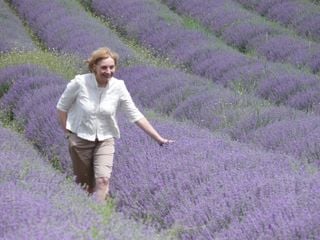 There are many delights that we share with our guests in Provence and one of our favourites is standing in glorious fields of lavender, inhaling the rich floral scent and watching the purple rows shimmering before the wind.
From huge fields stretching to the horizon to wild lavender growing amongst thyme, savoury and juniper; after more than 15 years we are still as enchanted as ever by this most wonderful aromatic plant.
Our Provence Lavender Tour continues to be a great success and is always very quickly filled, however, both our Heart of Provence and Essential Provence tour also offer wonderful lavender experiences.
For some lovely photos of our lavender adventures please visit our Lavenders of Provence page.
Current Booking Status
All is now well under way for this year's tour season and Robbi and I are thrilled to see the wonderful response continuing for all of our 2010 offerings.
If you are planning to join us this year please get in touch with us shortly and do keep an eye on availability via our Calendar Page
Our current booking status is:-
If we can assist you with any questions, please get in touch with us either by email at info@aroma-tours.com or by phone on: +61 3 5331 3254 (afternoon/evening USA time zones, mornings from other countries).
From the USA/Canada the "international dialling prefix" which replaces the '+' in our phone number is 011, from most other countries it is 00.
For more details please visit our information request page and if you would like to reserve your place please visit our booking request page
Please note that if the tour you would like to attend is already fully booked we can add you to the tour's waiting list and if a place becomes available you may still be able to join us.
Aroma Travellers Our Thanks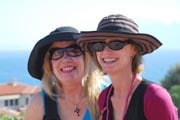 Without doubt, one of the main reasons that we continue to grow and flourish, is the on-going support we receive from our past Aroma Travellers.
This year as always we are enjoying a significant number of returning guests who are once again making up more than 20% of our total numbers. For Robbi and myself, it is such a great delight to be welcoming back so many good friends.
We would also like to give our heart-felt thanks to all of you who continue to support us with your kind words and referrals and by spreading news of our tours and retreats amongst your friends.
Robbi and I love receiving your messages of thanks and we have compiled several pages from our recent adventures at Guest Comments 2009 and Guest Comments 2008 as well as a sampler from previous years at Guest Comments Sampler
Lovely New Hotels for Heart and Flavours of Provence
We are always exploring and looking for new experiences and beautiful places to share with our Aroma Travellers. This year's efforts discovered two lovely new hotels and several delightful restaurants that we consider perfect to add to next year's tour offerings.
Both new hotels are classed as "4 star small luxury" and we will be using both for our Flavours of Provence Tour. We will also be using the second hotel ( as shown below ) during our Heart of Provence Tour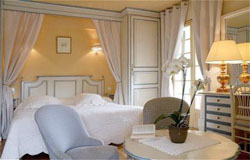 Our first discovery was in the Bouche du Rhone in a quiet setting with views of the Alpilles on the outskirts of a lovely market town.
It has beautiful grounds and a wonderful sense of Provencale character with a lovely swimming pool, bar and lounges and a delightful 1 Michelin star gastronomic restaurant which we will enjoy during our stay.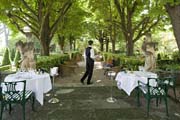 Our second hotel is a member of the Small Luxury Hotels group with delightful rooms and a fabulous garden which also hosts the hotel's fine restaurant.
One of the nicest environments we have found with absolutely wonderful staff and a rich history of famous people who have enjoyed being their guests. Just the spot for us to enjoy, n'est pas.
We look forward to sharing these lovely new hotels with our Aroma Travellers next year.
Gastronomy by the Lake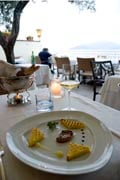 During our Flavours of Italy we spend a delightful evening enjoying an amazing gastronomic experience on the shores of the magnificent Lago de Garda - Italy's largest lake.
After a enchanted afternoon exploring beautiful lake side villages, there we were: aperitivo in hand, sitting in a gorgeous restaurant with sweeping views across the lake and surrounding hills.
Our meal commenced with an amuse bouche of a delicate tomato and basil reduction, followed by our first of seven gastronomic delights: scallops with pumpkin puree and liquorice emulsion - mmmm's and ahhhh's were coming from all quarters.
Next was tender baby cuttlefish: just delightful, followed by cooked foie gras accompanied by a spectacular Sauterne.
By now the lake was cloaked in shadow as the stars and lights in the villages across the water started to wink on; the effect was breathtaking! The sense of "grand moment" as we experienced a time outside of time, was a feeling shared by us all.
Just then a delicate pasta with monk fish and glass of Chablis arrived, followed by turbot - that ugly but highly prized, wonderfully rich, son of a flounder - in a light curry sauce and finally, after a respectable pause came a tender short rack of Irish lamb.
As our tables were cleared and swept of crumbs, we chatted animatedly with the lake and sky before us like shining jewels, about the gastronomic delights we had just enjoyed.
Each portion was perfect and even after 5 courses, our appetites were still eager for the next yummy instalment which came in the form of a trio of pecorino cheeses accompanied by small pots of delicious jams - a 9.5 on the delicious-o-meter.
Finally came the sweet benediction of a tasting plate of gastronomic desserts that showcased the consummate skill of the restaurant's dessert chef - and the Sicilian sweet wine, Madonna!!
The service was impeccable and to have such a spectacular gastronomic experience in such a gorgeous setting is a memory to be cherished. Each course was accompanied by a glass of perfectly matched wine in its' matching style of glass. [ I had a lot of fun doing the research for this one I can tell you ].
You may also enjoy taking a peek at our latest Photos of Food page compiled from this year's photos.
The Story of Champagne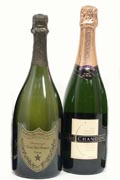 If you are new to our newsletter and have not already read the fascinating 4 part "Story of Champagne" that we published in our past newsletters, I highly recommend that you do so now by following these links:
Part 1 - La Champagne: Wine of Kings; Louis IV and Dom Perignon; Claude Moet, Madame Pompadour and le champagne.
Part 2 - The Reign of Terror; Napoleon and Jean-Remy Moet; Napoleon III and The Industrial Revolution; Veuve Clicquot-Ponsardin; Sitting on Top of Golden Hours.
Part 3 - The Franko-Prussian War, Louise Pommery and the Birth of Brut; The Belle Epoque; Hard times for the Champenoise.
Part 4 - Blood Amongst the Vines; The Re-birth of Dom Perignon; Champagne Triumphs.
Provence Aromatherapy Retreat 2010 - Skin Essentially ( repeat )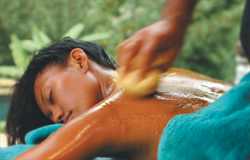 Our Provence Aromatherapy Retreat next year will be focusing on skin care and wellbeing. We are very excited and delighted to announce that Mindy Green formerly of Aveda ( USA ) and Megan Larsen of Sodashi Skin Care ( Australia ) will be joining us in our tiny village amongst the lavender fields of the Haute Provence. This will undoubtedly be an awesome week of enhanced learning and practical applications.
For people who have attended the retreat in the past and desire a return visit to our lovely little village surrounded by glorious lavender fields this will be an entirely new curriculum devoted to skin!
Topics covered include:- History of botanicals in skin care, essential oil chemo-types and their unique applications for skin, structure and function of the skin, ingredients for beautiful skin, 12 essential oils for effective skin care, Sodashi reflexology technique for the face, blending essential oils to personalise your products, diagnosis of skin types, carrier oils for different skin types, cleansing from the inside out, mature, ageing and sun damaged skin strategies, skin soothers, skin foods and micronutrients, stress diffusion for emotions relating to skin issues, relaxation techniques to calm the body/mind and soothe the skin.
For more details please visit our information request page and if you would like to reserve your place please visit our booking request page
Newsletter Delivery Notes
Over the years the circulation of our Aroma Tours newsletter has grown to more than 6000 subscribers and in these days of filters and anti-spam software it is becoming increasingly more difficult to be sure that our email will arrive safely in your inbox.
There is of course good reason to have this filtering, however, as a consequence we recommend that you add our email address info@aroma-tours.com to your address book or allowed email list to help ensure that our newsletter will continue to be delivered to you successfully.
If of course for any reason you would prefer to stop receiving our newsletter please don't hesitate to email us at info@aroma-tours.com to unsubscribe.
Arranging Your Travel
Once you have reserved your place via our Tour Booking Page, all your need to do is make your travel arrangements to meet us at the tour rendezvous point. You can either ask your travel agent to assist you, or for the more adventurous you can book your flights and connections yourselves. All of our rendezvous are easily achieved and naturally we provide all of the information and assistance that you will need.
Just a reminder that we have a Frequently Asked Questions Page to help answer the most common questions including how to book, travel arrangements, group sizes etc.
Previous Newsletters and Stories of Interest
Our past newsletters contain a lot of interesting stories and are well worth a read. You can find them by visiting our Newsletter Archives
You may also enjoy reading a few of the stories that we have compiled over the years on our Stories of Interest Page
Thought for the Day
"I met a lot of people in Europe. I even encountered myself."
~ James Baldwin
Our Invitation
Robbi and I look forward to welcoming you to one of our delightful tours or retreats in the near future and invite you to take a peek at the latest photos of our travels in our Photo Galleries
If you would like detailed information about any of our tours please visit our Information Request Page
As always if you have any questions or if you would like us to assist you personally with advice about your travel arrangements or with any other details please contact us either by email at info@aroma-tours.com or by phone on +61 3 5331 3254 ( afternoon/evening USA time zones, mornings from other countries ).
Please note you need to replace the '+' in our phone number by your country's international dialling prefix: from the USA/Canada it is 011 from most other countries it is 00.
Warmest regards,
Jim and Robbi