Greetings from Robbi and Jim
A warm welcome to all of the members of our Aroma Tours Newsletter in over 35 countries around the world.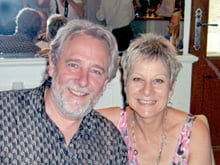 Robbi and I are excited to be at the beginning of another wonderful year of adventures and we are greatly looking forward to sharing the beautiful aromatic places and experiences that we love with our guests from around the world.

We are delighted to see that once again we are enjoying a fabulous start to our tour season with five of our Aromatic Adventures now almost fully booked and with the busiest time of year now upon us we are looking forward to continuing towards one of our most successful years ever.
To our Chinese readers in this, the Year of the Dragon, we wish you Kung Hei Fat Choi and may 2012 be prosperous, joyful and peaceful for us all.
We invite you to visit our information request page for the latest details of our 2012 tours.
Memorable Photos of Our 2011 Adventures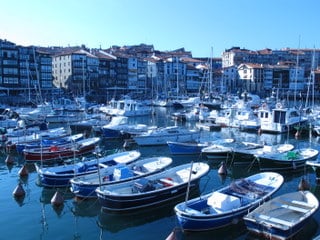 One of the best ways to enjoy the spirit of our adventures is by taking a peek at a few of the photos we have taken during our Aroma Tours' 2011 adventures.

We have added 2 new pages of photos including some of the lovely images contributed by our Aroma Travellers, which are a nice way for you to get another perspective on the delightful experiences we shared.
We look forward to adding more photos to our archives and to sharing them with you in the near future.
As always we also invite you visit our other Photo Galleries Pages to enjoy more of the 100's of other lovely photos of our aromatic adventures.
If you have not already done so, please do be sure to take a peek at our new Photos of our Guests Page
Aroma Travellers Our Thanks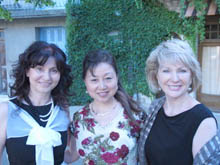 Without doubt, one of the main reasons that we continue to grow and flourish, is the on-going support we receive from our past Aroma Travellers.

This year we are on track to having the largest number of returning Aroma Travellers we have ever enjoyed - currently over 30% of our guests!

For Robbi and myself, it is such a great delight to be welcoming back so many good friends and to see our Aroma Tours continuing to flourish.
We would also like to give our heart-felt thanks to all of you who continue to support us with your kind words and referrals as you spread news of our tours and retreats amongst your friends.
Robbi and I also greatly appreciate your wonderful words of thanks, it means so much to us to know that we have shared a special time with you during our journey together.
Flavours of Spain - Our Exciting New Tour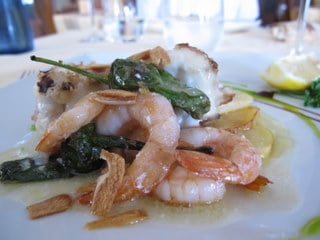 We are thrilled to announce that next May we will be offering our wonderful new Flavours of Spain Tour, a delightful gastronomic pilgrimage that explores the exceptional cuisine, incredible wines, rich culture and sweeping beauty of North Eastern Spain.

Our journey will take us from Rioja Alavesa, one of the world's premier wine regions, along the legendary path of the Camino de Santiago, to the magnificent coastline of the Bay of Biscay renowned for its beauty and culture and for being the home of the highest concentration of Michelin starred restaurants in the world.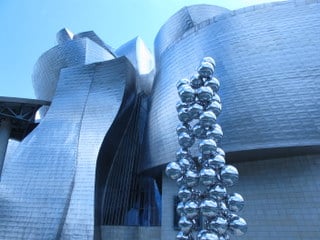 You will experience enchanting villages, glorious seaside vistas, stunning architecture, lush vineyards, delicious wines, colourful markets, a fascinating tapas cooking class, ancient abbeys, amazing art, beautiful countryside and fascinating historical visits.

We have compiled a page of photos of our Flavours of Spain tour for your viewing pleasure and we are greatly looking forward to sharing this delightful new tour with our guests next year.
We are pleased to announce that we have been able to secure a better price from one of our hotels and as a result we have been able to reduce the tour price accordingly.
For more details please visit our information request page and if you would like to reserve your place please visit our booking request page
Provence Lavender Dreams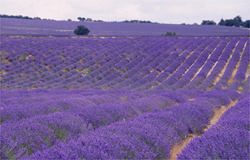 Whenever possible between our busy schedule of tours, Robbi and I like to take a little time off to relax and catch up with our local friends.

This year we were absolutely delighted to finally be able to stay a few days with our dear friends Jack and Sophie on their lavender farm, high in the Haute Vaucluse: one of the largest true French lavender farms in the world.
The lavender harvest was in full swing, so everything was a bustle, with harvesters plying their way gracefully along the long rows, creating swathes of aromatic purple blooms that could be seen in various stages of drying [ over 2 or 3 days ], in preparation for their journey to the distillery.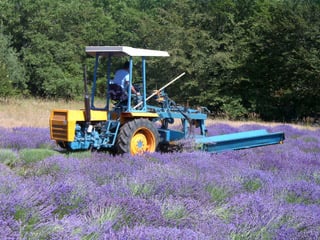 I found myself fascinated by the patterns the machinery left in the dusty soil and the wisps of lavender scattered randomly at the end of the rows. Also, the way the landscape was gradually changing from vibrant purple, to rows of green, set between the swathes of cut blooms.

The distillery with its twin "couldrons" was the heart of operations with deliveries of fragrant lavender constantly arriving by the tonne. Ready for their metamorphosis into this most precious of essential oils: the aromatic "grassy" smell of freshly distilled lavender was everywhere.
At evening meal times it was exciting to share with our friends [ freshly back from cutting, collecting and distilling ] their news of the day's work; weather, equipment breakdowns, essential oil yield and quality...... As always the conversation quickly turned to light-hearted banter as we sat - glass of wine in hand - watching the amazing sight of the sun setting over 80 hectares of lavender fields.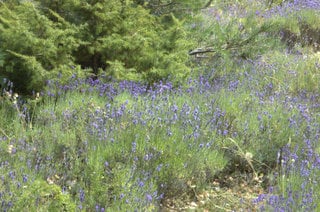 During the daytime, I took to rambling amongst the fields and through the nearby forests which were absolutely bursting with wild lavender - we were after all in the natural home of this amazing plant.

In one spot, I found a veritable carpet of wild lavender and nearby, dozens of hives with their nimbus of bees busily gathering nectar to make lavender flavoured honey.
I can't begin to describe the beauty and incredible joy we felt during those precious few days except to say:-
"To drift off to sleep in the true darkness of night, as the gentle lavender scented breeze outside, dances across the flowering rows of purple - all is bliss, all is bliss...."
Lavender is one of our strongest anchors to Provence and has always welcomed us. It is always a joy for us to share our love of this amazing plant with our Aroma Travellers in Provence each year.
For more lovely photos of our lavender adventures please visit our Lavenders of Provence page.
If you would like to join us amongst the purple fields for our Provence Lavender Tour, or one of our other Provence Tours, details are available via our information request page
Delights of Bordeaux and Dordogne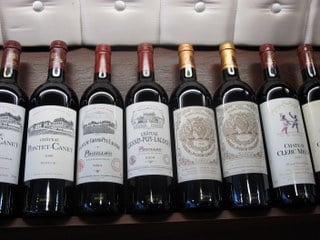 Our Flavours of Dordogne Tour was offered for the first time last year and was a resounding success, with a full compliment of guests and many delicious and memorable moments shared over a delightful week together.

We started well with a visit to one of Bordeaux's most prestigious Grand Cru Classé wineries to enjoy a tasting of their delightful wines, followed by a wonderful gourmet meal in a small family owned restaurant located in a beautiful perched village nestled amongst some of the most renowned vineyards in the world.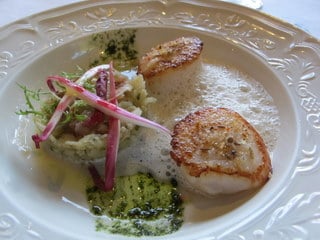 Our time together included many wonderful gastronomic meals, however, one of the most enjoyable for me was in a tiny newly opened brassiere owned by Raphael and his lovely wife Yvette, who also happened to be the chef. I am a huge fan of duck and though I knew that the food was very good, Yvette produced for us one of the finest examples of magret de canard [with a creamy cepe sauce] that I have ever tasted. [ next time I will get a photo of that particular meal - we were too busy enjoying ourselves for photos ]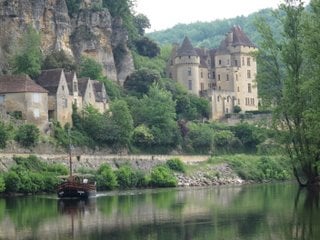 In addition to savouring many other gastronomic delights it was also a joy to explore the unspoilt beauty of this fascinating region with its sweeping river valleys, fortified medieval chateaux, colourful markets, magnificent gardens, patisserie cooking class, pre-historic sites, spectacular caves and some of the most beautiful villages in France.

It will be our pleasure to return to Dordogne this May and we are greatly looking forward to sharing many more delightful moments with our guests in this glorious region.
There are many wonderful places and moments that we shared and we invite you to take a peek at a few photos of our adventures in Bordeaux and the Dordogne.
For more details please visit our information request page and if you would like to reserve your place please visit our booking request page
Guest Comments From Our 2011 Adventures ( repeat )
One of the great pleasures for Robbi and I after each tour season is receiving messages of thanks from our Aroma Travellers.
We have had a lot of fun compiling a few photos of the lovely people who have joined us over the years, which we have used to accompany our guest comments pages. It is wonderful for us to recall the many delightful moments we have shared and we hope that you enjoy taking a peek, starting with Guest Comments 2011
Our Current Booking Status
We are thrilled to see the wonderful response for this year's tours and retreats and with the busiest time of year for bookings now upon us, we are well on track to enjoy one of our most outstanding seasons ever.
Our booking status at the time of this newsletter is:-
Robbi and I are looking forward to sharing our aromatic adventures this year and hope that we will have the pleasure of your company.
For detailed information about any of our tours please visit our information request page and if you would like to join our Aromatic Adventures next year, we invite you to reserve your place by visiting our booking request page
It is our pleasure to assist you with any questions you may have and we invite you to get in touch with us either by email at info@aroma-tours.com or by phone on: +613 5331 3254 (afternoon/evening USA time zones, mornings from other countries).
Please note
Our up-to-the-minute booking status is available via our calendar page
If the tour you would like to attend becomes fully booked you may like us to add you to that tour's waiting list as sometimes we receive late cancellations or transfers.
Provence Aromatherapy Retreat - Interview with Julie Foster
Robbi recently interviewed Julie Foster, Bowen Therapy Practitioner and Reflexologist from Perth Australia about her experience of attending our Provence Aromatherapy Skincare and Wellbeing Retreat a few years back.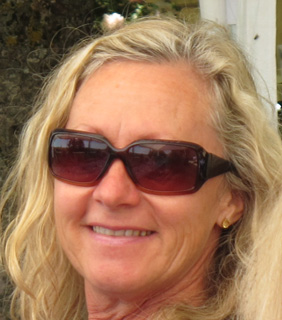 "I attended the Aromatherapy Skincare and Wellbeing Retreat in Provence in July 2010. It was such an awesome experience that I went on to enjoy the magnificent Bali Women's Retreat in September 2011.

As a health practitioner I have always been interested in natural skin care and sourcing useful and practical information to pass on to my clients. You can dramatically improve your wellbeing by the products you choose to put on your skin, by the nutrition you choose to put into your body and the environment you choose to live in. This retreat furthered my knowledge and gave me tools to make positive changes in my own life. The retreat enhanced my wellbeing tenfold and got my skin glowing like never before.
Provence
The Retreat took place in the heart of Provence, the home of many essential oils. This idyllic region arouses all your senses with its beauty, food, culture and fields upon fields of lavender. Just 'being' in Provence improved my sense of wellbeing.
Knowledge
The training was comprehensive. I gained a huge insight into the emotional and holistic healing properties of essential oils, as well as naturopathy, kinesiology and other healing modalities. I came away with wellbeing tools that will last me a lifetime. And it was not just theory based; there was so much hands on fun and we all created beautiful products to take home. During the retreat I experienced aromatherapy from field to bottle, with visits to master Provencale distillers, boutique essential oil producers and local growers. There were numerous skin care treatment protocols outlined and I have implemented many of these in my natural therapy practice with great success.
Speakers
I was looking for inspiration and the Retreat's panel of speakers Robbi Zeck, Megan Larsen and Mindy Green certainly had that - 100 years of combined knowledge between them!
Robbi Zeck, kinesiologist, naturopath, councellor and author, has spent the last 30 years inspiring and assisting people in enhancing the quality and substance of their lives. Her approach was extremely nurturing and highly empowering.
Megan Larsen, founder of Sodashi, known for its high performance chemical-free skin care, shared her unique knowledge of Ayurveda, aromatherapy and naturopathy. Combined with her passion for health and wellness it was contagious enthusiasm from the moment she began speaking.
Mindy Green, inspiring teacher, internationally acclaimed author and former essential oil researcher for Aveda, provided a wealth of knowledge of integrated aromatherapy, herbal medicine with an emphasis on holistic skin care and wellbeing.
Hosts
Robbi and her partner Jim Llewellyn know Provence intimately and are loved by the locals wherever they go - they were absolutely the perfect hosts. It was a delight to be welcomed with such genuine warmth wherever we went. Throughout the retreat I felt nurtured at every level.
Participants
Such a wonderful connection was created between the participants from around the world in such a short space of time. The retreat attracted people from around the world. Along with aromatherapists and therapists of various other modalities, some people who attended were simply there to enhance their own wellbeing and learn how to nurture and take care of themselves more effectively.
Grand Finale
This was an exceptional and delightful week of learning and experience immersed in the history, culture, lavender and sunflower fields, beauty and graciousness of Provence. It reminded me that we need to stay connected to the things that bring us energy. Everyday! The retreat enriched my life in so many ways. I loved every minute of it!"
Provence Aromatherapy Skincare and Wellbeing Retreat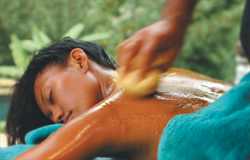 Our Provence Aromatherapy Retreat this year will once again be focusing on skin care and wellbeing and we are thrilled to be welcoming back Mindy Green formerly of Aveda ( USA ) and Megan Larsen of Sodashi Skin Care ( Australia ) who will be joining Robbi and I in our tiny village amongst the lavender fields of the Haute Provence. This will undoubtedly be another awesome week of enhanced learning and practical applications.
For people who have attended the retreat in the past and desire a return visit to our lovely little village surrounded by glorious lavender fields this will be an entirely new curriculum devoted to skincare and wellbeing!
We are looking forward to another exceptional retreat this year and we are delighted to share with you that all attendees will receive a gorgeous Sodashi Skin Care Travel Kit - a complete skin care ritual for beautiful skin, valued at AUD$270. A blissfully, pampering beginning to our glorious week in sunny Provence. Thank you to Megan Larsen for this wonderfully generous gesture.
By the end of the retreat our attendees will have all gained a great deal of knowledge from our world renowned trainers and be empowered to make their own wonderful natural skin care and well being products for personal or professional use.
For more details please visit our information request page and if you would like to reserve your place please visit our booking request page
Arranging Your Travel
Once you have reserved your place via our tour booking page, all your need to do is make your travel arrangements to meet us at the tour rendezvous point. You can either ask your travel agent to assist you, or for the more adventurous you can book your flights and connections yourselves. All of our rendezvous are easily achieved and naturally we provide all of the information and assistance that you will need.
Just a reminder that we have a frequently asked questions page to help answer the most common questions including how to book, travel arrangements, group sizes etc.
Previous Newsletters and Stories of Interest
Our past newsletters contain a lot of interesting stories and are well worth a read. You can find them by visiting our newsletter archives
You may also enjoy reading a few of the stories that we have compiled over the years on our stories of interest page
Thought for the Day
"Don't ask what the world needs. Ask what makes you come alive, and go do it. Because what the world needs is people who have come alive."
~Howard Thurman
Our Invitation
Robbi and I look forward to welcoming you to one of our delightful tours or retreats in the near future and invite you to take a peek at the latest photos of our travels in our photo galleries
If you would like detailed information about any of our tours please visit our information request page
As always if you have any questions or if you would like us to assist you personally with advice about your travel arrangements or with any other details please contact us either by email at info@aroma-tours.com or by phone on +61 3 5331 3254 ( afternoon/evening USA time zones, mornings from other countries ).
Please note you need to replace the '+' in our phone number with your country's international dialling prefix: from the USA/Canada it is 011 from most other countries it is 00.
Warmest regards,
Jim and Robbi