Greetings from Robbi and Jim
A warm welcome to all of the members of our Aroma Tours Newsletter in more than 35 countries around the world.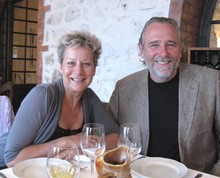 Robbi and I are continuing to work hard preparing for the start of this year's Aroma Tours adventures and we are greatly enjoying the pleasure of sharing the excitement and anticipation of our guests as we draw closer to the beginning of our journeys together.

We feel truly blessed to be able to share our passion for the places and experiences that we love with so many wonderful people, many of whom are joining us once again.
We look forward to welcoming more Aroma Travellers in the next short while and if everything continues as it has so far, 2010 is set to become our most successful year ever.
For more information about any of our tours please visit our information request page
Photo Galleries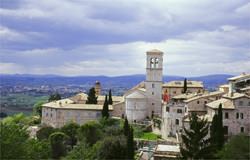 With Robbi away in Ireland for most of last month and a very busy season in progress, I have not been able to find time to add any new photos to our memorable photos pages.

I will do my best to add another page in time for our next newsletter. Happily, before too much longer we will be creating a whole new batch of photos and memorable moments to share with you.
If you haven't already done so, we invite you visit our Photo Gallery Pages to enjoy browsing through some of the 100's of lovely photos of our aromatic adventures including many lovely images kindly contributed by our guests.
Aroma Travellers Our Thanks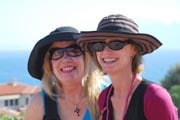 Without doubt, one of the main reasons that we continue to grow and flourish, is the on-going support we receive from our past Aroma Travellers.

This year as always we are enjoying a significant number of returning guests who are once again making up more than 20% of our total numbers. For Robbi and myself, it is such a great delight to be welcoming back so many good friends.
We would also like to give our heart-felt thanks to all of you who continue to support us with your kind words and referrals and by spreading news of our tours and retreats amongst your friends.
Robbi and I love receiving your messages of thanks and we have compiled several pages from our recent adventures at Guest Comments 2009 and Guest Comments 2008 as well as a sampler from previous years at Guest Comments Sampler
Vincent and Paul in the Studio of the South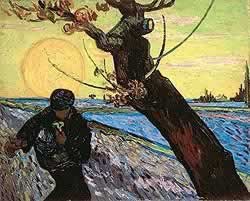 Vincent Van Gogh and Paul Gauguin were first introduced to one another in Paris by Vincent's brother Theo, who was both Vincent's patron and Gauguin's art agent in Paris.

Gauguin, already a successful painter in his own right, was enthralled when he was introduced to Vincent's painting of two sunflowers which revealed to him the genius lurking within Vincent's complex and often gruff character.
Both artists increasingly found the Parisian art scene overwhelming and full of egos and criticism, although they both benefited from the influences of the Impressionists, Pointillists and neo-Impressionists during that time.
As a result of these tensions, Vincent decided to relocate to the south in February 1888, away from the darkness of Paris and into the luminous light of Provence.
It was Vincent's dream to create an artist's community - a "Studio of the South" - to attract other innovative artists in order to share skills and inspiration and influence each another's artistic growth. For this artist's utopia he enigmatically chose a small yellow house in the seedy district of the unremarkable and rather conservative town of Arles on the Rhone river.
On his arrival, Van Gogh was immediately inspired by the beauty of the Provencale countryside and started painting at break-neck speed, experimenting with strong, contrasting colours ( yellow was his favourite ) and creating his own vibrant images of reality.
With Theo's prompting, Gauguin agreed to join Vincent in Arles that October and initially it seemed that Vincent's dream of an artist's commune was coming to fruition.
In the beginning they worked closely together, painting the scenes and people around them, sharing portrait sessions and communing at length. As a result their styles began moving closer together: Gauguin encouraged Vincent to paint more from memory rather than his usual spontaneous "in-the-moment" fashion and Vincent helped Gauguin to explore new colour possibilities and apply his paint with more intensity.
As the weeks passed, Vincent's erratic nature and personal intensity, as well as Gauguin's egoism and reluctance to praise Vincent's work, coupled with their fundamentally different philosophies and constant close proximity, led inevitably to friction and quarels.
Gauguin's paintings began to sell and gain celebrity in Paris ( unlike Vincent who considered his work too primitive and undeveloped to exhibit ) and he began to question the wisdom of remaining so far from the action, with a man whose mental unravelling was becoming more pronounced by the day.
Vincent responded to Gauguin's increasing fretfulness by working with fierce intensity, producing 25 pictures during what was to be a very eventful December. He was often drunk and exhausted and constantly fearful that Gauguin was going to abandon him.
On 23 December 1888, frustrated and ill, Van Gogh confronted Gauguin with a cutthroat razor, then afterwards, full of remorse and in panic, he fled to a local brothel where he cut off part of his ear.
Gauguin left Arles on Christmas Day and the two painters never saw each other again.
Vincent continued to deteriorate and spent his time in and out of hospital, eventually being driven out of Arles by the townsfolk and not long afterwards he admitted himself to the mental asylum of St Paul de Mausole where he continued to paint prolifically and produced some of his greatest works.
To walk in Vincent's footsteps and stand in the actual places where he created some of the world's most famous artworks is a very moving experience. One can almost imagine the easel and peasant's chair with Vincent's gaunt form shaded by his painter's straw hat intently capturing the "true reality" around him.
We explore Vincent's amazing legacy and walk in his footsteps as part of our Heart of Provence and Flavours of Provence tours.
Celebration of Flavour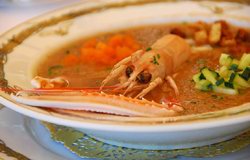 In all of our journeyings it is our desire to share the joy of experiencing authentic, delicious cuisine and the gastronomic traditions of the regions we visit.

Freshness, practiced skill, care and pride in preparation, combine in a myriad of ways to bring us moments to savour: Delicious homemade vegetable soup with mountain views; artfully prepared gastronomic delights in a beautiful garden; freshest seafood overlooking the Mediterranean; the bustle, smiling faces and colour of a typical trattoria; the finest of flavour concerts, with food and wines matched to perfection as the sun sets across a magnificent lake; the subtle marriage of European and Asian flavours; delicious, hearty country fare; spices, herbs and freshest ingredients that bring another layer of flavour for our senses to enjoy.
It is a challenge to express the delectable moments we share but hopefully your eyes will enjoy nibbling on some Photos of Our Meals.
Current Booking Status
There are still vacancies available for most of our tours, however, we will need to start finalizing our bookings shortly, beginning with our Aromas of Tuscany tour.
Our current booking status is:-
For more details please visit our information request page and if you would like to reserve your place please visit our booking request page
If we can assist you with any questions, please get in touch with us either by email at info@aroma-tours.com or by phone on: +61 3 5331 3254 (afternoon/evening USA time zones, mornings from other countries).
Please note
From the USA/Canada the "international dialling prefix" which replaces the '+' in our phone number is 011, from most other countries it is 00.
If the tour you would like to attend is already fully booked you may like us to add you to that tour's waiting list as sometimes we receive late cancellations or transfers.
Our up-to-the-minute booking status is available via our Calendar Page
Pagentry and the Art of Dolce fa Niente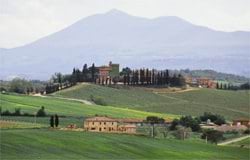 Our journey in Tuscany and Umbria each May is a delightful excursion into the world of "Slow Food", culture and the beauty of spring, with its' riot of vibrant colours and wonderful seasonal produce.

The rolling countryside was literally fluorescent green punctuated with fields of red poppies and yellow mustard, flowering olive trees, mauve wisteria and egg-shell blue irises. The aromas of rosemary and sage in full bloom, perfumed our way as we wended our way from glorious village to delightful restaurant.
Some of the highlights include our visit to the tomb and little church of St Francis of Assisi and witnessing the pomp and tradition of medieval pageantry with processions in full costume, flag tossing and an archery competition between the quarters of the village.
We enjoyed fine wines and laughed our way through many a long meal not the least enjoyable of them being the fruit of our efforts after our cooking class. There is something extra delicious about spaghetti you have moulded with your own hands.
This year we visited a lovely small enoteca in Umbria and what started out as a 1 hour degustation turned into a wonderful 3 hour gastronomic adventure. Even then, none of us wanted to leave - we had experienced that most favourite of all Italian pastimes, "Dolce fa Niente" ( sweet doing nothing ).
For more details please visit our information request page and may also enjoy taking a peek at some of the lovely Photos of our Tuscan Adventures.
Delight Amongst the Lavender ( repeat )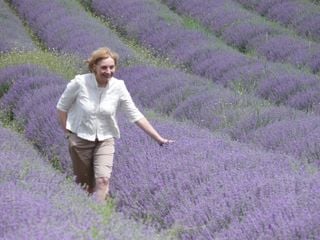 There are many delights that we share with our guests in Provence and one of our favourites is standing in glorious fields of lavender, inhaling the rich floral scent and watching the purple rows shimmering before the wind.

From huge fields stretching to the horizon to wild lavender growing amongst thyme, savoury and juniper; after more than 15 years we are still as enchanted as ever by this most wonderful aromatic plant.
Our Provence Lavender Tour continues to be a great success and both our Heart of Provence and Essential Provence tours also offer wonderful lavender experiences.
For some lovely photos of our lavender adventures please visit our Lavenders of Provence page.
Provence Aromatherapy Retreat 2010 - Skin Essentially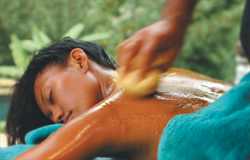 The theme of our Provence Aromatherapy Retreat this year is skin care and wellbeing.

We are very excited and delighted to have Mindy Green formerly of Aveda ( USA ) and Megan Larsen of Sodashi Skin Care ( Australia ) joining Robbi for what will no doubt be a unique, amazing and informative week in our tiny village amongst the lavender fields of the Haute Provence.
For more details please visit our information request page and if you would like to reserve one of the last 2 places please visit our booking request page
Newsletter Delivery Notes
Over the years the circulation of our Aroma Tours newsletter has grown to more than 6000 subscribers and in these days of filters and anti-spam software it is becoming increasingly more difficult to be sure that our email will arrive safely in your inbox.
There is of course good reason to have this filtering, however, as a consequence we recommend that you add our email address info@aroma-tours.com to your address book or allowed email list to help ensure that our emails will continue to be delivered to you successfully.
If of course for any reason you would prefer to stop receiving our newsletter please don't hesitate to email us at info@aroma-tours.com to unsubscribe.
Arranging Your Travel
Once you have reserved your place via our Tour Booking Page, all your need to do is make your travel arrangements to meet us at the tour rendezvous point. You can either ask your travel agent to assist you, or for the more adventurous you can book your flights and connections yourselves. All of our rendezvous are easily achieved and naturally we provide all of the information and assistance that you will need.
Just a reminder that we have a Frequently Asked Questions Page to help answer the most common questions including how to book, travel arrangements, group sizes etc.
Previous Newsletters and Stories of Interest
Our past newsletters contain a lot of interesting stories and are well worth a read. You can find them by visiting our Newsletter Archives
You may also enjoy reading a few of the stories that we have compiled over the years on our Stories of Interest Page
Thought for the Day
"The best gift I have ever given myself is the commitment to live my life fully in each moment."
~ Michael Ferris
Our Invitation
Robbi and I look forward to welcoming you to one of our delightful tours or retreats in the near future and invite you to take a peek at the latest photos of our travels in our Photo Galleries
If you would like detailed information about any of our tours please visit our Information Request Page
As always if you have any questions or if you would like us to assist you personally with advice about your travel arrangements or with any other details please contact us either by email at info@aroma-tours.com or by phone on +61 3 5331 3254 ( afternoon/evening USA time zones, mornings from other countries ).
Please note you need to replace the '+' in our phone number by your country's international dialling prefix: from the USA/Canada it is 011 from most other countries it is 00.
Warmest regards,
Jim and Robbi