Greetings from Robbi and Jim
A warm welcome to all of the members of our Aroma Tours Newsletter in more than 35 countries around the world.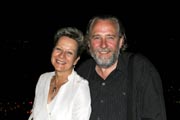 At present Robbi and I are on different sides of the world; I am in Italy completing final arrangements for the start of this year's Aroma Tours season and Robbi is at home in Australia busily writing conference papers and completing the final details of her new workshop.
Presently I am staying in a beautiful farmhouse with our good friends Paulo and Eugenia who will be hosting our delicious Tuscan cooking class in a few days time.
It was such a delight waking up in the Val di Chiana in spring time with the green wheat fields tickled by the gentle breeze, the sound of birdsong and flowers on the road side like a herbaceous garden border.
In the last 2 weeks I have been constantly on the move, visiting, checking, tasting, chatting and enjoying the heartedness of the locals and all is now in readiness for us to begin and for Robbi's arrival.
There are still a few places left for this year's tours in Turkey and Provence and Robbi and I invite you to join us to share our passion for the beautiful places and delightful experiences we have created for you to enjoy.
We have also opened bookings for several of next year's tours with more to be added shortly.
For the latest information on our tours and retreats please visit our Information Request Page
Aroma Travellers Our Thanks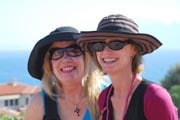 Without doubt, one of the main reasons that we continue to grow and flourish, is the on-going support we receive from our past Aroma Travellers.
This year we are enjoying the largest number of returning guests we have ever had, making up 26% of our total numbers. For Robbi and myself, it is such a great delight to be welcoming back so many good friends.
We would also like to give our heart-felt thanks to all of you who continue to support us with your kind words and referrals as you spread news of our tours and retreats amongst your friends.
The Carpet of Destiny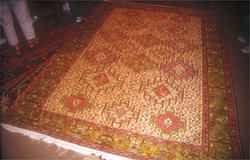 Last year Robbi purchased a carpet for our home during our Turkish Aromatic Odyssey.
We both love the beautiful craft and stories that are embodied in genuine ( as opposed to machine made ) carpets which become prized heirlooms and are an expression of the maker's personality.
The serendipitous outcome of buying this rather nice but not "fine" carpet unfolds as told below:-
----- message begins ----
"i'm happy that your piece arrived safely & that you like it a lot.
Now that i think about it i remember. As you know i'm having some trouble business wise & during summer i had the fear that if banks may come to take the things in the shop, for security i put your carpet in a big bag & gave it to my friend to keep in her home.
The story about the little piece is, i really loved it a lot ( beautiful dark green in the center, some red & some blue, the sides are with different colors, it's a 'dosemealti' piece from southern Turkey nomades, roughly 60-65 years old, but a dowry piece so still looking brand new ), so i put it in the same bag to rescue it from the banks, just in case.
Anyway, in the later days i completely forgot about it, somehow thought that i hadn't sold it, but couldn't find it in the shop & was wondering. While i was sending your piece i looked in my friends home i couldn't find the bag & had to call her a couple of times & by the time i learned, i was in a hurry to give it to the freight company. Still it was a little higher & heavier than i thought & i was wondering this, too, how your piece could weigh this much.
So, whatsoever, my little piece is now in Australia at your home. I very much believe in destiny & also think that everything happens for a reason, which we discover soon after or later. I believe that this piece was meant to be yours. Use it on happy days, enjoy it, it's a lovely & rare piece. One thing that makes me feel happy about it is; this accidental mistake happened to a lovely person, to a good friend whom i adore & someone who's helped me a lot throughout the years. I'm sure it'll be in good hands & well taken care of.
When you mentioned about it in your mail i remembered, until that time i was seriously wondering what had happened to it, i knew i didn't sell it. So, after all these happenings, i simply call it 'The Carpet of Destiny' & it has found a 'good' home."
Bill and Sally Bachman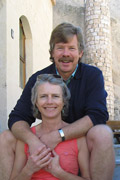 We are very pleased to announce that our guest driver in Provence this year is our dear friend and highly renowned professional photographer, Bill Bachman.
Bill has worked for National Geographic and spent many years as an official photographer for the Winter Olympics, as well as several very successful coffee table books and a busy professional career.
He will be joined during our Provence Lavender Tour by his delightful wife Sally who assists Robbi during our Bali Women's Retreat
It will a great treat to have two of our closest friends with us this year to share their delightful personalities, sense of fun and warm heartedness with us all.
Aroma Tours Vision Statement
A few years ago, Robbi was a speaker at several conferences and as the finale for her presentation, "Living a Visionary Life - Rekindling Purpose and Passion", we created a Vision Statement for Aroma Tours to illustrate our journey over the years.
The combination of photos and music did a wonderful job of expressing the passion we have for our chosen adventure - Aroma Tours. We hope that you enjoy it.
Please turn on your computer's speakers, and if you internet link is a bit slow please be patient while the video file loads.
Current Booking Status
Bookings are now closed for most of our tours for this year, however, there are still a few places available for Turkey and Provence and we would love to welcome a few more Aroma Travelers to join us on our adventures this year.
Our current booking status is:-
If you would like to join us this year or if you have any questions, please do get in touch with us either by email at info@aroma-tours.com or by phone on: +61 3 5331 3254 (afternoon/evening USA time zones, mornings from other countries).
From the USA/Canada the "international dialling prefix" which replaces the '+' in our phone number is 011, from most other countries it is 00.
To reserve your place please visit our Tour Booking Page
Please note: We have now opened bookings for several of next year's tours with more to be added shortly.
For the latest information on our tours and retreats please visit our Information Request Page
Giacomo Puccini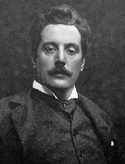 Last year was the 150th anniversary of the birth of Giacamo Puccini, Italy's most famous opera composer.
We were in his birth place of Lucca during our Flavours of Italy Tour and had the wonderful experience of listening to brilliant young singers performing arias from several of his operas including "La Boheme", "Edgar", "Tosca" et al.
It was a spine tingling experience and I must admit to an epiphany regarding the magnificence of opera which in the past I have preferred to view from a point of curiosity.
Having our spirits sent soaring by the glorious voice of soprano Melissa di Biasio as she performed "Mio Bambino Caro" and other Puccini arias was one of the most memorable moments of the tour for us all. Happily the performance was followed up with a fine meal, which we savoured along with animated conversation about the earlier performances.
Of the man himself:-
Giacomo Antonio Domenico Michele Secondo Maria Puccini was born in Lucca, Tuscany on 22nd December 1858 into a family with five generations of musical history behind them. It was natural then that as a young man he took the position of church organist and choir master in Lucca. However, it was after witnessing a performance of Verdi's "Aida" in Pisa that he became inspired to become an opera composer.
At the age of 21 he enrolled in the Milan Conservatory and in the same year composed the "Messa" based on elements of the Catholic mass and gave glimpses of his great talent for writing beautiful, poignant melodies and constructing fine orchestrations.
Puccini's first published opera "Edgar" was not a great success, however, with his third opera "Manon Lescault" published in 1893 he achieved international fame and sufficient income to achieve an independent life.
Puccini spent most of his time in Torre del Lago fifteen miles from Lucca and by 1900 he had constructed a villa on the lake where he wrote some of his most memorable works including: "Manon Lescaut", "La Bohème" ( arguably today's most popular opera ), "Tosca" and "Madama Butterfly".
Whilst following his passion for driving fast cars, Puccini was nearly killed in a major accident in 1903 and after 1904, his compositions became less frequent.
Those that followed were:- "La Fanciulla del West" in 1910 and "La Rondine" in 1917 and in 1918 he premiered "Il Trittico" composed of three one-act operas: "Il Tabarro" (a horrific episode), "Suor Angelica" (a sentimental tragedy) and "Gianni Schicchi" (a comedy). Of the three, "Gianni Schicchi" has remained the most popular, containing the popular aria "O Mio Babbino Caro".
An habitual cigar smoker, Puccini eventually contracted throat cancer and died on November 29, 1924 in Brussels. News of his death reached New York during a performance of "La Bohème", where the opera was immediately stopped, and the orchestra played Chopin's Funeral March for the stunned audience.
"Turandot", his final opera, was left unfinished, and the last two scenes were completed with some controversy by Franco Alfano.
Celebration of Flavour ( repeat )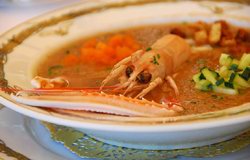 In all of our journeyings it is our desire to share the joy of experiencing authentic, delicious cuisine and the gastronomic traditions of the regions we visit.
Freshness, practiced skill, care and pride in preparation, combine in a myriad of ways to bring us moments to savour: delicious homemade vegetable soup with mountain views; artfully prepared gastronomic delights in a beautiful garden; freshest seafood overlooking the Mediterranean; the bustle, smiling faces and colour of a typical trattoria; the finest of flavour concerts, with food and wines matched to perfection as the sun sets across a magnificent lake; the subtle marriage of European and Asian flavours; delicious, hearty country fare; spices, herbs and freshest ingredients that bring another layer of flavour for our senses to enjoy.
It is a challenge to express the delectable moments we share but hopefully your eyes will enjoy nibbling on some Photos of Our Meals.
Newsletter Delivery Notes
Over the years the circulation of our Aroma Tours newsletter has grown to more than 6000 subscribers and in these days of filters and anti-spam software it is becoming increasingly more difficult to be sure that our email will arrive safely in your inbox.
There is of course good reason to have this filtering, however, as a consequence we recommend that you add our email address info@aroma-tours.com to your address book or allowed email list to help ensure that our newsletter will continue to be delivered to you successfully.
If of course for any reason you would prefer to stop receiving our newsletter please don't hesitate to email us at info@aroma-tours.com to unsubscribe.
Arranging Your Travel
Once you have reserved your place via our Tour Booking Page, all your need to do is make your travel arrangements to meet us at the tour rendezvous point. You can either ask your travel agent to assist you, or for the more adventurous you can book your flights and connections yourselves. All of our rendezvous are easily achieved and naturally we provide all of the information and assistance that you will need.
Just a reminder that we have a Frequently Asked Questions Page to help answer the most common questions including how to book, travel arrangements, group sizes etc.
Previous Newsletters and Stories of Interest
Our past newsletters contain a lot of interesting stories and are well worth a read. You can find them by visiting our Newsletter Archives
You may also enjoy reading a few of the stories that we have compiled over the years on our Stories of Interest Page
Thought for the Day
"Every journey will always bring you home to a new self."
~ Andrea Lewis
Our Invitation
Robbi and I look forward to welcoming you to one of our delightful tours or retreats in the near future and invite you to take a peek at the latest photos of our travels in our Photo Galleries
If you would like detailed information about any of our tours please visit our Information Request Page
As always if you have any questions or if you would like us to assist you personally with advice about your travel arrangements or with any other details please contact us either by email at info@aroma-tours.com or by phone on +61 3 5331 3254 ( afternoon/evening USA time zones, mornings from other countries ).
Please note you need to replace the '+' in our phone number by your country's international dialling prefix: from the USA/Canada it is 011 from most other countries it is 00.
Warmest regards,
Jim and Robbi