Greetings from Robbi and Jim
A warm welcome to all of the members of our Aroma Tours Newsletter in more than 35 countries around the world.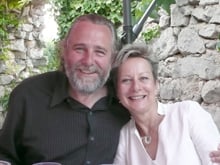 Robbi and I have been back home for a little while now in our lovely little cottage in south eastern Australia enjoying the awakening of spring with daffodils, newly opened leaves, magnificent flowering wattles, fruit trees in full blossom and lots of wonderful drought breaking rain.
It is strange to be staying in one place after almost four months of adventures in Italy, Turkey, Provence and Bali but equally, it is wonderful to have the time to reflect on the many delightful moments we shared with our Aroma Travellers from around the world:- Spain, Brazil, South Africa, USA, Canada, New Zealand, Australia, Belgium, Taiwan, Italy, Norway and Singapore.
Our busy year will be continuing shortly with a four week visit to Canada followed by China later in the year but for the moment, we are enjoying simply being at home.
Next year's tours and retreats are already well under way and we invite you to visit our information request page for the latest details.
Memorable Photos from our 2010 Adventures
One of the best ways to enjoy the spirit of our adventures is by taking a peek at a few of the 1000's of photos we have taken during our Aroma Tours' 2010 season.
We have also received an absolute mother load of images kindly contributed by our Aroma Travellers this year and in our next newsletter we will be highlighting some of their offerings.
In the meantime we have added four new pages of memorable photos for you to enjoy at:-
Aroma Travellers Our Thanks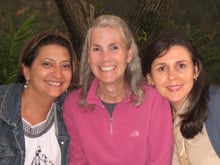 Without doubt, one of the main reasons that we continue to grow and flourish, is the on-going support we receive from our past Aroma Travellers.
This year we are enjoying the largest number of returning guests we have ever had, making up 27% of our total numbers. For Robbi and myself, it is such a great delight to be welcoming back so many good friends.
We would also like to give our heart-felt thanks to all of you who continue to support us with your kind words and referrals as you spread news of our tours and retreats amongst your friends.
Guest Comments From Our 2010 Adventures
One of the great pleasures for Robbi and I after each tour season is receiving messages of thanks from our Aroma Travellers. We have compiled a few below and hope that you enjoy reading about their experiences with us.
"What a trip! This turned out to be a journey that nourished my heart and re-charged my batteries. This week has exceeded all my expectations. I can never thank you enough. Lots of laughs, great food and wonderful company." Helen Strasser Sydney Australia
"Once again we have had the time of our lives seeing Provence from your point of view. Thank you for being you and creating these wonderful adventures for us." Suzanne and Jodie Anzalotta USA
"Thank you for your very relaxed and easy approach to this wonderful part of France - I've enjoyed myself very much and feel energised and ready to create my dream." Siobhan Hughes Italy
"Mum and I could never have dreamt of hosts to show us the secret beauties of Provence as you have done. Absolutely fabulous in every way. Thank you for sharing your vast knowledge, great laughter, compassion and appreciation for this area of the world with us." Donna Martin and Ellie Butt USA
"You gave us such wonderful experiences. The highlights for me were the fields of lavender and sunflowers, the Gregorian chants at the Abbaye, the markets, the cooking class, and the delicious meals - I can still taste the chestnut cake with baked figs we had at that beautiful little restaurant." Linda Thompson Australia
"Although several friends have travelled to Provence their stories further confirm we were able to see and experience things that were truly unique. Thank you again for taking care to create such a memorable experience. We hope we will be able to join you again sometime on one of your other excursions." Marilyn Mitchell Canada
"I wish you all the Best. I'll be back home with my heart pumping gratitude" Mari Vale Souza Brazil
"Thank you for all the care and comfort you have given me these 2 last weeks. All my senses have been awakened! I am very lucky you have so generously shared France and all its beauty!" Gillian Goodey Australia
"Thank you so much for allowing my dreams to come true! Of running through lavender fields, long lunches, lovely wine, friendship and the blossoming of my heart. What a place to have a birthday!! Jenny Jones Australia
"It has been beyond delightful! Of course the next question is where shall we four meet again? I can surely make it tour number six next year. Blessings to you both and enormous amounts of appreciation that you do this." Megan Larsen Australia
Our New Tour - Flavours of Dordogne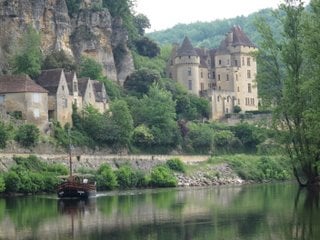 We are excited to announce that next May we will be offering our wonderful new Flavours of Dordogne Tour which explores the stunning beauty, gastronomic delights and incredible history of the Bordeaux and Dordogne regions in south west France.
Bordeaux is one of the world's premier wine regions and we will enjoy sampling some of its finest examples during our wine tastings and enhancing our delicious meals.
Dordogne is an unspoilt wonderland, renowned for its stunning landscapes of sweeping river valleys, perched chateau, magnificent gardens and some of the most beautiful villages in France. It is also renowned for its incredible historical heritage and as one of France's gastronomic capitals.
We have compiled a page of photos of our Flavours of Dordogne tour for your viewing pleasure and we are greatly looking forward to sharing this wonderful new tour with our guests next year.
For more details please visit our information request page and if you would like to reserve your place please visit our booking request page
Current Booking Status
All is now well under way for next year's tour season and Robbi and I are thrilled to see the wonderful early response to our 2011 offerings with both our Essential Provence Tour and Bali Women's Retreat almost fully booked already.
Our booking status at the time of this newsletter is:-
For detailed information about any of our tours please visit our information request page and if you would like to join our adventures next year, we invite you to reserve your place by visiting our booking request page
It is our pleasure to assist you with any questions you may have and you can get in touch with us either by email at info@aroma-tours.com or by phone on: +613 5331 3254 (afternoon/evening USA time zones, mornings from other countries).
Please note
Our up-to-the-minute booking status is available via our calendar page
If the tour you would like to attend becomes fully booked you may like us to add you to that tour's waiting list as sometimes we receive late cancellations or transfers.
Tuscany and the Dolce Vita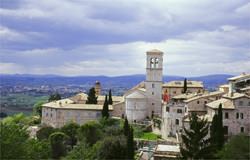 Each year our Aroma Tours adventures begin in Tuscany with our Aromas of Tuscany tour where we are welcomed by a riot of spring colour: Mauve wisteria, blood red poppies, egg shell blue irises, golden fields of canola, the vibrant blue of flowering rosemary and sage. also the late spring mantle of vibrant green meadows - absolutely wonderful!
As well as nourishment for the eyes, life takes on a different pace with long lunches in beautiful hilltop villages, wonderful coffee, delicious wines, truffles, parmegiano cheese, porchini mushrooms, prosciutto, fresh pasta..... [ so many wonderful tastes ], laughter and the fine Italian art of "dolce fa niente" - sweet doing nothing!
Our journey is also about absorbing the richness and passion of Italian life and savouring its cultural heritage evident in the art, architecture, pageantry, festivals, fashion, design, craftsmanship and unique approach to living.
We are all destined to be transformed by the magic of this place - feeling more Italian moment by moment, speaking more enthusiastically, smiling broadly and even display a bit of emphatic arm waving!
If you would like to join us this year as we explore Tuscany's perched villages, rolling hills, delicious food and wines, rich culture and joy of life we invite you visit our information request page for more details.
Once More Unto The Chateau Dear Friends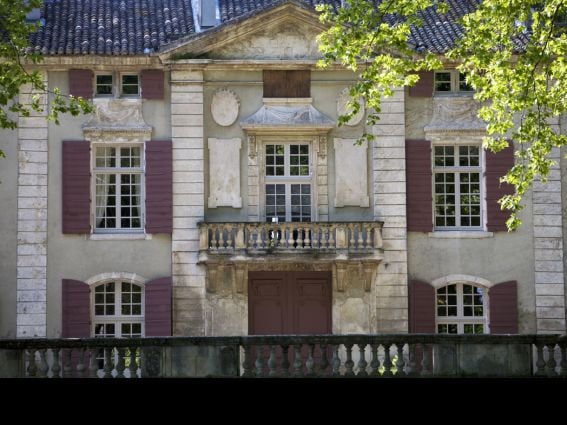 After three years of waiting patiently, we were pleased to see that the renovations of one of our favourite hotels, a magnificent 18th century chateau, set amidst acres of serene gardens on the outskirts of a lovely market town in the Bouches du Rhone, were finally completed earlier this year.
We have many delightful memories of our stays in this grand chateau over more than 10 years ( we were the only group they would accept ). Now, with its new stylish and elegant refurbishment and fine gastronomic restaurant featuring one of our favourite chefs, we are all set for a triumphant return and look forward to sharing its rejuvenated beauty and grace with our Flavours of Provence guests next year.
To get your tastebuds tingling we have created a photos of food page featuring recent photos of our gastronomic adventures in Provence.
For more details please visit our information request page and if you would like to reserve your place please visit our booking request page
Provence Aromatherapy Retreat 2011 - Skin Essentially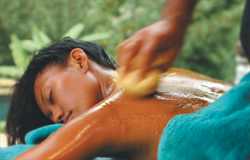 Our Provence Aromatherapy Retreat next year will once again be focusing on skin care and wellbeing. We are very excited and delighted to announce that our dear friend and one of Australia's formost aromatherapy experts, Ron Guba, will be joining us in our tiny village amongst the lavender fields and will share his extensive background and expertise in the development of natural, organic and effective products for both therapeutic and cosmetic use.
Following on from the great success of this year's retreat, next year will undoubtedly be another awesome week of enhanced learning and practical applications.
For people who have attended the retreat in the past and desire a return visit to our lovely little village surrounded by glorious lavender fields this will be an entirely new curriculum devoted to skin!
For more details please visit our information request page and if you would like to reserve your place please visit our booking request page
Visit to Canada 25 October - 15 November 2010 ( Robbi Reports )
This October and November Jim and I will be travelling to Canada to explore this beautiful part of the world and we are also greatly looking forward to catching up with some of our many friends and past Aroma Travellers along the way.
I am also excited to announce that I will be teaching a series of my Aromatic Kinesiology Level One workshops during that time.
Toronto: 29 - 31 Oct
Calgary: 5 - 7 Nov
Vancouver: 12 - 14 Nov
More details can be found at www.aromatic-kinesiology.com/robbi-zeck-canada.pdf
If you would like a copy of these details to share with your friends and colleagues please email me at info@aromatic-kinesiology.com
The Blossoming Heart:
Copies of Robbi's beautiful book "The Blossoming Heart - Aromatherapy for Healing and Transformation", are available via her book order page
Newsletter Delivery Notes
Over the years the circulation of our Aroma Tours newsletter has grown to more than 6000 subscribers and in these days of filters and anti-spam software it is becoming increasingly more difficult to be sure that our email will arrive safely in your inbox.
There is of course good reason to have this filtering, however, as a consequence we recommend that you add our email address info@aroma-tours.com to your address book or allowed email list to help ensure that our newsletter will continue to be delivered to you successfully.
If of course for any reason you would prefer to stop receiving our newsletter please don't hesitate to email us at info@aroma-tours.com to unsubscribe.
Arranging Your Travel
Once you have reserved your place via our tour booking page, all your need to do is make your travel arrangements to meet us at the tour rendezvous point. You can either ask your travel agent to assist you, or for the more adventurous you can book your flights and connections yourselves. All of our rendezvous are easily achieved and naturally we provide all of the information and assistance that you will need.
Just a reminder that we have a frequently asked questions page to help answer the most common questions including how to book, travel arrangements, group sizes etc.
Previous Newsletters and Stories of Interest
Our past newsletters contain a lot of interesting stories and are well worth a read. You can find them by visiting our newsletter archives
You may also enjoy reading a few of the stories that we have compiled over the years on our stories of interest page
Thought for the Day
"May I always have the ability to appreciate the blessings of each day and time to give thanks."
~ anonymous
Our Invitation
Robbi and I look forward to welcoming you to one of our delightful tours or retreats in the near future and invite you to take a peek at the latest photos of our travels in our photo galleries
If you would like detailed information about any of our tours please visit our information request page
As always if you have any questions or if you would like us to assist you personally with advice about your travel arrangements or with any other details please contact us either by email at info@aroma-tours.com or by phone on +61 3 5331 3254 ( afternoon/evening USA time zones, mornings from other countries ).
Please note you need to replace the '+' in our phone number with your country's international dialling prefix: from the USA/Canada it is 011 from most other countries it is 00.
Warmest regards,
Jim and Robbi