Greetings from Robbi and Jim
A warm welcome to all of the members of our Aroma Tours Newsletter.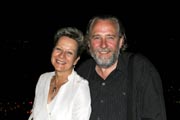 Robbi and I are now back from our European adventures with many wonderful memories of the moments we shared with this year's Aroma Travellers.
As always, it has been a privilege to journey with so many delightful people and Robbi and I are very grateful for the continuing success of our Aroma Tours as we watch them going from strength to strength.
Our 2009 season is already well on the way and we are excited to see such a wonderful early response which once again includes more than 25% returning Aroma Travellers.
Jim will be continuing to update our Aroma Tours site with lots of lovely new photos so please do drop by from time to time to enjoy the new images of our current adventures.
For the latest information about any of our tours please visit our Information Request Page and if you would like to reserve your place please visit our Tour Booking Page
Memorable Photos from 2008
We have compiled some lovely new photos of our 2008 adventures for you to enjoy. This year in addition to the photos we have taken ourselves we have an unprecedented abundance of photos kindly contributed by our Aroma Travellers.
We have also compiled a Page of People Photos so you can meet some of this year's guests.
There are also hundreds of other lovely photos for you to enjoy in our Picture Gallery Pages
Comments from This Year's Aroma Travellers
One of the great pleasures for us after each tour season is receiving messages of thanks from our Aroma Travellers. We have compiled a few below and hope that you enjoy reading about their experiences with us.
"We had an amazing time with surprises at every turn, enjoyed lavender in the most delightful of settings and met interesting people from all over the world, all of which added to the rich tapestry of this experience. Thank you." - Carmel & Graham Day Australia
"You have taken me to places I would never have found myself and, you have thought of absolutely everything to make this a wonderful experience for us all." - Randi Bruck Norway
"I especially thank both of you for all the extra care and details that made my trip so memorable and enjoyable. Undeniably, this is very unique compared to other tours. Not only was it a great learning experience in so many aspects, I really felt that I was living in a way most French people would do in their daily routines." - Clinton Hsu Taiwan
"This week proved to be one of life's rare and wonderful pleasures, perfectly orchestrated by Jim and Robbi. Beautiful scenery, fantastic food, good company and lots of laughs - it doesn't get any better. I depart with a heart filled with happy memories." - James Wild Fairford Leys UK
"This week was exactly what we had hoped for in Provence. Thank you for all the time you have put into creating a perfect trip and making dreams come true. Merci beaucoup!" - Paula & Don Howard Millersville USA
"After years of travelling everywhere, every day was astonishing and I overcame a lifetime fear of tours! Thank you for the memories, the daily joy and your love." - Christopher & Lynda Dean - Byron Bay Australia
"Thank you so much for your kindness, your generosity and sharing the stunningly beautiful out of the way places of "your" Provence. - Jenny Holmes New Zealand
"Thanks for an unforgettable taste of Provence. We have had the most wonderful week, met some great people and enjoyed the most superb food and wines that this region offers." - John & Carol MacLennan - South Africa
"Your attention to detail is a real talent, you are both perfect hosts, the best. Thank you for sharing your special places with us." - Larry & Terrilyn Dunford Alva USA
"We experienced the unique and un-orchestrated surprises of Provence and we will always carry these memories in our hearts. Thank you for your expertise and thoughtfulness." - Judi Day & Judi McCleland - Canada
"Wow! Your unique tour of Provence has been pure joy for the senses. I will treasure these memories for a lifetime. Thanks a million for a journey of wonder." - Gae Killalea - Australia
"Thank you so much for an unforgettable time. I have never had such a great learning experience as this one. Thank you also for the beautiful people who gathered at this retreat." - Ayako Hiura Japan
"My heart is full. Thank you Jim and Robbi for choosing this vocation! I have experienced such delights and kindness. This has been a fabulous journey, simply the best!" - Lorraine Palmer USA
"Thank you again for yet another inspired introduction to a country with many hidden treasures. You never cease to amaze me with your care and generosity." - Bruce Smith Oxford UK
"This journey has been so inspiring and uplifting. I have gained incredible knowledge and met a fabulous group of like-minded people. Thank you for a wonderfully amazing retreat." - Maria Russell Warrnambool Australia
"The whole week was authentic, warm, endearing and charming. Thank you for sharing your passion for beauty and discovery. We will treasure our memories." - Jane and Jessie Chan Singapore
"When a tour like this not only meets but far exceeds expectations, it speaks volumes about the organisational and innovative skills of the "management". Thank you for a truly inspirational vacation." - Pam & David Goddard Calgary Canada
"Thank you once again for another amazing Aroma Tour. Your attention to detail, coupled with the beauty of Provence has made my week a truly incredible experience." - Isolina Caltabiano Melbourne Australia
"Thank you for another great tour filled with wonderful cuisine, wines, perfumes and great people. Very enjoyable!" - Viv Birch & Paul O'Leary - Balwyn North Australia
"This has been an exceptional week of fabulous experiences. Thank you for your hospitality, generosity, attention to detail and creating an opportunity for us all to experience Provence in a meaningful way." - Marilyn Mitchell & Neil Sinclair Ajax Canada
"This has been the most inspirational trip I have ever enjoyed. Thank you Robbi and Jim and to everyone on this tour who made it so." - Cathy Gerson Boston USA
Provence Lavender Tour Shines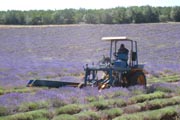 Our Provence Lavender Tour was offered for the first time this year and was an outstanding success. It also received the accolade of being featured in Frommer's directory.
This year Robbi and I were joined amongst the fragrant purple fields by lavender enthusiasts from Poland, Scotland, Norway, New Zealand, Hong Kong, Taiwan and Australia for what was an inspirational, fascinating and fun-filled week.
There were many highlights but one of the most enjoyable moments was witnessing harvesting of a magnificent 10 hectare field of population lavender, walking along the aromatic swathes of freshly cut lavender and chatting with the farmers first hand.
We have created a page of Provence Lavender Tour Photos for you to enjoy.
For more details of the experiences we enjoyed please visit our Information Request Page
Wonderful New Hotel for Essential Provence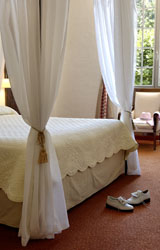 During our travels we are always keeping an eye out for new locations and experiences to add to our offerings. As a result we are excited to announce that from next year we will be staying for the last three nights of our popular Essential Provence Tour in a wonderful, newly refurbished, boutique hotel in the Cote d'Azur hinterland.
We immediately fell in love with the character, beautiful tranquil setting, lovely rooms, gorgeous swimming pool and sweeping forest views with mountains in the distance. A picture speaks a thousand words so please enjoy Photos of Our New Essential Provence Hotel
Our new hotel is more up market than before and we have also made a few changes to the tour itinerary to take advantage of some wonderful new experiences that we have to share with you.
I have been asked from time to time by some of our guests if we can arrange a round of golf during our tours and happily one of the fringe benefits of our new hotel's location is that this is now possible.
For more details please visit our Information Request Page
Aroma Travellers Our Thanks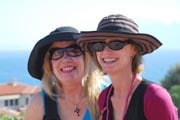 One of the main reasons that we continue to grow and flourish, is the on-going support we receive from our past Aroma Travellers.
This year we enjoyed the largest number of returning guests we have ever had, making up 27% of our total numbers. For Robbi and I it was such a great delight to be welcoming back so many good friends.
We would also like to give our heart-felt thanks to all of you who continue to support us with your kind words and referrals and by spreading news of our tours and retreats amongst your friends.
Current Booking Status
Robbi and I are thrilled to see that thanks to our hard work earlier this year, our 2009 season is already well on track with bookings at the highest level we have ever seen at this time of year.
Our Aromas of Tuscany, Turkish Aromatic Odyssey and Flavours of Italy tours are once again proving to be very popular and we expect them to be our first fully booked tours for the season.
Our current booking status is:-
Robbi and I invite you to join us for one of our Aromatic Adventures in 2009 and share our passion for the places and experiences we have created for you to enjoy.
If you would like to reserve your place, please visit our Tour Booking Page and if you have any questions, please contact us either by email at info@aroma-tours.com or by phone on:
+61 3 5331 3254 (afternoon/evening USA time zones, mornings from other countries).
From the USA the international dialling prefix which replaces the '+' in our phone number is 011 from most other countries it is 00.
Bread Making in Cappadocia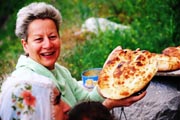 One of the most enjoyable experiences during our Turkish Aromatic Odyssey is staying in an amazing cave house hotel situated in a delightful small village in the Cappadocia region, famous for its fantastic moon-like landscape, cave-dwellings, amazing history and underground cities .
The villagers always give us the warmest of welcomes and it is such a delight for us to see the local children running up with their beaming faces and cheeky hellos.
Village life hasn't changed a great deal over the centuries and it was a real treat for us this year to be able to share in the ritual of village bread making. The communal bread oven - fortuitously situated across the valley from our hotel - was well alight, surrounded by women and children seemingly at play as they baked loaf after loaf of delicious hot Turkish bread.
We just had to join the party, and soon with only a few words of shared language between us, we were all laughing and soaking up the delicious aromas. The ladies generously gave us several fresh loaves to share back at our hotel which we all enjoyed with great relish.
That evening as we sat on cushions listening to fabulous live music played by one of the village men and his son, reflecting on the centuries old tradition that we had shared in and how the things that really matter have changed very little.
We danced, chatted and laughed well into the evening......
We have recorded some photos of the fun for you to enjoy as well on our Bread Making in Cappadocia page.
Cooking Class in Tuscany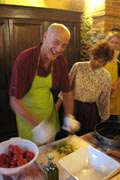 Robbi and I love creating new events for our guests to enjoy and last year we decided to work on making a totally new cooking class experience for our Aromas of Tuscany tour.
Jim had previously found the perfect venue: a beautiful, newly refurbished villa nestled amongst wheat fields in the middle of the Val de Chiana. Although the owners had never held a cooking class before, we set about putting everything into place and brought in one of the local nonas - who as we know are the best chefs of all - to share a few of her secrets and a little of her life-long knowledge.
Eugenia and Paulo treated us all like family, proudly showing us around their beautiful villa and extensive herb garden before it was down to fun - you couldn't call it work - creating a magnificent 4 course meal.
We experienced true Italian conviviality and hospitality, gained a deepened respect for fine food, ate and drank heartily and journeyed home to our hotel with full hearts and sated appetites.
I have complied a page of Photos of Our Tuscany Cooking Class for you to enjoy including images of our lovely villa setting.
Hanging with Brother Michael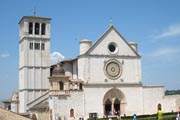 Saint Frances of Assisi is one of the most important figures in history and his influence is still felt in the world even today.
His amazing life and the traditions and philosophies he created arguably influenced the beginning of the Italian renaissance and inspired visionary artists like Giotto di Bondone who was the first to break away from the Byzantine, flat iconic style of art and introduce natural scenes and perspective into his works.
During our visit to Assisi this year we had the great privilege of being accompanied by brother Michael a Franciscan Friar. His quiet grace and extensive knowledge of the art and times of Saint Frances allowed us to truly appreciate the amazing events that took place here in the 13th century.
I was particularly moved by the way he so poignantly described how in one corner of the lower basilica the art works - especially those of Gioto - were changing how God was seen. No longer just as a father figure sitting and judging in heaven but also right here on earth as part of all nature and creation. In the 13th century this was quite a revelation.
Provence Aromatherapy Retreat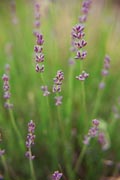 This year's Provence Aromatherapy Retreat was once again a great success with many wonderful experiences and inspirational teachings from our world renowned educators Dr Penoel, Dr Schnaubelt and Robbi Zeck ND.
As always, everyone loved our beautiful village overlooking the lavender fields in the Haute Provence and the warm hospitality of the locals. Our groups are like an institution now and love sharing in the spirit of the village, chatting to the mayor, gossiping in the local bar, enjoying the best tables in restaurants and becoming part of French village life.
We were blessed by another delightfully diverse group of aromatherapists and aromatherapy enthusiasts from the USA, Japan, Canada, Colombia, China and Australia. It is very satisfying for us to see how people from all levels of interest and skill were able to greatly enhance their aromatherapy knowledge and understanding and enjoy spirited and inspiring sharing of information.
Due to other commitments, Dr Schnaubelt will not be with us next year, however, we are thrilled to announce that in his place we will be joined by Michael Scholes, world renowned aromatic consultant and educator who will share with us his broad knowledge of aromatherapy as well as his insights and skills as a master blender, therapeutic formulator and natural perfumer.
For more details please visit our Information Request Page
Gastronomy by the Lake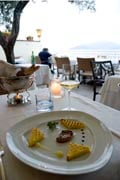 For the final meal of our Flavours of Italy tour this year, we enjoyed an amazing gastronomic experience on the shores of the magnificent Lago de Garda - Italy's largest lake.
After a enchanted afternoon exploring beautiful lake side villages, there we were: aperitivo in hand, sitting in a gorgeous restaurant with sweeping views across the lake and surrounding hills.
The meal commenced with an amuse bouche of a delicate tomato and basil reduction, followed by our first of seven gastronomic delights: scallops with pumpkin puree and liquorice emulsion - mmmm's and ahhhh's were coming from all quarters.
Next was tender baby cuttlefish: just delightful, followed by cooked foie gras accompanied by a spectacular Sauterne.
By now the lake was cloaked in shadow as the stars and lights in the villages across the water started to wink on; the effect was breathtaking! The sense of "grand moment" as we experienced a time outside of time, was a feeling shared by us all.
Just then a delicate pasta with monk fish and glass of Chablis arrived, followed by turbot - that ugly but highly prized, wonderfully rich, son of a flounder - in a light curry sauce and finally, after a respectable pause came a tender short rack of Irish lamb.
As our tables were cleared and swept of crumbs, we chatted animatedly with the lake and sky before us like shining jewels, about the gastronomic delights we had just enjoyed.
Each portion was perfect and even after 5 courses, our appetites were still eager for the next yummy instalment which came in the form of a trio of pecorino cheeses accompanied by small pots of delicious jams - a 9.5 on the delicious-o-meter.
Finally came the sweet benediction of a tasting plate of gastronomic desserts that showcased the consummate skill of the restaurant's dessert chef - and the Sicilian sweet wine, Madonna!!
The service was impeccable and to have such a spectacular gastronomic experience in such a gorgeous setting is a memory to be cherished. Each course was accompanied by a glass of perfectly matched wine in its' matching style of glass. [ I had a lot of fun doing the research for this one last year I can tell you ].
You may also enjoy taking a peek at our latest Photos of Food page compiled from this year's photos.
The Story of Champagne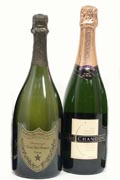 If you are new to our newsletter and have not already read the fascinating 4 part "Story of Champagne" that we published in our past newsletters, I highly recommend that you do so now by following these links:
Part 1 - La Champagne: Wine of Kings; Louis IV and Dom Pérignon; Claude Möet, Madame Pompadour and le champagne.
Part 2 - The Reign of Terror; Napoleon and Jean-Rémy Möet; Napoleon III and The Industrial Revolution; Veuve Clicquot-Ponsardin; Sitting on Top of Golden Hours.
Part 3 - The Franko-Prussian War, Louise Pommery and the Birth of Brut; The Belle Epoque; Hard times for the Champenoise.
Part 4 - Blood Amongst the Vines; The Re-birth of Dom Pérignon; Champagne Triumphs.
Duck a L'Orange
I am a great fan of duck and what better way to enjoy the richness of this fine meat than with this classic French recipe.
Ingredients ( serves 4 )
5 oranges.
1 x 2kg duck.
2 cinnamon sticks.
15g fresh mint leaves.
95g light brown sugar.
125ml cider vinegar.
80ml Grand Marnier.
30g butter
Method
Preheat the oven to 150C(300F).
Halve two of the oranges and rub them all over the duck, then place then inside the duck cavity with cinnamon sticks and mint.
Tie the legs together and tie the wings together then prick the skin all over with a fork so that the fat drains out as the duck cooks.
Put the duck on a roasting rack breast side down and place the rack in a shallow roasting tray.
Roast the duck for 45 minutes, turning halfway through.
While the duck is roasting, zest the remaining oranges and heat the sugar in a saucepan over low heat until it melts and then caramelizes: swirl the sugar throughout to ensure it caramelizes evenly.
When the sugar is a rich brown, carefully add the vinegar and boil for 3 minutes.
Juice the oranges and then add to caramel mixture along with the Grand Marnier and simmer for 2 minutes.
Blanch the orange zest in boiling water for 1 minute three times, changing the water each time. Refresh under cold water, drain and reserve.
After the initial 45 minute roasting, remove the excess fat from the roasting tray and increase the oven temperature to 180C(350F).
Spoon some of the orange sauce over the duck and roast for an additional 45 minutes, spooning the remaining sauce over the duck every 5 to 10 minutes, turning the duck to baste all sides.
Remove the duck from the oven and cover with foil retaining the pan juices and any juices coming from the roasted meat.
Strain the juices into a saucepan, skim off any excess fat and add the orange zest and butter to the saucepan.
Stir to melt the butter and heat to serving temperature.
Serve the duck portions with the orange sauce and accompany with slow roasted vegetables.

What a delightful dish, my taste buds are tingling just writing about it.
Be sure to follow up with a nice light dessert like a semi-freddo or sorbet.
The perfect wine would be a pinot noir or sangiovese. Enjoy!
Email, White Lists and Address Books
Over the years the circulation of our Aroma Tours newsletter has grown to more than 6000 subscribers and in these days of filters and anti-spam software it is becoming increasingly more difficult to be sure that our email will arrive safely in your inbox.
There is of course good reason to have this filtering, however, as a consequence we recommend that you add our email address info@aroma-tours.com to your address book or white list to help ensure that our newsletter will continue to be delivered to you successfully.
If of course for any reason you would prefer to stop receiving our newsletter please don't hesitate to email us at info@aroma-tours.com to unsubscribe.
Arranging Your Travel
Once you have reserved your place via our Tour Booking Page, all your need to do is make your travel arrangements to meet us at the tour rendezvous point. You can either ask your travel agent to assist you, or for the more adventurous you can book your flights and connections yourselves. All of our rendezvous are easily achieved and naturally we provide all of the information and assistance that you will need.
Just a reminder that we have a Frequently Asked Questions Page to help answer the most common questions including how to book, travel arrangements, group sizes etc.
Previous Newsletters and Stories of Interest
Our past newsletters contain a lot of interesting stories and are well worth a read. You can find them by visiting our Newsletter Archives
You may also enjoy reading a few of the stories that we have compiled over the years on our Stories of Interest Page
Thought for the Day
"In the end all we have, is the sum of our experiences and the love that we have created in the hearts of others."
~ unknown
Our Invitation
Robbi and I look forward to welcoming you to one of our delightful tours or retreats in the near future and invite you to take a peek at the latest photos of our travels in our Photo Galleries
If you would like detailed information about any of our tours please visit our Information Request Page
As always if you have any questions or if you would like us to assist you personally with advice about your travel arrangements or with any other details please contact us either by email at info@aroma-tours.com or by phone on +61 3 5331 3254 ( afternoon/evening USA time zones, mornings from other countries ).
Please note you need to replace the '+' in our phone number by your country's international dialling prefix: from the USA it is 011 from most other countries it is 00.
Warmest regards,
Jim and Robbi